Comey's Claims About Huma & Hillary's Emails May Not Have Been True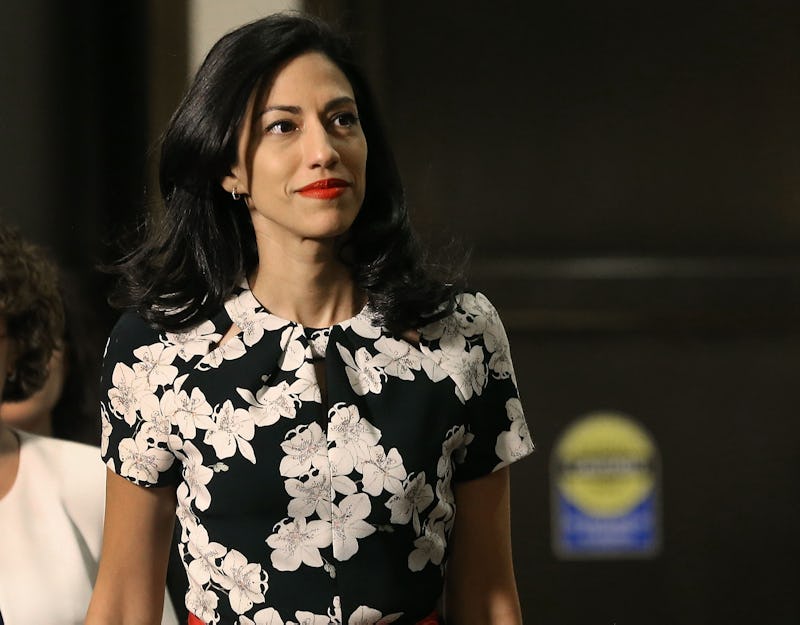 Mark Wilson/Getty Images News/Getty Images
On Tuesday, multiple sources reported that FBI Director James Comey's claim that top Hillary Clinton aide Huma Abedin had forwarded "hundreds and thousands" of emails to the laptop of her then-husband, Anthony Weiner, was not accurate. Last week, Comey testified before Congress, addressing questions about his probe into Clinton's private server. During his testimony before the Senate Judiciary Committee, Comey claimed that Abedin had made it "a regular practice" to forward Clinton's emails, "some of which contain classified information," to Weiner. He added, "I think to print out for her so she could then deliver them to the Secretary of State."
ProPublica first reported that Comey's assessment was, in fact, inaccurate and that, in the aftermath, the FBI is trying to devise the best way to "correct the record." Other publications have confirmed that Comey's claims about Abedin were "overstated," as The Washington Post noted.
According to ProPublica, both the FBI and Abedin declined to comment.
ProPublica reported that two sources said while Abedin did forward emails to Weiner, it was far from the "hundreds and thousands" Comey had stated. Instead, Abedin "forwarded only a handful of Clinton emails to her husband for printing," according to the sources. The ProPublica report also noted, "It was not clear how many, if any, of the forwarded emails were among the 12 'classified' emails Comey said had been found on Weiner's laptop."
Comey's testimony last week was considered a bombshell, potentially implicating Abedin and Weiner in having committed a crime. In fact, during Comey's testimony, Texas Sen. Ted Cruz nearly said as much, asking the FBI chief:
You said Ms. Abedin forwarded hundreds or thousands of classified emails to her husband on a non-government, non-classified computer. How is — how does that conduct not directly violate the statute?
Many have criticized Comey for alerting Congress in a letter — that fast became public — that the FBI had reopened its probe into the former Secretary of State's private server just days before the election. Nick Merrill, a former press secretary for Clinton, tweeted, "Imagine for a moment if Hillary Clinton had said something this inaccurate when she testified for 11 hours."
The former Democratic presidential nominee recently put at least some of the blame for her unexpected presidential loss on Comey's decision. Last week at a Women for Women International event in New York City, Clinton told the crowd that "if the election had been on Oct. 27, I would be your president," a reference to Comey's Oct. 28 letter.