Photos Of Anita Hill Vs. Christine Blasey Ford's Hearings Have Haunting Similarities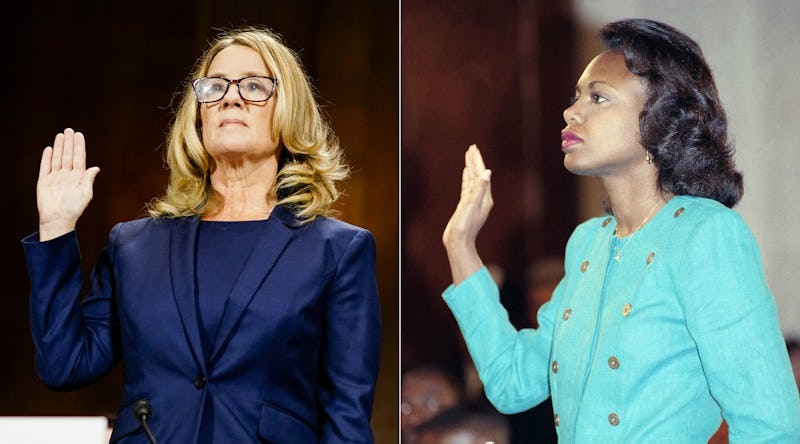 Greg Gibson/AP/Shutterstock / Pool/Getty Images News/Getty Images
You couldn't ignore the echoes of history this week in the Supreme Court confirmation process of Brett Kavanaugh. After an initial Senate Judiciary Committee hearing with the judge at the start of the month, a psychology professor, Christine Blasey Ford, came forward with an allegation of an attempted sexual assault, which Kavanaugh denied. Immediately, people across the country remembered Anita Hill's allegations of sexual harassment against then-Supreme Court candidate Clarence Thomas, which he also denied. Comparing Hill's and Ford's hearings reveal many similarities, despite the 27-year time difference.
Ford and Kavanaugh testified to the Senate Judiciary Committee on Thursday, with the heavy shadow of Thomas and Hill looming over them — a shadow that prompted the Republicans in the committee, who are still all men, to hire a female sex crimes prosecutor to question Ford so they could avoid any problematic questions like the ones Hill was asked. Ford was accommodating and polite — ever a lady wishing she could be more helpful— while Kavanaugh came in swinging — all "male indignation," as The New Yorker's Doreen St. Félix put it, taking swipes at the Senate Democrats and throwing questions back at them.
The gender dynamics on display reflected the scene in 1991, when "workplace sexual harassment" still wasn't largely understood as an issue and Hill's personal character was under trial. In both cases, those dynamics elicited a mass national outcry and conversation, complete with both written and physical protests, as women — and men — begged for a societal change where a woman's suffering would be deemed important enough for a man to face consequences, whether specifically related to this alleged incident or any other. This is how that looked.