Congress' Russia Sanctions Deal Will Make Life A Lot Harder For Trump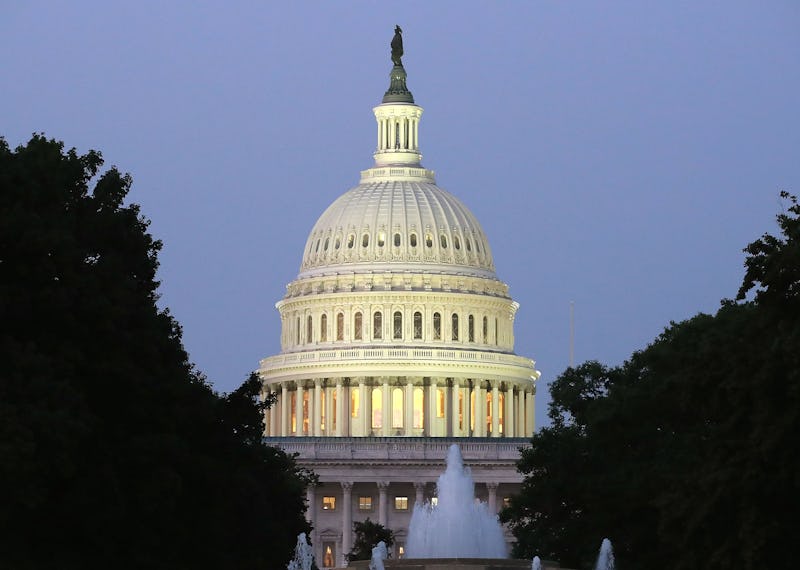 Mark Wilson/Getty Images News/Getty Images
According to multiple reports, bipartisan members of the United States Congress has reached agreement on a bill to enact new sanctions on Russia, a legislative reaction to the widely-held belief that the Russian government attempted to interfere with and influence the 2016 presidential election. And if there's one person who won't be thrilled Congress reaching a Russia sanctions deal, it's President Trump, who's already embroiled in an ongoing Russia-related investigation and scandal.
Russia isn't the only country targeted in the deal, which will also include new sanctions against North Korea and Iran. Its passage through both houses of congress would set up a major decision for Trump, given the current situation he's in ― reportedly facing an investigation for obstruction of justice relating to the FBI's Russia probe, and with several close associates (including his son, Trump Jr. ) under scrutiny for their campaign-era contacts with government-connected Russian nationals.
In short, the decision whether or not to sign the sanctions package could have huge political and diplomatic implications. According to CNN, a Russian government spokesperson said the deal's passage would be received "quite negatively," which is relevant in light of Trump's highly visible efforts to improve relations between the two superpower nations and longtime historical adversaries.
The trouble for Trump extends beyond just whether or not he signs the bill and enacts the sanctions, too. It also includes a provision which, in more or less direct defiance of the White House's wishes, would hinder Trump from undoing the sanctions at a later date, requiring congressional approval to do so.
In other words, not only would signing the bill complicate and strain his relationship with the Russian government, it would also curtail his own power to undo it at a later date. And considering Trump is reportedly prone to fixation on attacks on his legitimacy, the implication that he can't be trusted with full control over a Russia-related policy matter could be a sticking point.
According to CNN, Senate Minority Leader Chuck Schumer argued for the importance of the bipartisan deal in a statement.
Given the many transgressions of Russia, and President Trump's seeming inability to deal with them, a strong sanctions bill such as the one Democrats and Republicans have just agreed to is essential.
The bill could reportedly be on Trump's desk by the end of the month. Trump has long decried the scrutiny of his campaign's reported ties to Russian government-connected nationals as a "fake news" and a "hoax."
Whatever fate the bill meets, it could have significant consequences for Trump's image among congressional Republicans. For some perspective, the initial Senate version of the bill was passed in June by a vote of 98-2, by any standard an absolutely overwhelming margin. In today's hyper-polarized political climate, and especially under the Trump administration, it's hard to find many bills with such a firmly bipartisan consensus behind them. As such the president will seemingly soon face a difficult choice.