Congress Made It Legal To Shoot Hibernating Bears In Alaska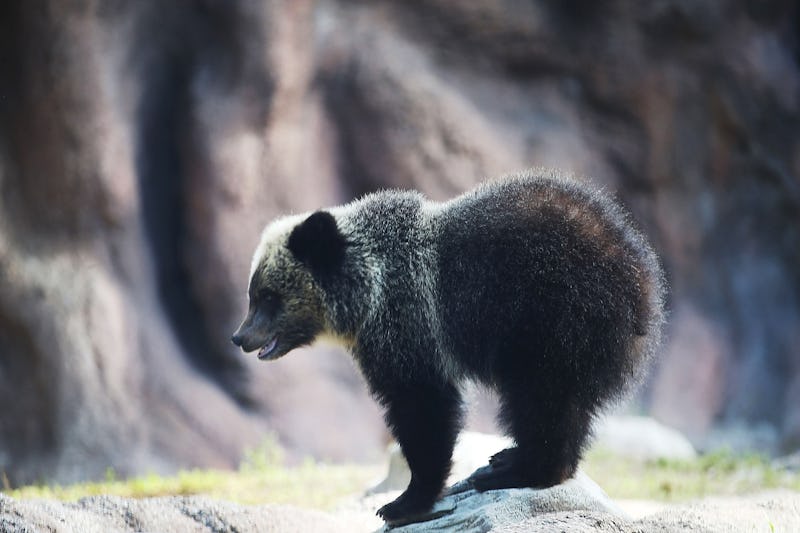 Joe Raedle/Getty Images News/Getty Images
Continuing with the Trump Administration's recent efforts to cut Obama-era environmental regulations, President Trump signed a bill on Monday that will officially allow hunters in Alaska to track and hunt hibernating bears and wolf cubs in dens. It will also allow hunters to shoot the animals from helicopters.
These practices had previously been banned by the U.S. Fish and Wildlife Service by regulations passed under the Obama Administration in 2016. Alaska Representative Don Young introduced the legislation to undo the regulations in February, claiming that they infringed upon states' rights and prevented the Alaskan state government from managing its own fish and game.
"We have to recognize this is not about the little polar bears, the little grizzly bears or wolves on television. This is about the state's right to manage — not allowing the federal government to do so," Young said.
The GOP-backed measure passed the House and Senate largely along party lines, and was signed into law by President Trump on Monday.
The Humane Society of the United States issued a statement when the bill passed the House in February, calling the bill "shameful."
The legislation will affect the wildlife on Alaska's 16 federally protected refuges, areas that span approximately 76 million acres of land. The bill will allow hunters to be legally protected to use aggressive hunting tactics, like targeting wolves who are at their dens with their cubs, trapping bears with snares, and, you know, the helicopter thing.
The overturning of these regulations represents many tensions that have been amplified by Trump's presidency, most notably the tension between Democrats who hope to preserve Obama's legacy and Republicans who have resolved to tarnish it. Tensions between environmental conservationists and those who think the government should keep their hands off of issues that should be left up to individuals states have also become more visible.
Young, for example, thinks that Alaska should have the autonomy to make its own rules regarding wildlife within the state's borders, and he's backed by organizations like the National Rifle Association.
But environmental groups like the Center for Biological Diversity have strongly opposed Trump's new setbacks. An attorney for the group called the action "an extremist assault on the environment," and the NGO Defenders of Wildlife referred to the legislation as "a running roughshod over public lands."
Despite the opposition, the bill has now been signed into law, signifying that President Trump is so far keeping his promise to roll back environmental regulations, which were a key part of Obama's legacy.