10 Steps Congress Must Take To Improve Its Sexual Harassment Training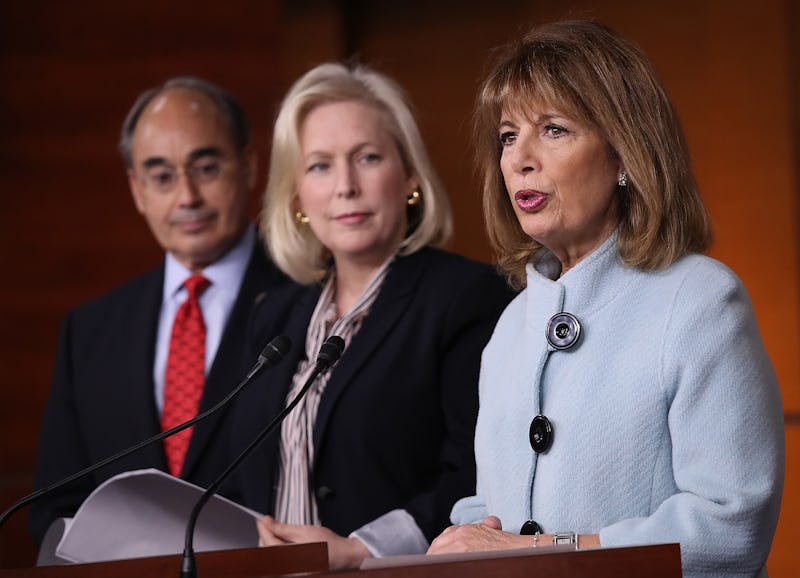 Win McNamee/Getty Images News/Getty Images
The #MeToo wave has officially hit Capitol Hill, already taking down several lawmakers in its early stages. Even before some of them handed in their resignations, Congress had already made some changes to its sexual harassment training policies. Deciding what should be required as part of Congress' sexual harassment training, though, should require a longer process than simply asking the Office of Compliance (OOC), which normally deals with sexual harassment complaints, to design a typical course.
Regular sexual harassment training practices haven't worked, a fact that has been made abundantly clear by the scores of women who have spoken out about misconduct at the workplace as a part of the #MeToo movement. In fact, some studies even claim that traditional sexual harassment training provokes backlash amongst the men who take part in it, making the situation even worse for the women who work with them. Congress only recently made sexual harassment training mandatory, and while it's unclear what exactly this training looks like, it's quite likely it would be somewhat traditional — like an impersonal seminar or PowerPoint presentation employees sit through that doesn't actually help solve the problem of pervasive sexual harassment in any given workplace.
Part of this is caused by a focus on legal liability rather than on culture change. When the trainings instruct men on how to avoid legal action against themselves and the organization — or company, or lawmaker's office — for whom these men work, they don't actually make any attempt to change the culture. This doesn't make things any better for the victims, so the cycle continues. Therefore, Congress will have to go a bit further if they want to actually make it a safe environment for both staffers and congresspeople.