Corinne Just Admitted That She Was Engaged After Nick's 'Bachelor' Season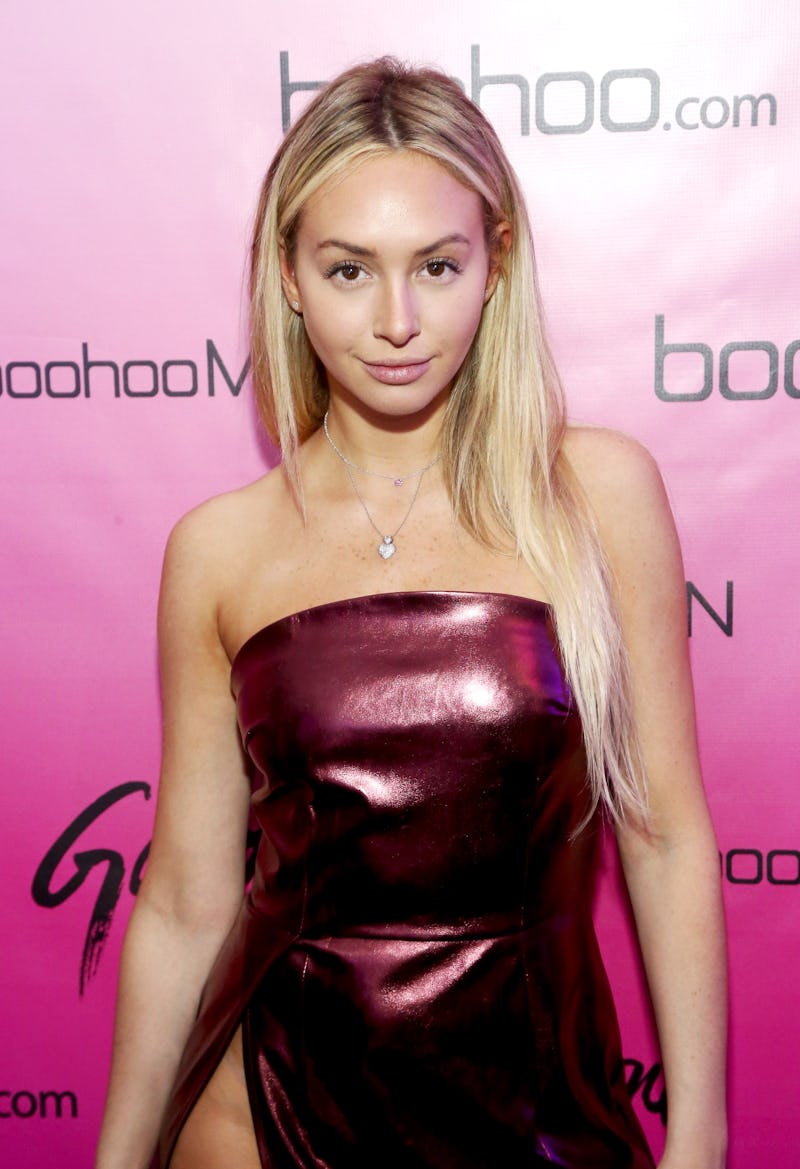 Tommaso Boddi/Getty Images Entertainment/Getty Images
Last year, Bachelor fans wondered whether Corinne Olympios was engaged following her time on Nick Viall's Bachelor season after she was spotted with a diamond ring. It turned out the ring in question belonged to Claudia Oshry, aka Instagram star Girl With No Job, but Corinne did get a ring of her own before that. On Tuesday's episode of The Morning Breath, which is hosted by Claudia, Corinne revealed that she got engaged right after filming Nick's season.
Yes, in between filming the season and before it even aired, Corinne did end up saying "yes" to a marriage proposal. The revelation came out of nowhere while Claudia and her sister Jackie Oshry, the show's other host, were having a discussion about tattoos.
"I removed two tattoos that I had because I was engaged to a very religious guy and he was like 'I can't marry you if you have tattoos,'" Corinne shared on the show. "I got them removed. We broke off the engagement."
Wait. What? That is not where anyone saw that tattoo conversation going, but it was definitely a much juicier side topic. (Fast forward to the 31:42 mark in the video below to hear Corinne talk about her engagement.)
Claudia told Corinne, "I always forget that you were engaged." And Corinne confirmed, "I know. A lot of people don't know this." Seriously. This is some big news to Bachelor fans.
Jackie asked Corinne when she got engaged and Corinne shared, "It was exactly a year ago. Literally yesterday I got engaged last year." Clearly familiar with the timeline of the Bachelor franchise, Jackie said, "It was right after you stopped filming Nick's season." Corinne just confirmed with a head nod.
Who was she engaged to? Corinne didn't mention a specific name, but Claudia asked, "And he was your boyfriend from before the show?" Corinne responded, "I got home and he showed up at my house with a ring." Wow. If only he showed up during Nick and Corinne's hometown date. He just missed it. That love triangle would have made for amazing television on top of that love pentagon that Corinne was already a part of with Nick.
Most likely, Corinne kept things on the low while Nick's season was airing to prevent spoilers from getting out about how his season ended, but she did not share any specific information about the duration of the engagement. She did confirm that she gave back the ring and that she "could never keep it."
After speaking about the engagement, the interview returned to the original topic of conversation and Corinne shared, "When I first ended everything, I was like 'Now I'm going to get a tattoo [that says] always follow your heart and it's on my foot.'"
Backtracking to March 2017, there was a lot of chatter about Corinne possibly being engaged. A reported "former fling" Keith Berman told Us Weekly that Corinne was engaged to her longtime boyfriend (without naming the person). "She literally pressed upon the fact to me that they were still together," he said. "She said to me, 'We're still together. I don't want anyone to know — you have to keep this a secret for me.' And I said, 'OK, I'll do whatever you want.' That was what she had told me in person."
Corinne adamantly denied his words in an interview with E! News. Corinne said, "No. I'm not engaged. Are you kidding me? This is getting so ridiculous." She continued, "I'm getting fed up with all these rumors. Especially the rumors about Keith Berman."
There was no confirmation on the identity of any boyfriend of Corinne's until after she came back from filming Bachelor in Paradise Season 4 in June. A man named Jordan Gielchinsky identified himself as her boyfriend in an interview with E! News when he said, "I have known Corinne for over 10 years and as a friend or boyfriend, she will continue to receive my unwavering loyalty and support until I decide that there is a legitimate reason not to give it."
It is possible that Jordan is the ex-boyfriend that Corinne got engaged to after Nick's season, but it is also very possible that Corinne has had more than one ex. (Bustle has reached out to a rep for Corinne for clarification, but did not receive a response at the time of publication.) Regardless of what was going on and what the timeline was as far as her ending the engagement, at least the engagement actually happening has been made clear and by Corinne herself. She wouldn't have it any other way.