Why 'Crazy Ex-Girlfriend' Season 3 Will Be Super Edgy & Dark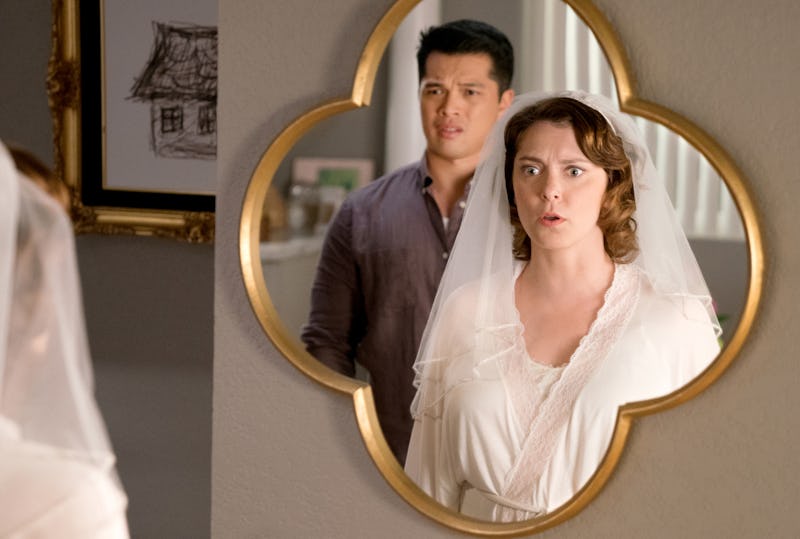 The CW
This season The CW's Crazy Ex-Girlfriend is giving new meaning to the word "crazy," and Josh Chan (Vincent Rodriguez III) should be afraid. Very, very afraid. After he left his fiancée Rebecca Bunch (Rachel Bloom) at the alter to become a priest (without talking to her or alerting her at all before taking off – so rude!), she decided to wage war on the man she moved across the country for after a chance encounter on the streets of NYC. The world has never seen a woman scorned quite like Rebecca, and Rodriguez promises that her anger and quest for revenge means The CW's musical dramedy is getting darker than ever before in Season 3 (premiering Friday, Oct. 13 at 8 p.m.).
"Just warning you, it's very jarring," he says with a rueful laugh. "As afraid as you feel, just think about how Josh will feel. It's coming for him."
Speaking to Bustle on the purple carpet under the bright lights at Entertainment Weekly's pre-Emmys party, Rodriguez had a hard time not spilling all the details on what fans can expect from the award-winning series this year. He has to save some spoilers for the actual show, after all.
"I just finished filming episode 6. I know all of the secrets," he says. "We're halfway through filming this season, and we just had a table read the other day where our faces hurt by the end of it from the things that came out of our mouths. I'm so excited for this season."
While he couldn't give out too many spoilers, he did reveal that fans will get to see exactly the moment when Josh arrives at Priest school.
"He starts off in Seminary school and he's going to realize all of the truths that go with being in Seminary school that he might not have considered," Rodriguez says. "He's in for a lot more than he bargained for. The way we ended Season 2 has set off a ripple effect that Rebecca first started when she arrived in West Covina, and that's going to pick up speed now that all of this has happened. Season 3 is like a high-speed train. It's going to be way more intense for all of us than Seasons 1 and 2. I feel for you, viewers at home. None of you are ready for what's about to hit."
And that goes for the musical numbers this season too. "They have somehow upped their game with the songs this season," Rodriguez says. "It's as edgy and clever as ever. At some points I was like, 'Did [Standards & Practices] really clear that? Oh, they did?! This is happening?!' I can't believe some of the things we are going to air on television. Next to the plot itself, the songs are going to be the most exciting part of this season."
Despite Crazy Ex-Girlfriend's penchant for pushing the boundaries when it comes to the clever innuendoes the writers are all able to get away with airing, Rodriguez reveals that series showrunners Bloom and Aline Brosh McKenna have a "really close relationship with S&P."
"Rachel and Aline have Elizabeth [from S&P]'s email address and cell phone," he says. "She comes to set. I was assistant choreographing episode 2 and she was there for one of our most risqué numbers to make sure we weren't doing anything visually that we shouldn't be doing. But everything gets cleared and it's all thanks to her."
He pauses to think about the content they're getting away with this season and laughs again. "It feels dangerous. Some of it may feel a little too close-to-home for a lot of our viewers, content-wise, but we still wrap it in the world of Crazy Ex-Girlfriend. It's like something you have to eat: we put a little sugar on it. It's still poop, but it goes down fine with a little sugar."
This time, it's my turn to laugh at the vivid picture he just painted with that description.
"I can't believe I just compared our show to poop," Rodriguez says with a smile. "Some might say I'm crapping on our show. I'm not. It's actually a spoiler to something that's coming up on the show. Hashtag please don't fire me. Hashtag so sorry, I love playing Josh Chan, please."
Sounds like Josh has more to worry about than Rodriguez does about getting fired, but it still couldn't hurt to get that hashtag trending. Have at it, Twitter.