Whoa! Someone Proposed On 'Crazy Ex-Girlfriend'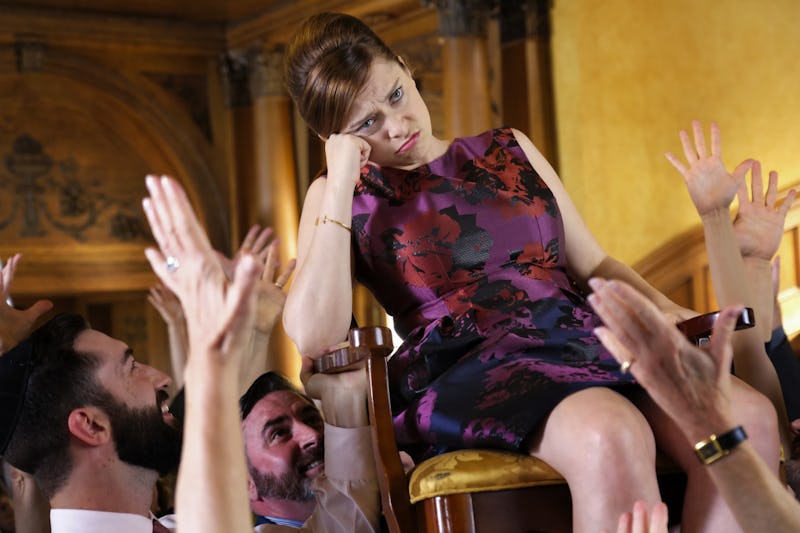 The CW
Not even Rebecca (Rachel Bloom) saw this one coming: Josh Chan (Vincent Rodrieguez III) proposed on Crazy Ex-Girlfriend! Despite their many, many relationship and personal issues, Josh listened to some bad advice from Rebecca's mother and proposed to her, just as she was this close to making some important self-discoveries in therapy about how she needs to be alone to work on herself. Of course, one look at Josh down on one knee holding out the Garfinkel ring and all of Rebecca's thoughts about needing to be alone disappeared in an instant ... much to her therapist Dr. Akopian's (Michael Hyatt) dismay.
"That's one of my favorite scenes," executive producer Aline Brosh McKenna tells Bustle at a CBS Studios breakfast event in Los Angeles. "Probably top five scenes of the whole series for me. When we were working on that scene in the writers room, we had this point of realizing that he's going to propose but we also wanted a way to gain the insights she learned from going home. All of a sudden the collision of those two things made sense."
What made the proposal scene so perfect was how Dr. Akopian was saying, out loud, what every viewer was thinking while watching the disaster unfold on TV.
"Dr. Akopian is one of the few people on the show who really understands what's happening, so her as the audience proxy in that scene was amazing," McKenna agrees. "And I love how she starts out so bored, and then starts to get excited and cancels her appointments only to have her hopes dashed yet again."
While Rebecca's feelings for Josh may have started out as her way of coping with her depression and anxiety, it has become something much worse than that over time.
"Really, Rebecca is not addicted to Josh but rather the fairy tale of the idealized relationship and being madly in love," McKenna says. "She got together with him so quickly and the hit of the drug has started to ebb a little bit. The engagement gives her that shot of adrenaline again. She gets to get back on the fairytale train."
The fact that Rebecca was so close to some important character growth before backsliding the second that Josh proposed shows just how bad she's got it for him. And if you didn't feel like throwing something at your TV while watching that proposal unfold, you're totally lying.
"That scene is everything we ever wanted to do on the show which is portray the flip side of love and obsession and that not always are the whole Disney princess, happily ever after things the best choice," Bloom tells Bustle. "Rebecca is a drug addict who almost quits and then someone shoves a big batch of heroin right under her face. She's almost in withdrawal and then it's just that high again. The idea of a drug addict chasing a fix is something we think about and talk about a lot."
But what's done is done: Rebecca is engaged to Josh, and both of them are in denial about their problems. And that's not going to change anytime soon.
"There is so much that happens now," Bloom says. "We are not going to let go of the fact that she was about to actually have a breakthrough when Josh proposed and maybe that wasn't the best idea."
McKenna adds, "They will start planning their wedding and then we have a lot coming up in the last three episodes of the season. A lot of big twists and a lot of big turns."
Rebecca isn't the only one going through major relationship changes, as Paula (Donna Lynne Champlin) recently found out her husband Scott (Steve Monroe) cheated on her. After kicking him out of the house, she has a major decision to make: does she forgive her husband's infidelity or end their marriage over one drunken mistake?
"She and Rebecca have gotten back on track, which is good because now she needs to figure out where she is in her marriage and what to do about that," McKenna says. "We do move forward on that and get some resolution on that before the end of the season. We know where Paula and Scott are going to go. Something we've talked about a lot in the writers room is infidelity, how we treat it in our culture and who we look down on when someone cheats."
She pauses to think, then continues, "In a funny way, we look down on the person who has been cheated on instead of the person who cheats. We feel sorry for them, we blame them, and if they show any weakness to the person who cheated on them, we look down on them. I think that's crazy. Speaking as someone who has been married for almost 20 years, marriage is not something to be thrown away lightly. We wanted to deal with that, and that's what Paula will be dealing with in the back half of the season."
Another relationship that is changed is that of Rebecca and Valencia (Gabrielle Ruiz) ever since Rebecca got back together with Josh. Since her friendship with Valencia was built on their mutual disdain for their ex, Valencia isn't quite sure what their friendship will look like moving forward.
"Their friendship won't be the same," Bloom confirms. "You can't really recover from that. We wanted to show that Valencia is completely over Josh. She really is. That whole chapter of her life is in the past. That causes Valencia to look inwards. We really love exploring her outside of the relationship with Josh and outside of that dynamic."
As Crazy Ex-Girlfriend, airing Fridays at 9 p.m. on The CW, gears up for the last few shows of the 13-episode second season, both McKenna and Bloom promise that big things are coming for Rebecca and co.
"We have some big surprises and reveals coming about some things that I think the audience has suspicions about but isn't sure about," McKenna teases. "They are more like series reveals more than just season reveals, some things about the world of the characters that we didn't really understand until now."
She smiles, and then adds, "And Scott [Michael Foster, who plays new boss Nathaniel] has a solo in episode 11 that's pretty incredible. Scott does his singing and dancing debut on our show. It's a contemporary ballad with a lot of dancing. There is a major dance component for him and Rachel and you're going to see Rachel's dance skills in a way you've never seen before."
Speaking of episode 11, Bloom could hardly contain her excitement for what she calls one of their more "high-concept" episodes of the series. "It really is one of our more structurally-ambitious ones," she says. "There's a song that runs throughout the entire thing. I'm really excited for that."
An engagement, a possible divorce and Nathaniel singing? What else could possibly be in store for us as Crazy Ex-Girlfriend season two winds down?