Gemma Chan Wants You To Know 'Crazy Rich Asians' Is Not A Princess Fantasy Rom-Com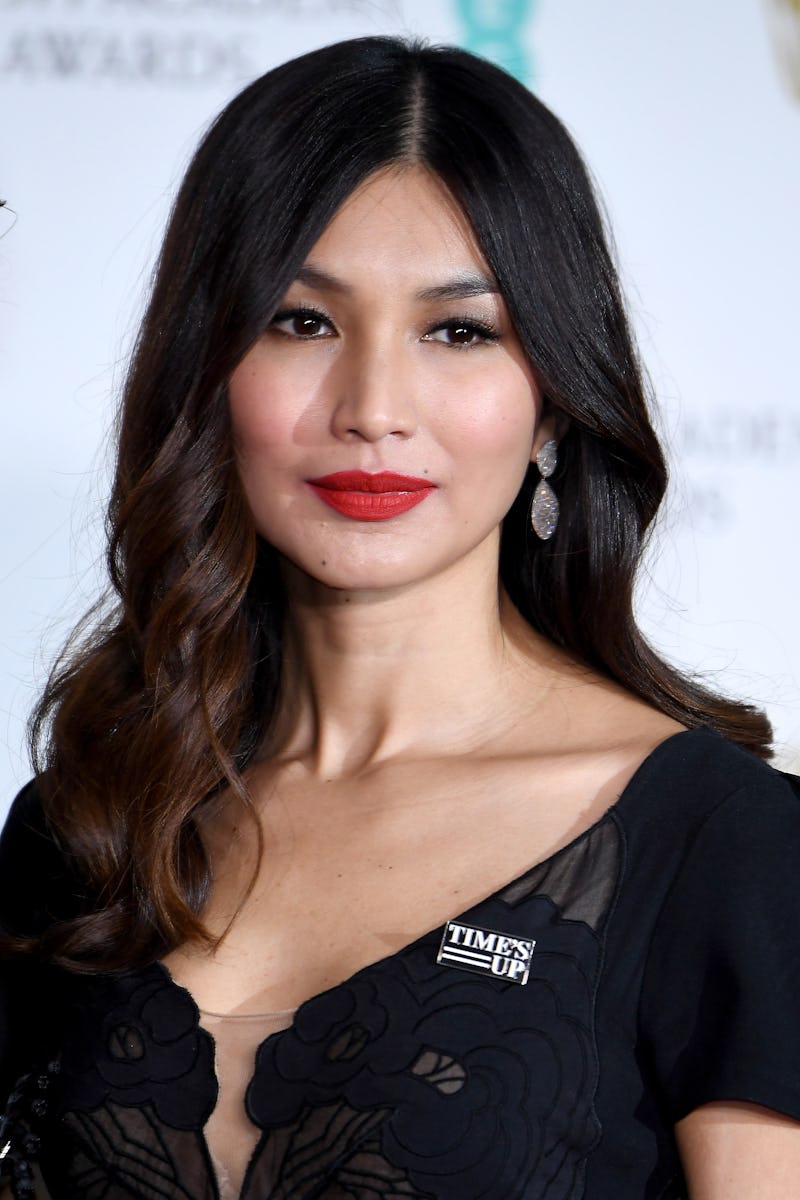 Jeff Spicer/Getty Images Entertainment/Getty Images
If you only see the trailer, Crazy Rich Asians certainly appears to embody the princess fantasy that's caused so many women to roll their eyes for years. As the title suggests, Constance Wu's main character, Rachel, is dropped into a world of exorbitant wealth when she flies to Singapore to attend a wedding with her boyfriend. It's a world that she might end up joining if her beau Nick Young (Henry Golding) someday asks her to marry him. Visions of ridiculously fancy cars, 15-room palatial mansions, private oases, and hints of makeover-montages-to-come (and trust me, they come) seem to promise that this rom-com is not only reviving the genre's perks, but possibly all of its pitfalls, too. Luckily, that's not quite the case, as explained by Crazy Rich Asians star Gemma Chan.
"You've got these big, outlandish set pieces, but you've also got this really kind of subtle tension and conflict going on in this family," says Chan of the movie, out Aug. 15. She's referring not just to the tension in Rachel's unpleasant relationship with Nick's mother, Eleanor (Michelle Yeoh), but also that in the bond between the actor's own Astrid and her husband. Nick's wildly famous and impossibly regal cousin, Astrid is beloved by millions, but has a personal life that isn't quite as shiny as the multimillion dollar gemstones dangling from her ears. She's one of the kinder relatives that Rachel meets on her trip to Singapore, and she's also got one of the most grounded, heartbreaking storylines in the film — which is what Chan instantly loved about the role.
"It's all great fun, playing dress up in her amazing wardrobe and all of that, but none of that really matters if people don't care about this character," the actor says. And Chan, for one, cares very much about Astrid: "I read the books [the movie is based on] just soon after they first came out and Astrid was my favorite character. She was the character that kind of drew me in and I found her very compelling and so when I was asked if I was interested in being in the film, I was like, yeah, I want to play Astrid."
Chan and I are speaking in a suite at the opulent Beverly Wilshire Hotel, situated at the corner of money and excess, with its front door opening right onto Rodeo Drive — a location that would certainly please Astrid and the rest of the Crazy Rich Young family. But the 35-year-old actor is more concerned with the heart of the film than she is about all the frills that adorn it — specifically in regards to the women. Because the movie (and its source material) avoid the tired princess trap, there aren't any men in shining armor coming in to save the day when the ladies of Crazy Rich Asians find themselves in trouble.
"All of the women kind of save themselves. They don't need a handsome prince coming in — although there are handsome princes around in the story — but [the women are] very much are agents in their own lives," Chan explains. It's natural that the actor — who first studied law at Oxford, then left that path to pursue her passion and study acting at the prestigious Drama Centre London — would prize this element of the film. Says Chan, "[The women] know what they believe in or they find their way to do what they believe in."
That includes both Rachel and Eleanor, the latter of whom Chan calls a "terrifying, formidable force." Yet she's no wicked maternal figure out of a fairy tale; like the other characters around her, Eleanor is filled with very real, conflicting emotions about family, love, and what it means to be human. "You could easily see [Eleanor] as being the bad guy, but I think the moment you see the way the grandma has treated her, you immediately understand why she does what she does," explains Chan. "I think it would have been so easy to have this crazy future mother in law who is just mean."
So while yes, Crazy Rich Asians is very much a rom-com, complete with that glowing, hopeful feeling that every other great rom-com since the beginning of time has delivered, the movie wisely doesn't forget the real world. However, Chan is careful to caution though the plot might feel real, the movie isn't an "issues" film (meaning: looking for sneaky political messages in the dialogue certainly won't pay off). Yet that doesn't mean she isn't proud of the message the the film's sheer existence as a huge studio film starring an entirely Asian cast is sending.
"I think we're just recognizing that that is what audiences actually want to see. We want authenticity, we want specificity in our story-telling, and through that specificity you're able to communicate sort of universal truths and speak to people," Chan says, pointing to the concept of love as Crazy Rich Asians' main truth. "I think Hollywood's catching onto that and finally that penny has dropped. For the future, it's important now more than ever that we have parts that show us what we have in common with each other — show how we're different, but also how we're not, and lead to a greater understanding of each other."
So yes, the film comes with a glittery, materialistic fantasy wrapping, complete with cars and parties and baubles and designer gowns. But if Chan and the women of Crazy Rich Asians are princesses because of that, then they're the kind of thoughtful, passionate, self-sufficient, strong princesses we should all aspire to be.