Unicorn Halloween Costume Ideas That Will Be The Most Unique At Any Party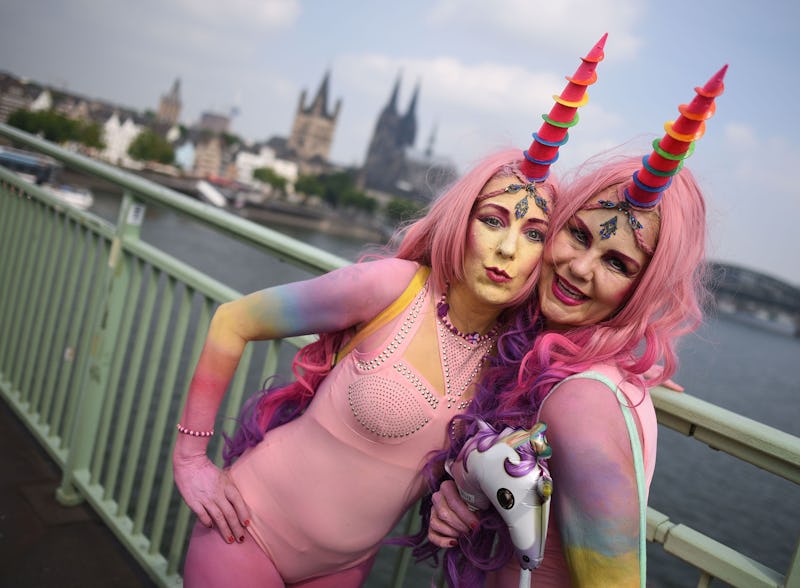 HENNING KAISER/DPA/Getty Images
If you're all about that rainbow-colored, glitter-covered flying-on-positive-vibes life, you probably also have at least one item in your home that says "Unicorns are real." And if you're holding that mug or wearing that shirt right now, I've got news for you: they are real. Because you, my friend, are a unicorn. Spiritually, at least. Which is also why you should seriously consider some easy and yet still creative unicorn Halloween costume ideas this year.
I know, it's temping to dress up as something witty or spooky, but don't gip your magical self. Think about it this way: this might be the only day of the year that you can get away with dressing up as your spirit animal without getting a lot of funny looks. So why not go all-out and live your technicolored dreams this Halloween by dressing up as a unicorn? It's not nearly as difficult as you might think it is.
There are so many different types of unicorns to consider. Ranging from classic filmic unicorns to glow-in-the-dark raver unicorns, there are a lot of options for you. Here are some of my favorite looks:
Unicorn Hairdo
If you don't want to mess with a costume, just focus on your hair with this super easy DIY unicorn hair do. All you'll need is some aluminum foil, bobby pins and some hairspray. You can add wash-out dyes if you'd like, but the style will look just as cool on your normal hair.
Unicorn Makeup Look
If you're not into the whole dressing up as horse part of being a unicorn, you might want to just consider doing a makeup look. You'll need a rainbow color shadow palette, some glitter, and your regular every day make up products to round it out. You can customize this look as much as you want!
Unicorn Ballerina
To accomplish this dainty and flexible look, you'll need a tutu ($70, Zara), a pair of colored stockings ($10, Dolls Kill), a pair of unicorn ballet flats ($34, ASOS), and of course a horn hair accessory ($9, Amazon).
Gym Unicorn
If you want to keep things casual and active, opt for the gym rat inspired unicorn. You'll need a pair of rainbow colored leggings ($96, Evolve Fitwear) a colorful sports bra ($23, Buckle), a pair of multicolored shoes ($65, Nordstrom), some colored sweatbands ($2, Amazon), and some on-theme unicorn headphones ($30, H&M).
EDM Unicorn
I always think that people at raves look like low-key unicorns anyway, so why not just be a raver unicorn on purpose? You'll need an epic pair of colored go go boots ($88, Dolls Kill), a metallic rainbow skirt ($52, Etsy), a colorful crop top ($40, Etsy), some glow in the dark body paint ($17, Amazon), a rainbow wig ($17, Amazon), and of course a glowing unicorn horn ($15, Dolls Kill).
Literal Unicorn
Screw themes, go for the real deal — hooves and all! You'll need two sets of said rubber hooves ($20, Tillys), a white body suit ($15, Wearall), some white leggings ($10, Wearall), a colorful tail, and of course a proper mask ($60, Buy Costumes).
Carousel Unicorn
Remember the hand-painted unicorns you'd see at carnivals on the carousel? That's the look you're going for here: porcelain, classy, magical. You'll need a victorian-style dress ($80, Papaya Sun), a pair of colorful shoes ($89, Betsy Johnson), some rainbow earrings ($40, Bluefly), a colorful horn ($17, Amazon) and a basic unicorn make up kit ($12, Hot Topic).
Classic Unicorn
You know those unicorns that we saw in princess movies? They weren't rainbow-colored — rather, they were a solid color, and majestic. That's the look we're going for here. You'll need a white body suit ($15, Wearall), white leggings ($10, Wearall), hooves ($16, Amazon), a white wig ($20, Amazon), and of course a horn ($9, Amazon).
Gothic Unicorn
You don't have to be a glitter fanatic to love the magic of a unicorn. Try out a goth unicorn Halloween vibe to make things more interesting. You'll need a black body suit ($18, Wearall), black leggings ($11, Romwe), a black unicorn horn ($16, ASOS), a black mane ($24, Amazon), black lipstick ($7, ASOS), and black eyeliner ($31, Harrods).
Disco Unicorn
But if you do live for that glitter, consider yourself a walking highlight and go all out with the shimmers and shines. You'll need a very '70s jumpsuit ($31, Zulily), some glitter boots ($75, Macy's), some silver glitter ($25, Saks), some hooves ($16, Amazon), a colorful unicorn horn ($17, Amazon) and some groovy sunglasses ($15, Popmap).
Flying Unicorn
If you feel like going all-out this Halloween, add some wings to your unicorn get up and make your costume epic. You'll need a white jump suit ($17, Amazon), white angel wings ($9, Amazon), a light unicorn headband ($8, Gap), rainbow-colored boots ($120, Dr. Martens) and a rainbow tail ($20, Etsy).