'Office' Fans Come To Creed Bratton's Tour Expecting Comedy, But Actually Get A Lot More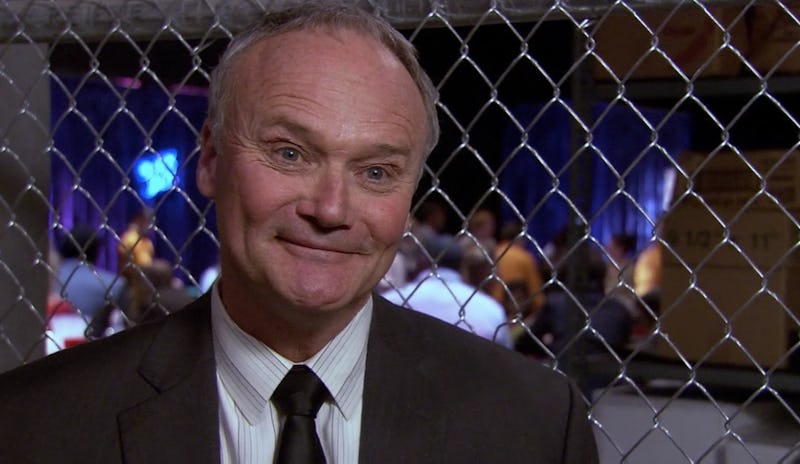 NBC
As Creed Bratton prepares to release his seventh solo album, it's clear that his newest batch of melodies is meant to resonate with its listeners in a significant way. The longtime musician, who typically blends folk, jazz, rock and pop sounds to hit his listeners with a sentimental vibe, is no stranger to the studio, though he may be best known by TV fans for his years as the fictional Creed Bratton, The Office's lovably unsettling quality assurance specialist. Even now, Office fans still arrive at his shows expecting to laugh, Bratton says, but walk away with a treat they may not have expected.
"People come because of The Office," Bratton says, speaking over the phone in early February. "And then they tell me at the meet & greet afterwards or they come up to me later and say, 'We had no idea the music was going to move us.'"
When I see the response and I see them laughing, I see that they're enjoying what I'm doing, then my show improves immeasurably."
As the musician and unlikely TV star prepares his latest record, "While The Young Punks Dance," for its April release, it's apparent just how eager he is for people to enjoy it. Bratton explains that his musical process relies more on spontaneous, organic songwriting rather than necessarily the desire to push a specific narrative.
"Sometimes I'll sit down and try to write songs about a [certain] subject, but they never really work out that great," he says. "Sometimes they do. Most of the time I just sit around and the muse hits me, and the song comes out." He also says that he purposefully keeps his songs' meanings a bit more up-in-the-air than some artists do, allowing them to resonate with his listeners in a more personal way, rather than simply inviting them along for a story of his own. "I think being vague and being kind of grey [means that] everybody then will read into their own interpretation, and everybody will have a different insight," he says. "And hopefully, it's something that will be uplifting and at least move them in a way that they're entertained and they're inspired."
He doesn't like to do too many takes on a single song when he records — he wants his work to sound real, and genuine, and not overworked. "I try to just get up as natural as possible without a lot of thought to it. You just gotta let the energy move through you," he says. "I don't do a lot of takes. Some people I know go months on one song or weeks on one song. I would never do that. I'm prepared when I go in the studio."
Part of that preparation likely stems from the fact that Bratton makes a point to play new songs for live audiences as he tours the country before he starts to record them — he's got several tour dates coming up over the next month or so, even hitting Wilkes-Barre, Pennsylvania, just minutes outside his old Scranton stomping grounds. Audience feedback allows him to zero in on the tunes that really mean something to people, he says, and help him learn more about the songs he's written himself. "Since I don't know what [the songs] are about, I need people to tell me," he laughs. He prefers intimate shows to large venues, though he notes that those are often inevitable. The musician wants to be on the same level as his audience, sharing an experience as one entity rather than trying to bridge a divide between them.
"I like to be right there, see their eyes, and viscerally I can get feedback from the audience," he says. "The worst thing — it's something that's unavoidable at times — there are these big auditoriums where people are sitting down and they're removed. There's all this space and the lights are bright, and you're removed. ... You're just doing the show, you can't see your audience. For me, that's work. That's work. When I see the response and I see them laughing, I see that they're enjoying what I'm doing, then my show improves immeasurably. ... Then we're all part of the show."
Whether they've dug into his back catalog or not, Office fans will have already heard one of Bratton's songs, even if they aren't aware that he's the one who wrote it. After nine long seasons on the comedy series, Bratton finally showcased his music in the last few moments of the show's series finale. "All The Faces," a song that Bratton says he wrote years ago, just after he left the 1960s rock band, The Grass Roots, was the perfect melody to play those beloved characters out. Months after playing the song for a showrunner, Bratton was met with an incredible surprise as he paged through the last script for the first time.
"I went to table read, I read through the script with everyone else … and I see at the end, 'Creed sings his original song, "All The Faces,'"" he says. "That was the most amazing gift for me to be on a show that I love, with people that I looked forward to going [in] with every day and laughing and working with, to get to sing this song that I knew was touching, that I knew touched people. It was a huge moment — a huge moment."
That moment is in the past, but Bratton is busy. He tells me he already has an eighth album written even ahead of his seventh's release, and he'll be back in the studio soon. He's open to appearing in any rumored Office re-boot, though he says no one has approached him with any such offer. He also will be appearing in The Sisters Brothers later this year, a dark comedy Western starring Joaquin Phoenix and Jake Gyllenhaal, and has plenty of other acting plans he'd like to explore. "If I went and did [The Office's] Creed character, it's no challenge. I could do that in my sleep," he says. "But I'd like to be a benevolent grandfather, I'd like to be a psycho killer — well, actually, that one's not too far from Creed."
Bratton is inching closer to his 75th birthday, but he speaks with such an energy and eagerness about every venture he's pursued and all the ground he's covered, showing absolutely no signs of slowing down. Despite the fact that his musical career spans decades, the passion behind his music — and everything else he does — doesn't seem to have waned whatsoever. Judging by the plans he seems to have, fans can expect that devotion to continue through any other project Bratton may have up his sleeve. Come for The Office, stay for the music.