I Tried Crispin's New Rosé Hard Cider & Here's What It REALLY Tastes Like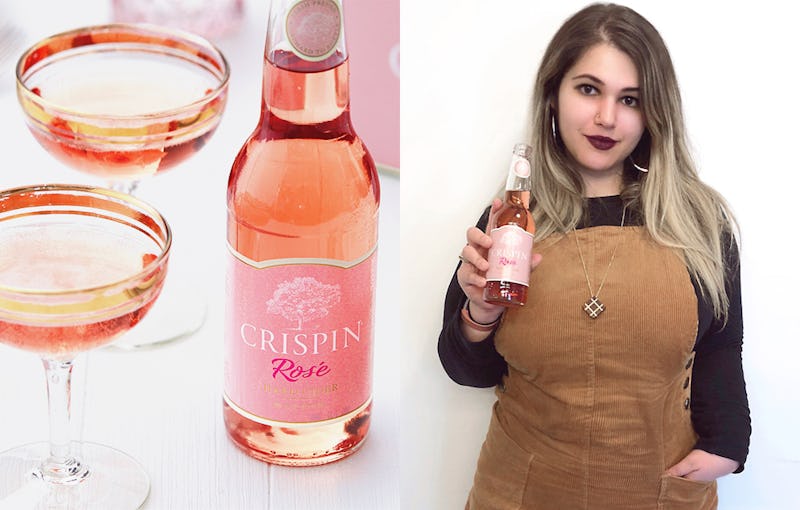 Crispin; Emma Lord for Bustle
Though the dregs of winter isn't exactly considered "rosé season," Crispin Cider wants to change that. With that idea in mind, the brand released its newest creation, Crispin Rosé Hard Cider, in late Dec. 2017 — a drink featuring the brand's classic fresh-pressed hard apple cider and fresh-pressed hard pear cider, mixed with rosé that was created with real rose petals. The result is a crisp, natural-tasting drink that's more than enough to trick the palette into thinking it's summer, even if it's still snowing outside — something I'm sure most of us can appreciate after months of snow. Though the drink has been available nationwide since Dec. 2017, you're going to be seeing a lot more of it soon: The brand plans to introduce the drink on tap at bars, restaurants, and nightclubs where Crispin Cider is generally already served on tap in spring 2018. So, with its world takeover coming up soon, it's worth getting a sense of what Crispin Rosé Hard Cider tastes like.
In the name of journalism (and also in the name of I just like rosé), I decided to test out the drink to see if Crispin actually met its mission. And, well, let's just say it didn't disappoint. Even before the first sip, this cider delivers. Upon bringing it to your lips, your nostrils are hit with a floral scent that's outdoorsy, fresh, and just plain calming. As for how Crispin Rosé Hard Cider tastes, it's similar: It's got a dry wine taste, and there's only a hint of sweetness. Crispin uses pear juice concentrate as the sweetener in this drink rather than sugar, so the dominant flavor is really the rosé. It's clear you're drinking a cider due to the hints of apple and pear, but for the most part, it just tastes like a slightly fruity glass of sparkling rosé. It also only has an ABV of five percent, so it's a good drink to casually sip with friends — you won't have to worry about feeling the effects of the alcohol too quickly.
Crispin's Rosé Hard Cider release isn't the first of its kind: Some may recall Angry Orchard's Rosé Hard Cider release earlier this month, and USA Today pointed out on Feb. 25 that brands Strongbow and Bold Rock are also jumping in the rosé hard cider game following the realization that rosé is a booming business opportunity. The summer of 2017 was basically proof of this conclusion: In Aug. 2017, Quartz reported that still rosé had experienced a seven percent sales growth between 2014 and 2016, and that the introduction of new products like canned rosé, carton boxed rosé, and frozen rosé (aka, frosé) would only increase the drink's popularity. There are even wine brands like 90+ Cellars holding things like rosé cruises, which are literally day cruises where attendees can drink rosé all day.
According to Crispin, the intent behind releasing its rosé cider was to create a drink that captured the essence of why people love rosé, but could be enjoyed all year long. Additionally, the crisp taste of rosé and its vibrant color were both important to the brand to keep in its rosé cider. The resulting drink is a total hit; Crispin Rosé Hard Cider manages to retain the crispness of a classic cider, but seamlessly pairs it with the remarkably fresh taste of rosé, in addition to its pink hue. It's such a light, refreshing drink that it's perfect for toting along to chilled out nights with friends, or lazy Sunday brunches no matter what time of year it is.
Of course, you must be 21 or over to purchase Crispin Rosé Hard Cider and enjoy it. The drink is available in stores nationally now (click here to find a location near you), and is being sold in a six-pack of 12 oz. bottles. According to Crispin, the drink will also be available on tap at participating establishments beginning this spring.