Here's What The New Rosé Hard Cider From Angry Orchard ACTUALLY Tastes Like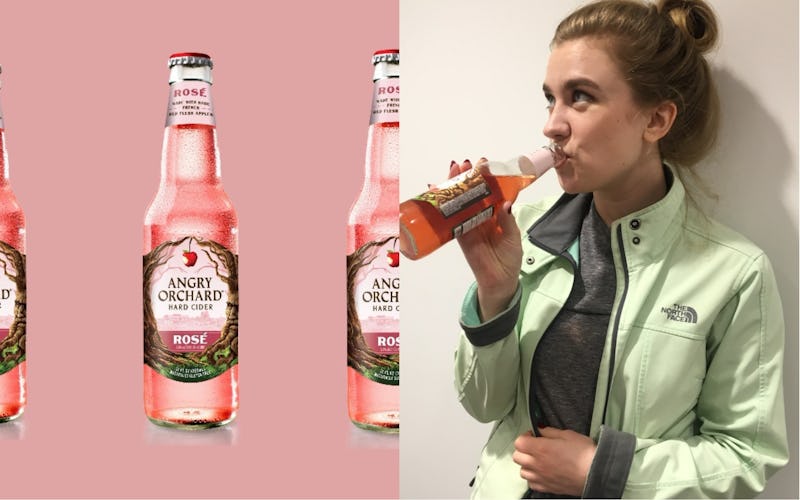 Cristina Arreola/Bustle; Angry Orchard/Bustle
There's no better time to be a fan of the color pink than 2018. Honestly, we've only just tapped the surface on the vast infinity of Things We Can Make More Exciting By Turning Them Pink — and as it turns out, when you're not busy wearing it, decorating with it, or cooking with it, now you can drink it. The future of millennial pink is here, in the form of Angry Orchard's new Rose Hard Cider, which officially launched today. Naturally, any fan of hard cider and rosé is probably wondering what Angry Orchard's Rose Hard Cider tastes like — and luckily for the internet, Bustle took the rosy-hued plunge and engaged in some extremely hard hitting investigative journalism to answer just that.
First, though, a bit of context on what exactly this drink is. According to a press release from Angry Orchard, cider makers worked for over a year to come up with the perfect combination for this drink — a combo that includes six different apples. The one that truly makes the drink unique is a red-flesh apple from France, called "Amour Rouge," or "Red Love" — not only is it a perfect name for you to steal for your next Tumblr blog, but this gives the cider its distinct rosy hue and flavor. This, along with a hint of hibiscus, is how Apple Orchard took the blueprint of their original cider and turned it into a millennial pink daydream.
Okay, so now that we've established that this drink is quite possibly too beautiful to responsibly post on Instagram, lest it make your followers weep, what does it actually taste like? Angry Orchard describes the flavor as "apple forward" and "similar to a semi-dry wine". The Lifestyle team at Bustle tried it as well, and can confirm that and then some.
I already described the taste in our first post on this drink, and I stand by it: "[I]t kind of tastes like wine, apple juice, and a flower had a baby, and then it grew up to become a goddess, and let you drink her tears. But genuinely, it does taste like the perfect blend of rosé and cider — not too dry, not too sweet, the perfect 'sit and catch up with your friends' kind of drink before or after dinner."
Here's what other Bustlers had to say:
"I am a rosé enthusiast and I think I actually liked the rose cider even more than wine? It's like the best part of summer AND fall in one drink. The rose flavor was super subtle but very satisfying." — Bustle's Deputy Lifestyle Editor Kathryn Kattalia
"Like walking into a kitchen in a Nancy Meyers movie that takes place on an apple orchard (so, the Parent Trap (1998), I guess, only everyone is now gluten free)." — Bustle's Associate Lifestyle Editor Melanie Mignucci
"It tasted like the lovechild of a $$$$ Yelp designated rooftop cocktail bar & a $ Yelp designated dive bar." — Bustle's Senior Books Editor and self-professed rosé expert Cristina Arreola
"It's the middle(wo)man between rose and frose. As someone who's always cold but likes her rosé on the sweet side, this is ideal." — Bustle Sex and Relationships Editor Michelle Toglia
"If I had to describe the flavor, I'd say it was definitely more of a rose taste, with a subtle sweetness. The cider flavor kicked in more toward the end, but as someone who isn't a huge cider person but loves rose, I would definitely drink it again! ... I'd say it had all the sweetness of a rose, with the casualness of a cider. It's a good go-to for when you want to feel like you're on a rooftop, but are actually in a dive bar." — Bustle Associate Lifestyle Editor Kristin Magaldi
TL;DR: We are big fans.
The best news is that Angry Orchard's Rosé Hard Cider isn't just a seasonal option — it will be available year-round, both in a six pack that will retail between $7.99 and $9.99, and in twelve packs of a variety of flavors that range between $14.99 and $16.99. The drink is available nationwide starting Feb. 22; the all day rosé crowd can find it at a store nearest to them using Angry Orchard's "Cider Finder". In the meantime, catch me at the local wine store stocking up on enough of these babies to actively deny that the weather is happening to me until summer actually comes.