This Is Why Puerto Ricans Were Left Without Roofs For 2 Months After Hurricane Maria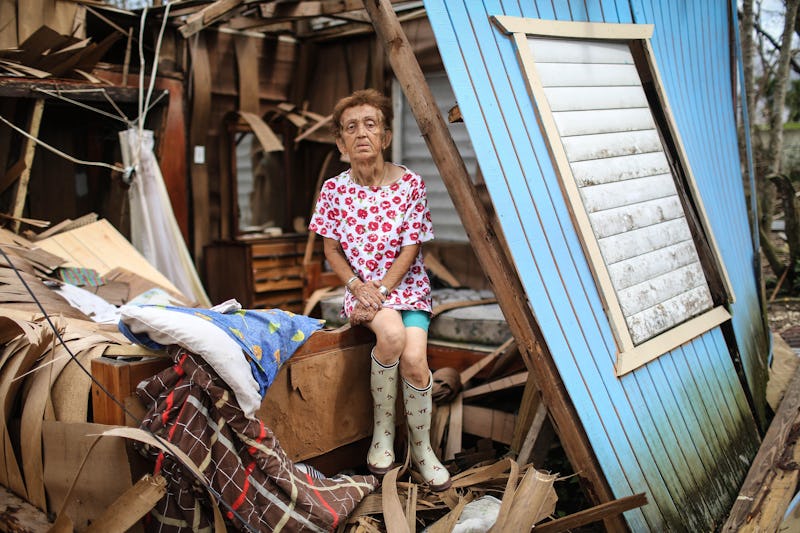 Mario Tama/Getty Images News/Getty Images
Hurricane Maria wrecked much of Puerto Rico when it struck the island in September, but tens of thousands of people whose homes were destroyed are still waiting on assistance. Making matters worse, the Federal Emergency Management Agency (FEMA) awarded $30 million in hurricane relief contracts to a company that didn't even deliver materials to Puerto Rico, The Associated Press reported. The contracts were cancelled after a month of inaction, stalling hurricane victims' ability to rebuild.
FEMA cancelled two contracts awarded to Bronze Star LLC, a Florida-based company, Nov. 6 after it failed to deliver 500,000 tarps and 60,000 rolls of plastic sheeting to Puerto Rico. The company was formed by two brothers just a month before Hurricane Maria hit, and thus had never been awarded a government contract before. A FEMA spokesman tells Bustle that companies who were bidding for the contracts were sufficiently evaluated, and federal regulation prohibits the agency from disqualifying a company because of its "newness."
The $30 million hadn't yet been distributed to the company, but the agreement meant the money was tied up for a month, keeping it from going to other companies that could have gotten the materials to Puerto Ricans needing to rebuild their homes.
Bronze Star's owners, Kayon and Richard Jones told the AP they couldn't follow through on the contracts because the tarp distributors they planned to use later told them they couldn't meet FEMA's requirements, leaving Bronze Star with no tarps or sheeting. The hurricane that hit Houston just before Hurricane Maria hit Puerto Rico also complicated their business, as most of their materials were reportedly supposed to come from the flooded city.
When FEMA cancelled Bronze Star's contracts, it threatened to hold the Jones brothers responsible for $9.3 million in damages unless they signed a waiver releasing both parties from the agreement, which they did. "We were trying to help; it wasn't about making money or anything like that," Kayon told The AP.
The contract for tarps has since been awarded to another company, and the first shipment arrived in Puerto Rico on Nov. 24, according to FEMA. The contract for plastic sheeting was awarded to OSC Solutions Inc., another Florida-based company that has delivered on government contracts in the past. Nevertheless, the first shipment of tarps didn't arrive until two months after Hurricane Maria made landfall, leaving Puerto Ricans without materials to install temporary roofs.
Recovery efforts have been slow on all fronts. Nearly half the island is still without power, as the Puerto Rico Electric Power Authority (called PREPA) struggles to meet the Dec. 15 deadline to restore power to 95 percent of Puerto Rico. Whitefish Energy Holdings, a Montana-based company awarded a $300 million contract to rebuild the electric grid, had trouble getting materials to Puerto Rico, and its contract was questioned amid reports that it overcharged the devastated island and that it had a personal relationship with Trump's interior secretary. The FBI is now investigating how the company won the contract.
Puerto Rico cancelled the Whitefish contract, and the energy company stopped working, claiming the government hadn't paid it, even though it was obligated to work until Nov. 30.
The former head of PREPA resigned earlier this month, forcing the governor to name an interim director while searching for a permanent replacement. "I trust that this process will occur as fast as possible and will not affect the work of rehabilitating the electricity system across the island, in accordance with the directives that we have put out," Governor Ricardo Rosselló said in a statement.
Hoping to turn things around, Sen. Bernie Sanders introduced a bill on Monday that would invest $146 billion in rebuilding Puerto Rico and the U.S. Virgin Island. If passed, it would dedicate $51 billion to economic development and $27 billion to infrastructure improvement, as well as invest in renewable energy development.
"Our bill allows the islands to build back stronger," Sanders said at a Monday press conference. "It makes no sense to simply put things back the way they were."