These Photos Of Cuba Evacuating Dolphins Before Hurricane Irma Hit Are Everything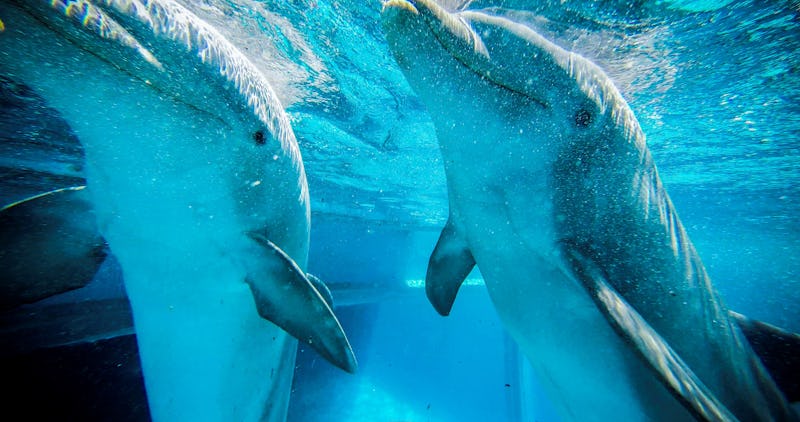 ADALBERTO ROQUE/AFP/Getty Images
Dolphins in helicopters. While it may sound the like the premise of David R. Ellis' action packed sequel to Snakes on a Plane, it is, in fact, something that totally happened. In a precautionary step so offbeat you might not believe it, Cuba evacuated six dolphins ahead of Hurricane Irma's landfall late Friday.
As Hurricane Irma barred down on northern Cuba, six dolphins were evacuated Friday from their home at a dolphinarium on Cayo Guillermo, an island that lies just north of Cuba. The animals were taken to Cienfuegos Province on the southern coast of Cuba, where Hurricane Irma's impact was not expected to be as severe, Fox News has reported.
"For the moment, they are in a pool that offers similar living conditions and if the weather doesn't allow them to be kept there, they will be moved to a salt water pool at a hotel," Gonzalo Carrero Escobar, the head of the dolphinarium, told Agence France Presse. Trainers and a veterinarian accompanied the aquatic mammals throughout their entire journey, Escobar said.
For their journey, each dolphin was wrapped in wet towels to prevent their skin from drying out and carefully placed on foam mattresses inside a helicopter that ferried them south. As dolphins are aquatic mammals, they have lungs and require air to survive; as long as they are kept cool and wet — some of the biggest risks dolphins face on land are overheating and drying out — they could survive out of water for anywhere from a few hours to a few days.
These six lucky dolphins aren't the only animals to be evacuated ahead of recent life-threatening hurricanes. Many pet owners residing in regions long the paths of Hurricane Harvey and Hurricane Irma had their pets evacuated to safety.
One of the more interesting pet evacuations came from Key West resident Sheila Walker-Strong, who recently shared a picture on Facebook of how Jayesh Mani, another local resident, had wrapped live chickens in newspaper to keep them safe and contained in the backseat of a car during their evacuation.
But not every animal is helicoptered away to safety during a hurricane threat. For example, the animals at Zoo Miami won't be evacuated ahead of Hurricane Irma, which is expected to approach the southwest Florida coast sometime Sunday. Instead, they'll be sheltering in place, according to zoo officials' emergency disaster plan.
"We are never going to evacuate animals," Zoo Miami's communications director, Ron Magill, said in an interview with NPR. According to Magill, the stress of going through an evacuation could kill an animal.
But the zoo isn't leaving its animals to ride out the storm alone: It plans to shelter birds and small mammals in independent kennels or hurricane-proof buildings, while larger animals, like the great apes and carnivores, will be bunkered down in their indoor holding areas.
The zoo announced in a statement released via Facebook:
The animals that are considered dangerous will stay in their secure night houses, which are made of poured concrete and welded metal. These animals survived Andrew without injuries.
The zoo also said it had "loaded up on additional food and water," removed anything that could become debris, and tested its generators:
We are taking every precaution to ensure the safety of our animals.
Hurricane Irma is the first Category 5 hurricane to make landfall in Cuba since 1924. It has since weakened to a Category 3 hurricane and is churning toward Florida, where it is expected to bring intense winds and life-threatening storm surge to the Florida Keys on Saturday before pummeling southwest Florida on Sunday. Although she is a Category 3 hurricane now, Irma is expected to strengthen as it moves across the state.