Cynthia Nixon Explains Why She's So "Scared For America" Right Now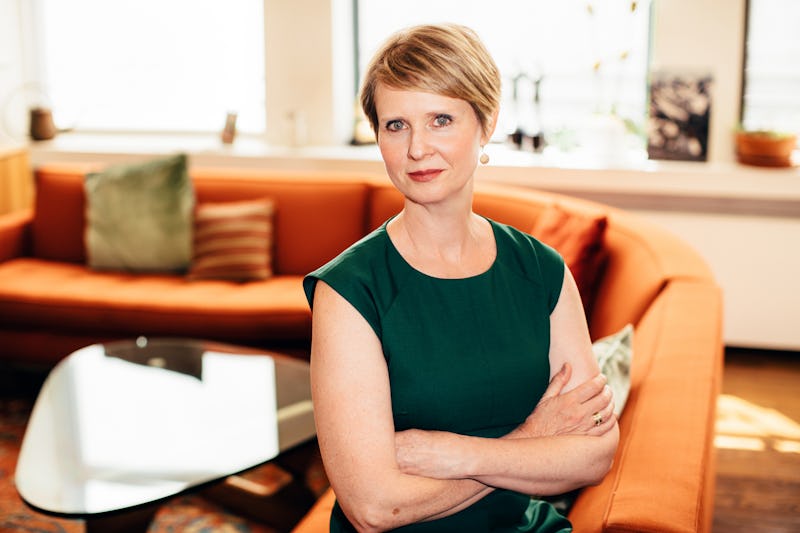 Ben Ritter/Bustle
As she runs to become the next governor of New York, Cynthia Nixon isn't shy about addressing the number one criticism people lob against her. An award-winning actress who's just one Oscar statuette away from an EGOT, the 52-year-old Nixon has no governing experience. But as the year of the outsider candidate collides with the year of the woman, she's confident that her record as a progressive activist on education rights and criminal justice in her hometown of New York City can propel her to a faceoff against Democratic Governor Andrew Cuomo in September. Besides, she'll tell you: Voters have heard this one before.
"There's nothing inherently wrong with celebrity in politics; it's what you do with your celebrity," Nixon tells Bustle in the kitchen of her East Village apartment in Manhattan.
Nixon is just about as "New York" as a celebrity can get, having starred as Miranda Hobbes in HBO's Sex and the City from the late '90s to the early aughts. She's also long made her home in the city that was basically its own character in the iconic series. A public school graduate, Nixon says she grew up with a single mom in a one-bedroom, five-floor walk-up, and started acting when she was 12 in order to pay for college. Now a mother of three public school kids herself, Nixon has spent years fighting school budget cuts. One of her biggest applause lines on the campaign trail is when she rails against the city's aging public transportation system. Campaigning may be new to Nixon, but she says she honed many of the necessary skills a long time ago.
"Speaking in front of people and interacting with the public is certainly good training for being in politics," Nixon says. But she feels that her best training for the job has come from her activism on education, LGBTQ issues, and women's rights, which allowed her to organize protests and go to Albany for meetings with legislators.
"We're at a point where we can't rely on career politicians because we're just getting more and more of the same, and we're not getting the real change that we want," Nixon says. "So many women who are running for office for the first time. They looked at who was in charge and the job that they were doing and they said, 'I think I can do a better job and I've seen what he can do and I can do better.'"
In Nixon's case, "he" is Cuomo, who's occupied the governor's mansion since 2011. A rumored potential 2020 presidential contender, Cuomo is a fixture in New York politics, backed by Democratic Party leaders and raising more than $30 million in campaign cash. Throughout his years in office, Cuomo has offered up policies to mandate paid family leave and restrict gun ownership, and he signed same-sex marriage into law. But Nixon argues he hasn't earned his progressive stripes, and on the campaign trail, she regularly pans him for "governing like a Republican."
"I think that people don't worry about New York because they assume that our political policies are as progressive as our voters, but that hasn't been the case," she says.
With her bid to upset Cuomo in the Democratic primary, Nixon is stirring up a reckoning inside the party that's been growing since Independent Vermont Sen. Bernie Sanders made waves in the 2016 presidential campaign. Sanders championed progressive policies like universal health care and free college tuition, going further than the eventual Democratic nominee Hillary Clinton, who criticized Sanders' proposals as unrealistic.
"I think what we saw with the insurgent candidacy of Bernie Sanders was things that he started talking about a few years ago that seemed beyond the pale are now the center of debate in the Democratic Party," Nixon says. "And if we want the Democratic Party to remain meaningful, if we want to elect more Democrats, we have to give people something to vote for, not just something to vote against."
"When you offer people an alternative to the establishment, to the old, entrenched boys club, people will go for that alternative."
The push-and-pull between the establishment wing of the party and its progressive side is on full display in Nixon's race, and getting enough signatures to petition for a spot on the ballot this fall has hinged on her ability to corral supporters and sell skeptics on her brand of politics.
In a Quinnipiac University poll from last August, 41 percent of voters overall said the Democratic Party was moving too far left, including 42 percent of independents. Just 15 percent of Democrats in that survey agreed, and a separate Harvard-Harris poll from October found that 52 percent of Democrats support movements to take the party even further to the left. The trend line isn't disappearing; rumored 2020 presidential candidates are rushing to the political left, most recently with calls to "abolish ICE," the arm of government that implements immigration policy, and for single-payer health care.
The movement's been further fueled by a stunning primary upset last month from 28-year-old Alexandria Ocasio-Cortez. The democratic socialist unseated the man widely believed to be next in line to succeed House Minority Leader Nancy Pelosi, Rep. Joe Crowley (D-NY). Yet Pelosi maintains that Ocasio-Cortez's victory speaks only to the district that voted for her, and not to a wider trend within the party.
"I think she's absolutely wrong," Nixon says of Pelosi.
"What we're seeing with Alexandria's victory is that when you offer people an alternative to the establishment, to the old, entrenched boys club, people will go for that alternative," she later adds.
While she's running as an alternative to Cuomo, Nixon often sets her sights on a familiar punching bag for Democrats: President Trump.
"Voting against Donald Trump wasn't enough or he wouldn't be president right now," Nixon says. "We need a Democratic Party that really is true to its values and true to its core beliefs, which [are] fighting inequality and making life better, particularly for working people, whether you're talking about housing, whether you're talking about health care, whether you're talking about education, whether you're talking about justice."
When it comes to women's reproductive rights specifically, Nixon says her mother instilled one core value in her early on: the need to protect access to safe, legal abortion.
"My mother had an abortion before it was legal," Nixon recalls. "It was very painful for her to talk about. ... It had been illegal and it was horrible. And I think it was very important for her to convey to me how critical reproductive freedom was."
Nixon shares her concern for the future of Roe v. Wade, the landmark decision that enshrined a woman's constitutional right to an abortion, the day after President Trump announced his second nominee to the Supreme Court. She tells Bustle that the nominee to replace retiring Justice Anthony Kennedy, Brett Kavanaugh, fills her with "terror" and that Trump's influence on the court makes her "scared for America." On a nearly wall-sized bookshelf in their apartment, Nixon and her wife, Christine Marinoni, keep a fanned-out copy of the autobiography of Justice Ruth Bader Ginsburg.
"To think that we might go back to that time... there are so many states already, I think there are 20 states that are lined up that if Roe v. Wade is overturned they're going to make it illegal there," she says. "And I shudder to think how many women will try and give themselves abortions because that's what used to happen."
The antidote to rolling back the clock on Roe, Nixon believes, is having a more diverse group of people run for office than typically have mounted campaigns in the past. Her own road to becoming a candidate took years; she says she had been considering a gubernatorial run since 2010.
"If we want more women to run and if we want our voices in government, which I think we do, we just need to be a bit bolder."
"I remember my wife, Christine, said to me at one point, we were having a conversation, she said, 'Oh, my god, you're really going to do this, aren't you?'" Nixon recalls. "I thought, 'she's right, I am.'"
She says the tipping point in her journey to launching her campaign came after realizing "that if you wanted to make a change, you had to be the one to bring it." While she cited Trump's election as a powerful motivator, support from other New York women sealed the deal.
"Rumor set out that I was considering a run, and I have to say, so many women [came] up to me on the street and in the subways and saying, 'You have to do it, you can do it, you got this, we need change in New York,'" she says.
The fact that women were some of her earliest supporters isn't lost on Nixon, especially since so few have historically run for office themselves. She praises the growing trend of women taking the plunge in 2018 while recognizing the stereotypes that've held them back in previous election cycles.
"I think there's a way, particularly in politics, that men are encouraged in their ambition and women are viewed with suspicion no matter how qualified they are," Nixon says. "It's really important for us to understand our value and I think that for so many women, we think we're not qualified unless we've, you know, written a bestselling novel and have, you know, been an astronaut who's been to the moon."
It's a striking moment of candor from someone who has won nearly every major award for acting, a notoriously difficult field for even the highest-achieving women.
Whether Nixon's career in politics, too, will be charmed remains to be seen. She's fighting an uphill battle against Cuomo, who has anywhere from a 22-35 point advantage in the most recent polls. But Nixon is confident she's leaving her mark by influencing the governor's policy positions and carving a path for women candidates to come.
"I think that men give themselves the benefit of the doubt when they do something ambitious like running for office," she says, "and if we want more women to run and if we want our voices in government, which I think we do, we just need to be a bit bolder."