Cynthia Nixon's "Vote For The Homo" Quote Was Actually Inspired By Her Rival's Dad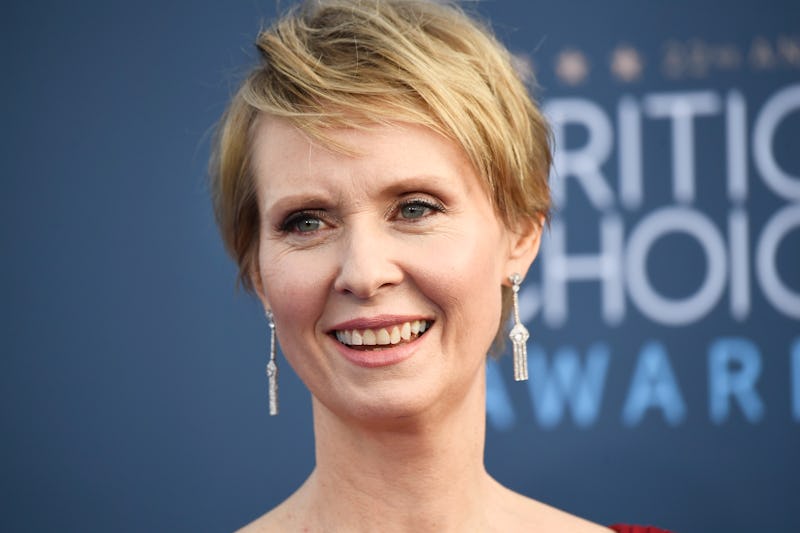 Frazer Harrison/Getty Images Entertainment/Getty Images
In a speech to the Legislative Correspondents Association on Tuesday, Cynthia Nixon rolled out a new slogan for her New York gubernatorial campaign: "Vote for the homo, not for the Cuomo," Nixon told her potential constituents at the event.
"Andrew Cuomo is known for dirty politics, but I have to give credit where it's due," Nixon said at the dinner, a sort of White House Correspondents Dinner for New York journalists and politicos. "His history of cutthroat campaigns helped inspire my campaign's new slogan."
That slogan is, of course, a reference to Nixon's opponent in the Democratic primary, and to the fact that she's a lesbian. But it's actually a much deeper cut than it may seem at first glance.
When Cuomo's father, Mario, was running for the New York City mayorship in 1977, his opponent was Ed Koch, a noted bachelor. During that campaign, flyers appeared in the city that read "vote for Cuomo, not for the homo" (Koch has said that he's straight).
It was never proven that the Cuomo campaign had anything to do with those flyers, and both Mario and Andrew denied any involvement with them. But it's long been rumored that the younger Cuomo, who was an advisor to his father's campaign, came up with that slogan. He's denied it consistently ever since the campaign, but the rumor is persistent enough that he was forced to address it almost two decades later during his campaign for New York Attorney General.
In short, Cuomo's new slogan is a reference to something that Cuomo probably doesn't want to be thinking about, let alone addressing, as he campaigns for a third term as New York's governor.
Nixon, like Koch, has also had her sexual orientation referenced by foes during her campaign. Shortly after announcing her candidacy, former New York City Council Speaker and mayoral candidate Christine Quinn — a close ally of Cuomo — slammed Nixon as an "unqualified lesbian." Quinn, herself a lesbian, later apologized, but Nixon happily appropriated that slogan, and even began putting it on official campaign merchandise.
Nixon's speech Tuesday was full of jokes, as the LCA dinner is generally a light-hearted affair. When discussing her support for legalizing recreational marijuana, she said that it's "like Michelle Obama sort of said: When they go low, we get high." Most of her sharpest barbs, however, were reserved for Cuomo.
"Cuomo thinks that I should stick to acting," Nixon said. "But after seeing Cuomo try to play the part of a progressive, I think he should stick to politics." She added that his "performances as a progressive have not been very convincing as of late."
"You might say that he's an unqualified thesbian," Nixon quipped.
Nixon has positioned herself as a progressive alternative to the centrist Cuomo, and her campaign has drawn quite a bit of attention since she announced it in March. Although the latest poll shows her trailing the governor by double digits, Nixon has been endorsed by a variety of progressive groups, including the powerful New York Working Families Party.
In turn, Cuomo has made several progressive moves as governor since Nixon entered the race that many see as a response to the perceived threat of her candidacy. Among other things, Cuomo has introduced a bill to ban plastic bags, signed an executive order allowing parolees and felons to vote, and voiced his support for legalizing recreational marijuana.
Although Cuomo currently leads Nixon in the polls, his lead has steadily been shrinking for months, falling from 47 points in March to 22 in early May. The Democratic primary is on September 13th.