Dairy Queen Just Launched A Firework Oreo Blizzard & It's A '90s Kid Dream Come True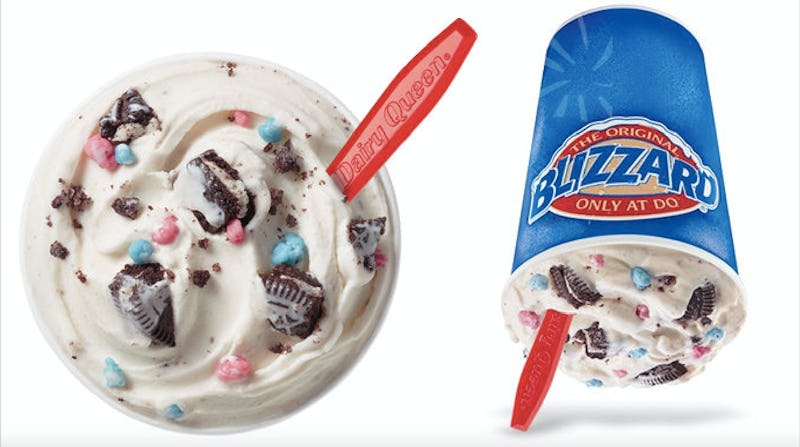 Dairy Queen
Summer without cold treats is like yin without yang. Drake without Josh. Jim without Pam. Lindsay Lohan without her CGI twin in the Parent Trap. It just doesn't work. Going through a blazing hot day in the summer without at least a glass of orange juice to cool you down is a nightmare, especially if you've been spending most of the season outdoors. If you're like me, you like to get a little bit of variety in your cold treats because there comes a point where you body starts to plead with you to consume anything other than an iced coffee. Thankfully, Dairy Queen's Oreo Firework Blizzard, created in celebration of the Fourth of July, has answered that prayer — and it will through the full month of July.
According to a press release, the indulgent treat is composed of Oreo cookie bits and red and blue pop-rock like candy mixed into the chain's signature vanilla soft serve, and will be available at participating locations throughout the nation in sizes from mini to large. Of course, the Blizzard is packed into perfection in the cup so you can turn it upside down to your heart's desire (okay, maybe just once, because Blizzard covered pants aren't exactly the look).
Maria Hokanson, American Dairy Queen Corporation's executive vice president of marketing, shared in a press release, "There's no sweeter place this summer, and particularly during the Fourth of July holiday week, to celebrate America than at Dairy Queen."
She has a point: along with the Oreo Firework Blizzard, Dairy Queen has another limited edition stars-and-stripes themed treat for the holiday.
The all new Star-Spangled Blizzard is colorful, mouthwatering, and also offers two of Dairy Queen's famous treats in one dessert. Blue rock candy is sprinkled on the chain's classic vanilla soft serve (some of it is even blended into the ice cream), topped with an extra dollop for good measure, and features DQ's signature Stars & Stripes StarKiss Frozen Treat (a cute red, white, and blue popsicle) wedged into the side. "The Star Spangled Blizzard Treat has the 'wow' factor. It's fun, it looks completely different than anything else on our menu, plus it's delicious and picture perfect. But it won't be here for long so if fans want to experience our most American treat ever, they should come in now," said Hokanson in a press release. I second that.
The Oreo Firework Blizzard is the most recent in a line of cute, creative Blizzard of the Month treats. Last December blessed us with the Oreo Hot Cocoa, a Christmas-y rendition featuring a cocoa fudge-vanilla ice cream blend with Oreos dusting the top; February highlighted a Dipped Strawberry with Ghirardelli Blizzard; and March introduced the Jurassic Chomp with Peanut Butter (chocolate dipped peanut butter bits with fudge-drizzled ice cream, can I please just turn back time so I can eat this). July's Oreo Firework is perfect for summer because it's colorful, festive, and of course, under $5 for those days when you're paying at the drive-thru with a bunch of hot quarters that you just found in your glove compartment. We've all been there, right?
Better yet, if you get hooked on this Blizzard but are realizing that it's probably time to chill with the DQ trips because, honestly, you and the cashier are on a first name basis now, you can even buy Firework-themed Oreo cookies separately. The limited edition snacks have the classic Oreo base — chocolate wafers with vanilla creme filling — but are also filled with rainbow-colored pop rock candies. You can find them at Target or on Amazon. Eat on, friends — Dairy Queen's newest festive Blizzard awaits.