Agent Cooper Returns In This 'Twin Peaks' Teaser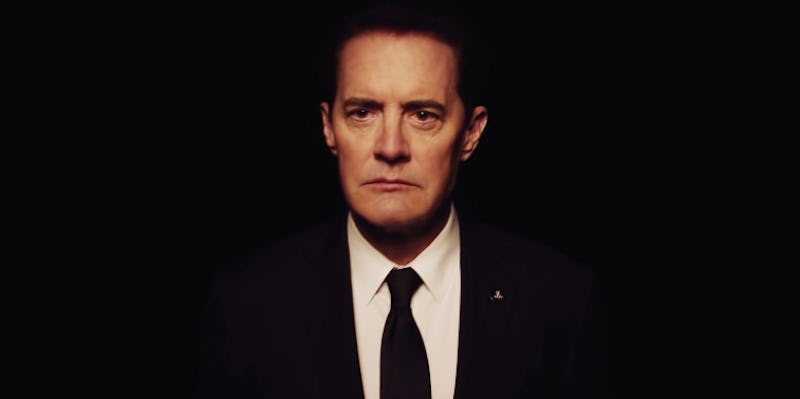 Showtime
We're going back into the woods sooner rather than later, and luckily there's a familiar face to greet us. In the newest teaser trailer for Showtime's Twin Peaks, we get a glimpse at Kyle MacLachlan's iconic Special Agent Dale Cooper emerging from the darkness we were all left at the end of the series. Brief as the glimpse is, I do hold out some hope... does this teaser help us figure out what's happened to Agent Cooper the past few decades?
The short answer is, no, and it only seems Lynchian that we have no solid clues about what's going on with the special agent. When the series left off, Coop had just woken up after a stint in the Black Lodge, having dealt with a series of doppelgängers and demonic forces alike. Crazed and almost certainly possessed by BOB, our dashing hero smashes his head against a mirror and, head bleeding, giggling maniacally, chants, "How's Annie?" In short, things were looking bleaker than ever, especially for our beloved protagonist.
But it's safe to assume that nothing is what it seems in Twin Peaks promotional material, and therefore maybe we can take a closer look. In terms of how the teaser is cut, we literally go from the malevolent woods to having Agent Cooper emerge from the shadows. Perhaps this means that, at some point, Cooper will manage to escape BOB's possession. Or maybe it means that Cooper is now an Agent of the woods, and his role in the series will be one marked by evil. I don't know. There's a metaphor in here somewhere, right?
Also of note, Cooper's expression is incredibly stoic. That's possibly a comfort in the sense that last we saw of him, he was a bloody, BOB-consumed mess, cackling underneath the end credits. That craziness certainly isn't coming across here. But Leland Palmer, BOB's previous host, didn't flaunt his darker side left and right, really only letting loose with the bizarre behavior after Laura died (which is a whole other thing). Beyond that, Cooper's everyday demeanor is jovial, and pleasant, with occasional moments of pensiveness.
And as such, expect to learn nothing until Twin Peaks debuts on May 21 with a two hour premiere. Or hell, expect to learn nothing even after this reboot wraps up, because there's nothing like foggy, unresolved mystery to mark a David Lynch project. But either way, delve deep into the teaser below and see if you can solve this case.