Here's How Dan Is Grieving Roseanne's Death On 'The Connors'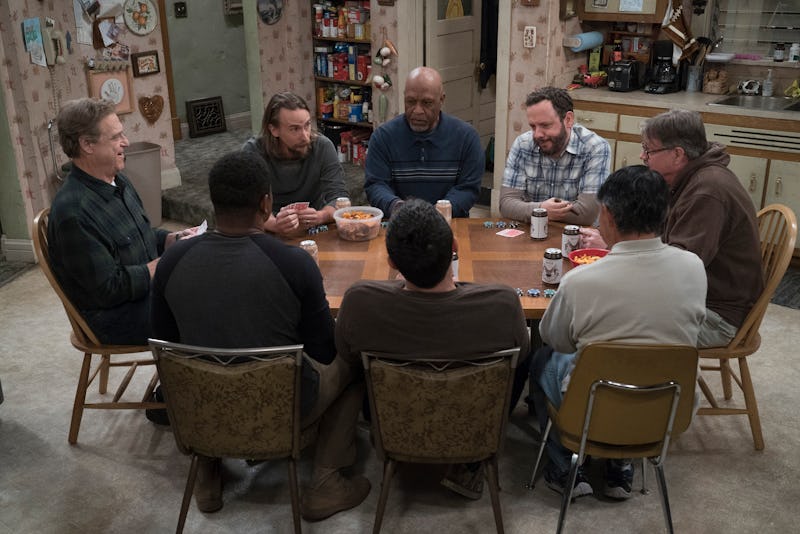 Eric McCandless/ABC
The main question of The Conners' first season was obviously about how the show would proceed without Roseanne's title character, but now that we're a few episodes in, the family is taking things a little deeper. Tuesday night's new episode of The Conners conquered religion and faith — which isn't surprising, considering how the Roseanne reboot was all about tackling difficult, hot button topics — and in the end, Dan realized that keeping his emotions to himself while going through the loss of his spouse wasn't the right way for him to grieve.
Knowing the bond that Dan and Roseanne had when she was still alive, both in the original show and the short-lived reboot, it's understandable that he would be the character who takes her death the hardest. In fact, in The Conners' season premiere, he struggled to sleep in their bed alone for weeks after she died of an opioid overdose.
But as fans saw in Tuesday's episode, he wasn't going to take help from Darlene, Jackie, or his friends... and it just so happened to intersect with a major debate that was happening between Geena, DJ's wife, who made church a priority in her life, and the rest of the family, who either didn't believe or were agnostic at best.
After a lot of pressure, Dan ended up going to a support group of people who were going through grief themselves. He didn't want to talk at first, but then, he ended up admitting that he felt like God didn't hold up his end of the deal after Dan lived his life as a moral, good person. He said:
"You know when you're a little kid and they tell you in Sunday school to live right, be a good person, say your prayers, and God will reward you? I tried. I mean, I'm not just saying this. I busted my ass to play by the rules, and here's my reward. I'm 66 years old and I get to live the rest of my life without the woman I love. God and I made a deal. He did not come through on his end."
Dan also realized that by sharing that with the group, he still didn't feel better. So what was he supposed to do?
And because of the grudge he was holding against a higher power, Dan didn't go to church with the rest of the family. Instead, he decided to let his friends help him, and he played poker with the guys and even ended up singing along to the radio with them — a lot of progress from where he was at the beginning of the episode.
Although Roseanne was obviously cut from the show because of the controversies with the actor that were happening in the real world, that doesn't excuse the characters on The Conners from mourning the death of their fictional matriarch. Even though Dan has gone through a lot so far, he's still the same strong father figure he's always been, and it'll be interesting to see where his journey out of grief takes him from here.