Spice's Alleged Skin Bleaching Speaks To A Larger Beauty Issue In Jamaica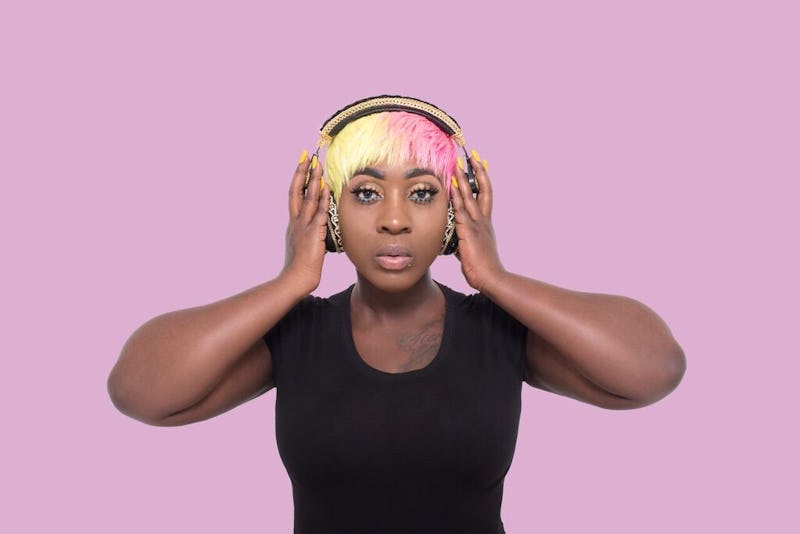 Bryan Studios
The internet went into a speculation frenzy on Monday, Oct. 22 when screenshots of dancehall artist Spice went viral, showing the musician with significantly lighter skin. In the clips, Spice was seen being interviewed by Billboard's contributing reggae writer Patricia Meschino on Instagram Live. The artist was wearing a full-bodied, latex suit and visor sunglasses, which covered everything on her person minus the lower part of her face as she performed tracks from her upcoming EP Captured.
During her interview, Spice mentioned that she lightened her skin in an effort to appease those who have said she was "too dark" or "dirty" in the past, and that she would "do better if she were a "brownin" — a term used in Jamaica for people with lighter, black skin.
"I was told I would reach further if the colour of my skin was lighter," she sang to Meschino. "And I was made to feel inferior 'cause society say brown girls prettier." Towards the end of the interview, a fan commented on the live feed asking "why you white?" However, Spice dodged the question by saying she was going to a "surprise" room to do a performance.
Bustle reached out to Spice's rep for comment, who confirmed the star says it was all done to spark a conversation around colorism in Jamaica and abroad.
Still, the fan reactions to Spice's "new look" have been polarizing, with her receiving accumulating attention from an international audience. The dancehall queen, who recently appeared on season seven of VH1's Love and Hip Hop: Atlanta has gotten a flood of mixed comments via Instagram. And although some are voicing their support for her decision, others seem to be disappointed, and question how much this could influence her audience — especially her younger and most impressionable followers.
"Love the look girl," one person commented. While another said, "It's a pity, really hope this pic is fake and you're not bleaching."
"Such disgrace to black culture," a different follower added.
Skin bleaching is a contentious issue in Jamaica. And while some cite personal self-hate as an underlying cause for the act, the issue of colorism actually stems from the country's anti-black, racist, and colonial past — which created a skin color hierarchy. Today, these ideals are still maintained through Jamaican society's general favouring of people with lighter skin, which ultimately grants them upward social and economic mobility. However, others have also argued that skin lightening serves as a means for people to exercise their own bodily agency and autonomy.
And it seems as though colorism has been on Spice's mind for a while, seeing as she explores the topic in-depth on a record from the EP she discussed in the Instagram Live interview, titled "Black Hypocrisy."
The song was given a visual treatment courtesy of Jamaican-based director, Xtreme Arts. In the video, Spice laments, over a reggae riddim, how she had been made to feel inferior because of the complexion of her skin. Then she's seen amongst a group of darker skinned black women advocating for them to be confident, as they proudly march through the streets.
But Spice isn't the first famed Jamaican artist to have made headlines for raising the topic.
In 2010, infamous dancehall artist Vybz Kartel began bleaching his skin. And on his record "Cake Soap," the artist speaks openly about why he chose to do it. In the song he says, "She seh techa yo skin feel nice eeen/Cool like mi wash mi face wit di cake soap." In other words, Kartel alludes to the fact that more women are attracted to him when he uses skin lightening soap.
Given the artist's influence over his locale, many of his fans followed suit — making bleaching much less taboo than before.
Kartel has also recently shown his support towards Spice's lighter complexion by reposting her photo to his Instagram page with the caption, "The #QUEEN." While on Facebook, he shared the same picture, writing, "Who is this? Can you guess?.. self hate? Well unuh stop use filters .. Cuss till unuh feel better." [Who is this? Can you guess?.. self hate? Well you all won't stop using filters.. cuss until you feel better."]
Jamaican writer and scholar Nicole Dennis-Benn has also explored the effects of colorism in the nation in her historical fiction novel Here Comes the Sun. As well as in an essay she penned for ELLE magazine, where she confessed to debating bleaching, and revealed her struggle to detach from the ideal that lighter skin is more beautiful.
But the desire for light skin is not specific to Jamaica. In fact, the #UnfairAndLovely social media campaign, started by University of Texas student Pax Jones, went viral in 2016 after it included a photo featuring two dark skinned South Asian sisters, Mirusha and Yanusha Yogarajah. The campaign was created to celebrate women with darker skin tones, referencing to a popular Asian and South Asian skin lightening cream, Fair and Lovely.
However, for Spice, I personally think she took the issue of colorism and created an opportunity to hold Jamaican culture accountable for maintaining these ideologies. I believe it also seems likely that she relied on the impact of shock value to draw awareness to how debilitating colorism is — and I think it worked. It's the message, and not the method, that people should be paying attention to. And though controversial, I feel her actions should be seen as an extension of social media-borne movements we've come to be familiar with like, like #BlackGirlMagic and #Blackout, that allow black people of all shades to see themselves as worth being celebrated, amidst a world that tells them that they shouldn't be and to aspire towards whiteness.
I believe "Black Hypocrisy" is a call for a change in the way some black people think of themselves and in relation to one another. It's clear that there are damaging psychological, mental, emotional and physical consequences if colorist ideologies are maintained and not unpacked. There is no one shade of black that is beautiful. All black is beautiful.