This Dancer Gives The Judges So. Much. Attitude (In A Good Way) In 'SYTYCD' Video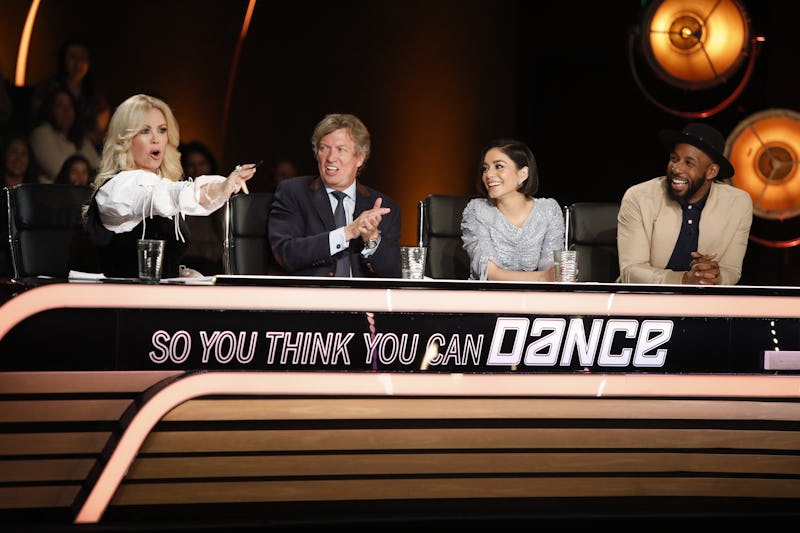 Adam Rose/FOX
The second week of So You Think You Can Dance season 15 auditions takes the hunt for America's Favorite Dancer to New York City, where the talent just seems to get better and better. As was the case in the season premiere, some of these dancers take the stage with skills that could have won the whole thing on the spot in previous seasons. Just check out Jay Jay Dixonbey's So You Think You Can Dance audition in the exclusive clip below, which proves the bar (or barre, if you will) has really been raised in the competition.
The 20-year-old Jay Jay is billed as a jazz dancer, but he brings a flair for other styles to his audition. Mixing genres like that is what So You Think You Can Dance is all about, and from the clip, it appears the judges are immediately on board. Nigel Lythgoe seems like he can't wait to give Jay Jay the OK, comparing the dancer to "a young salmon jumping out of a Scottish stream." Mary Murphy gets in some of her patented screams as well, and tWitch looks intimidated in the best way. "That was just beautiful," Vanessa Hudgens adds. "It's got me so hype!"
Check out Dixonbey's magnetic audition, set to Al Green's "I Can't Get Next To You," right here in this exclusive clip from Monday night's episode, which airs at 8 p.m. ET on Fox. The clip doesn't show the judges' final decision, but they certainly seem to be on board.
According to FOX, Dixonbey is from Detroit, Michigan. He is on the faculty of Michigan's Power Dance Company — and according to his official bio there, he recently danced at the 2017 Academy Awards, has toured with the Shaping Sound Dance Company (created by SYTYCD alum and Emmy-winning choreographer Travis Wall), and currently tours with the NUVO Dance Convention as an announcer and assistant. The NUVO Dance Convention features some notable So You Think You Can Dance contestant and choreographer alums, including Wall, Stacey Tookey, Ray Leeper, and Ivan Koumaev.
If that background and those credits make you wary that SYTYCD is straying too far from its amateur beginnings, it's true that Dixonbey is connected to the franchise — but after 14 full seasons featuring so many talented dancers and choreographers, that can probably be said for a number of hopefuls at this point, many of whom grew up watching the show. Dancers from across the world have graced the So You Think You Can Dance stage.
Want to see more of Dixonbey already? YouTube has got you covered.
No matter how connected he is to big names from the show, Jay Jay — like his fellow hopefuls — will still have to do the moves and step up, if you will, in order to win. He has a natural style that isn't overshadowed by his technique, and that could bode well for him. But plenty of dancers who've seemed to possess the whole package have fallen short in the past. Partnering up is still a huge aspect to So You Think You Can Dance, so if Dixonbey makes it through to the Academy, the next challenge will be to prove his chops working with another dancer.
Jay Jay definitely has charisma going for him though, and his charming smile may be an advantage. He doesn't take himself too seriously! Dixonbey is clearly on that stage to entertain and have a good time. It's never to early for viewers to throw support behind a So You Think You Can Dance contestant, and after an audition this engaging, plenty of fans may be in Jay Jay Dixonbey's camp.