Why' Dancing Queen' Is Every 'Dance Moms' And 'Drag Race' Fan's Dream Come True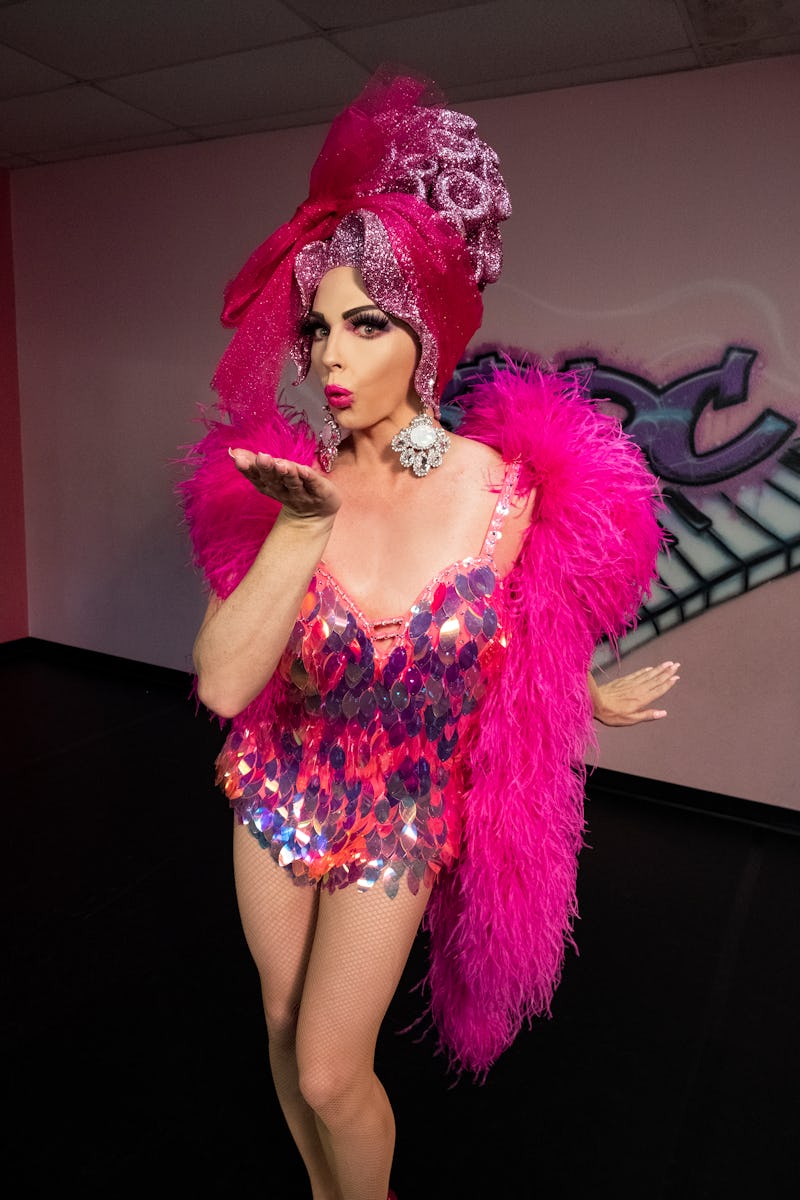 If Dance Moms and RuPaul's Drag Race had a love child, it would look exactly like Alyssa Edwards' Dancing Queen. The Netflix docu-series gives viewers a backstage pass to the busy double life of Justin Johnson: On one end, a bedazzled drag queen, on the other, a fiercely devoted dance coach. "At this point I'm actually a professional juggler," Johnson jokes over the phone to Bustle. But he's right: Watching his hectic schedule across eight episodes will make you think Hannah Montana had it easy.
Johnson rose to fame as Alyssa on Season 5 of RuPaul's Drag Race. He didn't win, but he quickly became a fan favorite, and was asked to return to the show for All Stars Season 3. On the runway, he's known for his flamboyant looks, witty character, resounding tongue pops, and larger-than-life Texan accent. But offscreen, he owns Beyond Belief Dance Studio in Mesquite, Texas, where he's better known as Mr. Justin.
"I'm a man that wears many hats. It can be a circus act at times, but I will tell you as much as I love being on stage and in my character, there's no other greater love I've felt than being in that work room with those kids," he says. "And as much as I have inspired them, they have inspired me to be a better man and a better role model."
That's obvious from the earnest way Johnson interacts with his young students. It's impossible to miss the sparkle in his eye as he directs them across the dance floor or watches their improv come to life. Dance was his passion long before he even knew what drag was — as a kid, he used his $10 allowance to purchase his first-ever dance lesson — but it's teaching, Johnson says, that he feels is his true calling.
"I think the greatest gift I've ever received is the gift of being a teacher. And I definitely think I was born with that gift because it takes a very special someone. I mean, I am not only shaping these children, the youth of the future, of tomorrow, to be excellent dancers, but also, something bigger than that," he says. "I am inspiring them to be good people. Good humans. And hopefully, assets to society. If you have a dream, hold tight, steadfast. And wake up and work hard and make it a reality."
In Dancing Queen, Johnson puts that mentality to good use, not only helping his students to hone their technical skills, but giving them the strength to face the rejection, pain, and loss inevitable in such a cutthroat field. Most of the kids make it a learning experience, but as other reality shows have proved, rejection can be a tough pill for many dancers (and their moms) to swallow. Eventually, though, they come to accept it — just as they accepted Johnson after his Drag Race debut five years ago. Before then, no one at Beyond Belief had met Alyssa Edwards.
"I was very private with what I did outside of the studio because I didn't want to be judged. Living there in Mesquite, I didn't know how parents would react, and I didn't want to be put in a category or box," Johnson explains. "I didn't want my choreography to be judged by what I did after hours. And, when the Season 5 trailer came out, there was an overwhelming positive response ... It wasn't until All Stars [that] I was just like, 'Be proud of all the things that you've done Justin. These people are celebrating. They appreciate everything that you've done. But more importantly, they celebrate who you are as a man, and what you share and have given their children. That's their support.'"
Not to mention, the kids absolutely love having a drag queen as a dance teacher. Who wouldn't want to learn the ultimate death drop from the person who does it best?
As for what's to come, Johnson says he prefers to live in the moment, but wouldn't mind sashaying his way into a second season. "There's so much uncharted territory we didn't even touch," he teases. "I need at least a good 20 more to get it all out."
Hopefully, his students can keep up.