Daniel Craig Finally Confirms That, Yes, He's Returning As James Bond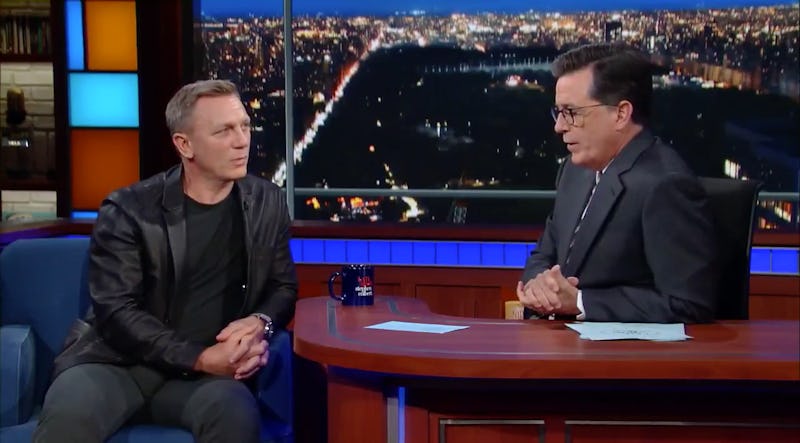 'The Late Show with Stephen Colbert'/CBS
On Tuesday evening, Stephen Colbert sat down with James Bond actor Daniel Craig, who confirmed that — yes — he will once again return to the screen as the film series' star character. And, as Colbert noted, it might just be the good news we all needed.
The James Bond series began back in 1962 and starred Sean Connery as 007. Since then, there have been a total of 24 Bond films, not counting the upcoming one, which is expected to be released in November 2019. This will be Craig's fifth time playing the famous spy. The previous four films Craig starred in include Casino Royale, Quantum Of Solace, Skyfall and Spectre, which came out in 2006, 2008, 2012, and 2015 respectively.
As early as that same morning, Craig had kept his lips sealed during an interview with Boston's Magic 106.7. When they asked whether he'd continue playing Bond, Craig simply said, "I know they're desperate to get going and I would in theory love to do it, but there is no decision just yet."
However, he was finally ready to break the good news that evening, admitting to Colbert that he had been pretty secretive about the possibility up until then.
I have been quite cagey about it. I have been doing interviews all day and people have been asking me and I think I've been rather coy. But kind of felt like if I was going to speak the truth I should speak truth to you.
At that point, Colbert asked him the million dollar question: "We could use some good news here. Daniel Craig, will you return as James Bond?"
Craig responded with a succinct "yes." "I just want to go out on a high note, and I can't wait," he said, revealing that this upcoming film will be the final time he plays Bond. He went on to tell Colbert that he's due for a break. Even so, he revealed that he's known for months that he would decide to do another Bond film. "We've been discussing it, we've just been trying to figure things out," he told Cobert. "I always wanted to, I needed a break."
And after what will soon be five Bond films, that break will be well-deserved. And whether or not he decides to return to the screen a sixth time, he'll go down in history as one of the handful of men who have had the opportunity to be the spy everyone recognizes.