Danielle Fishel's Wedding Photo Will Bring 'Boy Meets World' Fans So Much Joy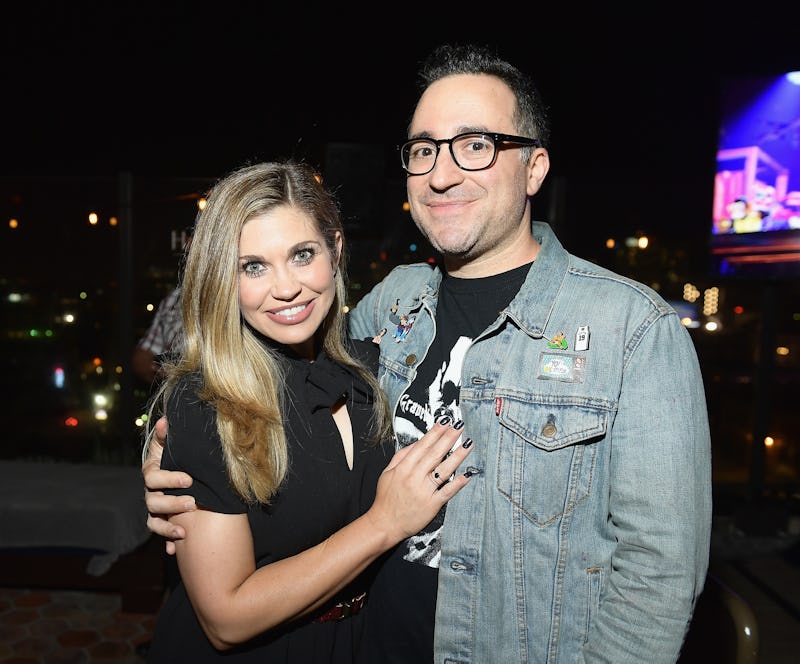 Matt Winkelmeyer/Getty Images Entertainment/Getty Images
Congratulations are in order for one of your Boy Meets World faves. According to People, Danielle Fishel married Jensen Karp on Sunday, Nov. 4 in what appears to be a stunning wedding ceremony. And you have to see the absolutely gorgeous photo taken during their special day. It'll bring fans of Topanga so much joy.
In a photo shared on Instagram, taken by Jill McQuerrey of B.O.B. Photography, the newlyweds were on full display in their wedding day best. The Boy Meets World actor captioned the photo with a simple and lovely, "Mr. and Mrs. Karp. Established 11/04/2018."
Based on the actor's post, it seemed as though the couple pulled out all of the stops to make sure that their big day was as special as possible. In the caption, Fishel also tagged those responsible for making the behind-the-scenes wedding magic happen — @_hairbylaurie (hair), @julie4makeup (makeup), @union3events and @lisagaskarth (coordinators), and @atomictangerinefilmco (video).
Karp, who is one of the executive producers of Drop the Mic, also wrote a sweet as can be caption in honor of their wedding day. Along with another photo by McQuerrey, he wrote:
"Today I married my soulmate. We were surrounded by family and friends and it was the best day of my life. I also ate 3 donuts after dinner. Unrelated. @daniellefishel, I love you so much and thank you for giving me this smile."
It was previously announced back in March that the couple was engaged, according to Us Weekly. Fishel announced the news herself on her Instagram, in which she showed off her new bling. She also wrote:
"I woke up today thinking it would be a normal day and it was anything but normal. I put on my Genghis Cohen t-shirt and went to see @jensenclan88 at work where I proceeded to screw up a very romantic marriage proposal by being too efficient (this is very on brand for me). The future Mr. and Mrs. Karp are now engaged and no one is more excited than I am."
The Drop the Mic producer had a similarly sweet post in celebration of their major relationship milestone. In a caption for the same photo, Karp wrote,
"We got engaged today. I don't have anything witty or funny to say to accompany this picture. She is just the greatest person in the world and to imagine someone I went to high school with was always my person, is remarkable. You never know."
While it's unclear exactly when the two started dating, there was one clear marker of their relationship that People pointed out. According to the publication, Fishel and Karp went Instagram official with their relationship in June 2017 (possibly on June 15, 2017 when the producer posted a photo of Fishel on his Instagram account).
Even though it may be unclear as to when the couple officially started dating, one thing is incredibly clear: The Karps have officially found love and were able to celebrate with an absolutely beautiful wedding ceremony.