Danielle L. Shares Exactly How The KrisDEANa Love Triangle Happened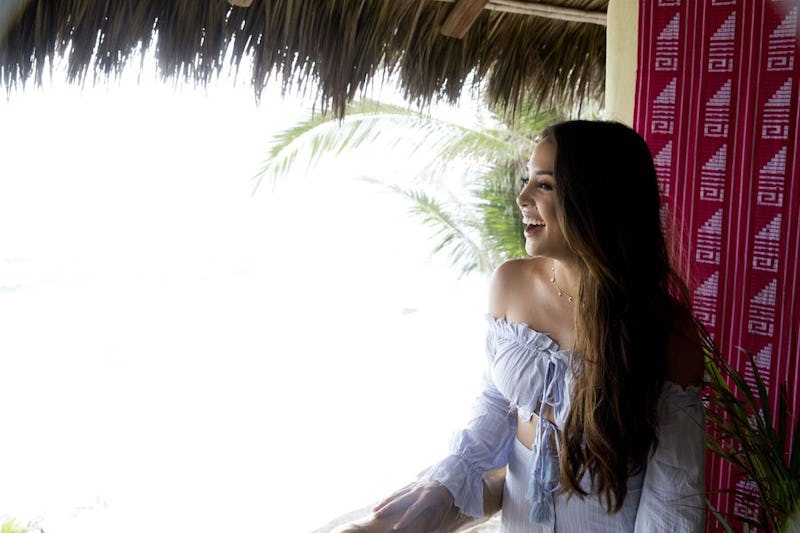 ABC/Paul Hebert
Season 4 of Bachelor in Paradise only premiered two weeks ago, but there's already serious relationship drama — and even a love triangle. Despite the fact that Kristina Schulman and Dean Unglert had been spending a lot of time together, when Danielle Lombard arrived on the scene, things really took a turn. Now, Danielle is opening up about the Kristina/Dean situation, and her words only emphasize that Dean is the one to blame here for any hurt feelings, not the ladies he's been juggling.
On Tuesday night's episode, Danielle joined the cast, and immediately asked Dean out with her first date card. Since she and Dean had been getting close and they had traveled together during the production shutdown, Kristina was blindsided, and Dean's unwillingness to talk about serious stuff with her didn't help matters much. In the end, Kristina was heartbroken when Dean walked away from her to spend time with Danielle, and she ended up back in her room in tears.
But in an interview with Us Weekly on Wednesday, Danielle cleared up her side of the story, and according to her, she had no idea how serious things had been between Kristina and Dean, and that since Kristina didn't say anything to her about their budding relationship, she assumed it was safe to ask him out.
Danielle said,
"When I talked to [Dean], he was like, 'Yeah, you know Kristina and I were talking during the break. We went on a date, sort of went well, but it was going too fast and I wanted to take a step back and maybe go on dates with other people.' So I was like, alright. Well. She didn't say anything, he said he's open to dating, so why wouldn't I ask him on a date? He was an original person of interest."
After so many fans fell in love with Dean on Rachel Lindsay's season of The Bachelorette, it's hard to imagine he could ever be careless with anyone's feelings. Although he did tell Kristina he didn't want to get too serious too quickly, his actions spoke differently, and it sounds like he could have been more clear.
Danielle added:
"At the end of the day, I know how my actions can be perceived on television and I know what really happened. And if Kristina and I were close friends and she wasn't comfortable with me dating Dean, then I would have just backed off. But that wasn't the case. We talked a lot during the show. We had a conversation and we've talked afterwards. And I think it's one of those situations where you can't help who you love and it's a tough situation. Dean really needed to step up and take on that role of really talking to us both and being very transparent, so it will be interesting to see what happens."
After they talked about it, Dean was cuddling Kristina at the campfire... and then got up to bring Danielle a surprise half-birthday cake. There were a lot of mixed messages there, and it's no wonder that Kristina was so confused. It wasn't Danielle's job to not date Dean, it was Dean's job to end things with Kristina without giving her a false sense about what their relationship really was. Instead, she felt like he was still interested in her, and why wouldn't she? He was sitting next to her with his arm around her, but then he ran off to find Danielle.
On The Bachelorette, Dean was shown avoiding serious conversations, like when he asked Rachel what her favorite dinosaur was instead of discussing their future, so it's really not surprising that not much has changed since then. Danielle is right: Transparency was absolutely necessary here, and Dean dropped the ball. According to Danielle, Kristina didn't speak up about her feelings, either, so what was she supposed to do? The blame can't be placed on her for pursuing someone she's interested in.
There's always next week, and there's still a chance Dean will step up and do the right thing. But if he doesn't, it's not Kristina or Danielle's fault that they got caught in an unfair situation that Dean created.