Danielle Returning To 'RHONJ' Would Be The Best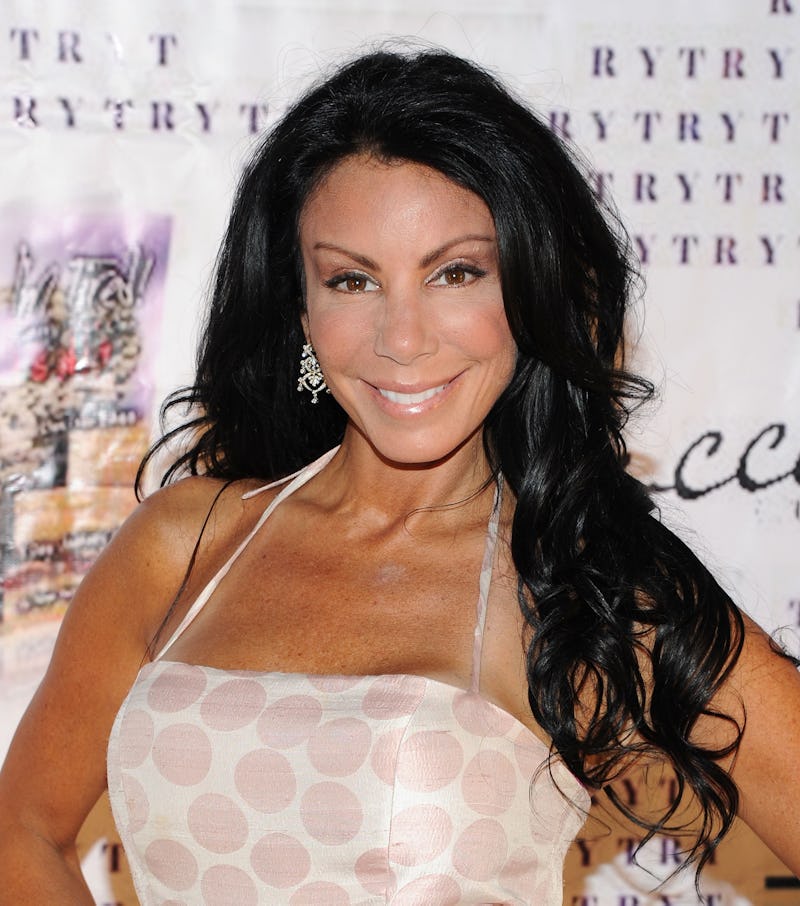 Jason Kempin/Getty Images Entertainment/Getty Images
Warning: The following news might make you flip a table. According to Us Weekly, Danielle Staub is returning to RHONJ. E! News is also reporting that the former New Jersey Housewife will make a triumphant comeback when the franchise returns for Season 8. The news has not yet been confirmed by Staub or Bravo. Reportedly, the show has yet to start filming and it's unclear whether or not Staub would be a full-time Housewife, but E!'s sources claim she is returning. Bustle reached out to Bravo for comment, but did not receive a response at the time of publication; a rep for Staub told Bustle they have no comment.
If you take a look at Staub's Twitter, she shared quite the cryptic tweet on Tuesday, which reads, "I love a great #comeback and oh boy did the #patriots give us a remarkable comeback!! They made #SuperBowl2017 history."
To be clear, she was responding to a Twitter user who said, "so I guess you like the Patriots," after commenting on the Bravolebrity's tweet mentioning the New England Patriots' win. So, either Staub was purely stating how much she likes the Patriots and is proud of their win, or she is hinting at having her own RHONJ "comeback."
Staub left RHONJ after Season 2, which then opened the door for Teresa Giudice's sister-in-law, Melissa Gorga, and cousin, Kathy Wakile. Ever since then, the cast has changed with pretty much every new season. Jersey really lost its appeal in Season 6, when it featured twins Teresa Aprea and Nicola Napolitano, Amber Marchese, and the revival of Dina Manzo. Season 7 was better, but the never-ending bickering between Giudice and Jacqueline Laurita got old real fast.
Staub's supposed "comeback" would be exactly what RHONJ needed to get back to the series it once was. Plus, Giudice and Staub are newfound friends, so can you imagine a series of them getting along and not arguing?
After the RHONJ Season 7 reunion, Giudice shared a photo of herself and Staub at a yoga class. "Loved catching up & bonding this am with @daniellestaub at JZT Dance & Yoga .. #RHONJ #OG's #NAMASTE," Giudice tweeted. As for Staub, she wrote on Twitter, "It was so nice seeing you, just like old times.... great talk we had over Jamba Juice! #rhonj #yoga #friends."
Giudice also opened up to E! News about their reunion and said, "Andy [Cohen] brought her up at the reunion, so it sparked something up inside me. So I reached out to her on Twitter and she responded. I asked her if she was into yoga and she said of course, so I said, 'Let's take a yoga class together.' So we did." She added, "Like I said, I've never had a problem with her, I would love for her to come back. My thing is, I said what I had to say and that was it. It never went beyond that."
Even Cohen told E! News in August 2016 that there was a chance for Staub to once again become a Housewife. "The Housewives are like the mafia, once you're in you're in. I always love the idea of a dramatic return." Per Us Weekly, the outlet spoke with Cohen in January and the only comment he would give about Staub's return was that there are "discussions."
If Staub were to rejoin RHONJ and Giudice and Laurita returned, that would mean next season would have three original RHONJ stars.
And to this rumored casting news, I applaud loudly and hope it comes to fruition.