Danny Dyer's Revealed His Thoughts On 'Love Island's Jack & It's SO Unexpected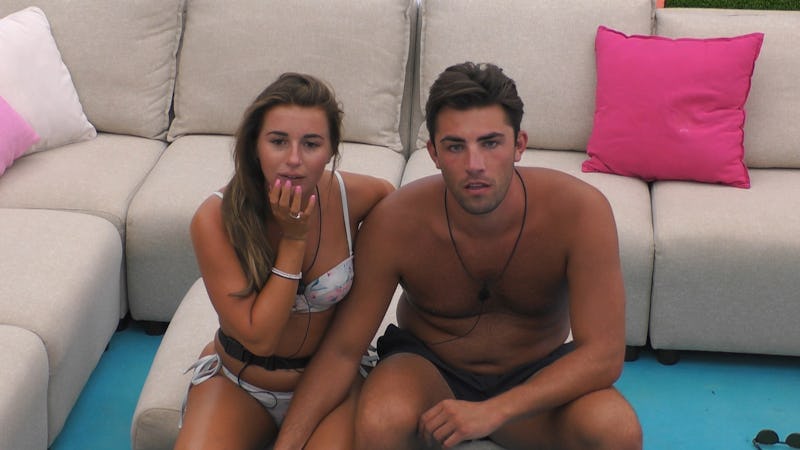 Love Island/ITV
Love Island fans, the long-awaited episode has finally arrived: it's friends and family night tonight in the villa, and after weeks of speculation, one Danny Dyer is finally set to make an appearance (via video call, lamentably, but it's better than nothing). He's been pretty clear about just how protective he is over daughter Dani, and how little he'll hesitate to swoop in should boyfriend Jack Fincham do her wrong — a threat that's no doubt been on poor Jack's mind throughout the series. But now, we've finally get an answer: what's Danny Dyer's opinion of Love Island's Jack?
It's pretty positive, as it turns out! In fact, Dyer thinks Jack's a "right proper geezer", according to this evening's show. No doubt Jack breathed the longest sigh of relief ever recorded in human history after that reveal.
Dani's initially reunited with her grandparents in the villa in tonight's episode, but it doesn't stop there: she's then surprised with a video call from parents Danny Dyer and Joanna Mas. And Dyer launches right into proud dad moment, telling his daughter, "No listen, I will say, I got it wrong baby. I told you not to do it. We're so proud of you, you are incredible. You're an absolute hero babe." Adorable!
The main question on Dani's lips, of course, is what her dad thinks of her Love Island partner. His answer? "Babe he's lovely. He's a proper geezer mate. You've found a right proper geezer in there." Dyer's happy to say it to Jack's face, too, telling him, "Listen, I approve of you mate. I think you're absolutely bang on. I weren't at first, I thought 'oh here we go'."
The praise gets even more effusive! Dyer tells Jack, "Look at him, look at him. Look at his little face. Do you know what Jack, listen. Proper geezer, gotta say. I'll tell you what I love about you, I love the fact you got a little Derby. You got so much charisma. Takes a brave man to bowl into that gaff, them all 'abbed up', proper geezer. Honestly mate, we're so over the moon."
Jack's pretty over the moon too after that assessment, saying in the Beach Hut, "The fact that he approves of me and he likes me, I just thought 'that's brilliant.' Dani must feel so relieved."
Things aren't quite so sunshine-y when Alexandra Cane's mum Janice comes face-to-face with Dr. Alex George, however (and honestly, can you blame her?) Janice didn't hesitate to tell him straight, "When you recoupled and you seemed to expect her to be grateful, and you I think made some comment 'what's the matter with her, why she's so grumpy?' What did you expect a girl to feel like after she'd been rejected and then you deigned to bring her back to her side?" Thank you, Janice, for voicing what the nation has been screaming at the TV for weeks!
Laura Anderson's dad David, meanwhile, seems to consider embarrassing his daughter his number one priority in the villa, telling Paul Knops, "Older people, we don't understand something about life and growing up. When you go with someone and spend all your time with them, are you not meant to ask them out to be boyfriend and girlfriend? I don't get this." David! Can you please be cool?
Though that's the only intel ITV have offered so far, there'll no doubt be some more excellent scenes when the friends and family of the remaining Love Island contestants enter the villa. But there's also heartbreak looming: Alexandra and Alex plus Laura and Paul are both at risk of eviction, as well as best couple Josh Denzel and Kazimir Crossley, and I will say it as many times as necessary — if Josh and Kaz are evicted, I will absolutely kick off. Love Island! Don't you dare disappoint me!