Snickers Is Releasing A Dark Chocolate Ice Cream Bar With An Unexpected Twist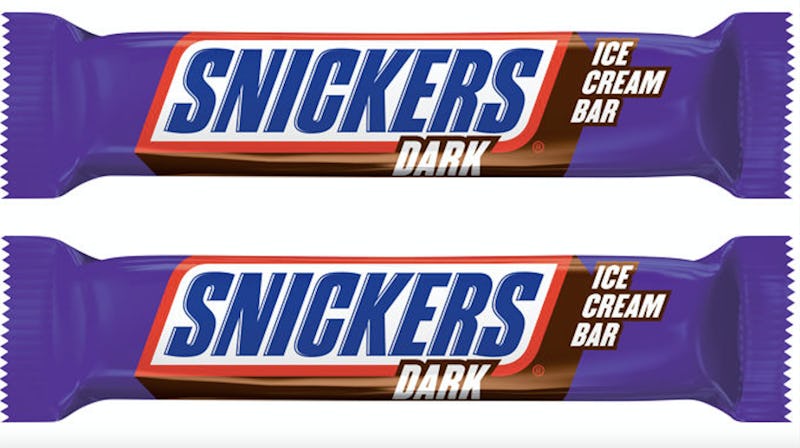 Mars
Who says winter isn't a good time for ice cream? Not Snickers, that is for sure. The company behind one of the most iconic candy bars is rolling out another spin on its chillier version of the classic. While ice cream may be the last thing on your mind this time of year, Mars, the parent company of all things Snickers, may change that with the introduction of the new Snickers Dark Chocolate Ice Cream Bar.
Chewboom reports the Snickers Dark Chocolate Ice Cream Bar will be made of a base of peanut butter and chocolate ice cream, and dipped in dark chocolate; Bustle reached out, and a representative of Snickers confirmed. This differs from the classic Snickers Ice Cream Bar, which is a base of peanut butter ice cream paired a layer of thick, rich caramel, and peanuts. The bar is, like the candy bar, coated in milk chocolate. A Snickers Ice Cream Cone is also available. It is fashioned similarly to the Snickers Ice Cream Bar, and pairs peanuts and caramel with peanut butter ice cream, drizzled with chocolate and packaged in an ice cream cone.
If this has rocked your candy-loving boat, then there's even more news in store that you might want to buckle up for. In fact, the folks at Snickers appear to be trying to turn everything you know about the classic candy bar on its head. Right before announcing the news ice cream bar, Mars announced a Snickers makeover coming next year. Beginning in January, fans of the candy bar will be able to switch up their snack for something a little less nutty. Snickers Creamy, the newest kind of Snickers candy bar, comes in THREE different flavors: Peanut Butter, Almond Butter, and Maple Almond Butter.
Editors at Bustle HQ had a chance to sample some of the goodies before they hit shelves in a few months, and the collective opinion is that they are "decadent". Creamy Snickers are made with nut butter, so they maintain a hint of the crunch you'd typically get from peanuts in a regular Snickers bar. The Maple Almond Creamy Snickers was a particular standout because, let's face it: how many maple-flavored chocolate bars are on the market now? Not enough.
"For nearly a century, fans have made the classic Snickers bar an icon with its satisfying layers of nougat, caramel and signature peanut crunch," said Josh Olken, the brand director of Snickers, in a press release. "We listened to our consumers' desires for new tastes like almond butter and paired it with an innovation on texture. With Creamy Snickers bars, our fans can discover new tastes, and can now get Snickers satisfaction in both crunchy and smooth."
All the new Snickers goodies will be available at retailers nationwide beginning in January. Snickers Creamy Candy Bars will reportedly come in Single (1.4 ounces), Share (2.8 ounces) and Stand Up Pouch (7.7 ounces) sizes. Snickers Dark Chocolate Ice Cream Bars are two ounces each. Here's to making 2019 a delicious one!