Why 'Roseanne' Fans Will Still Love 'The Conners' — Even Without Roseanne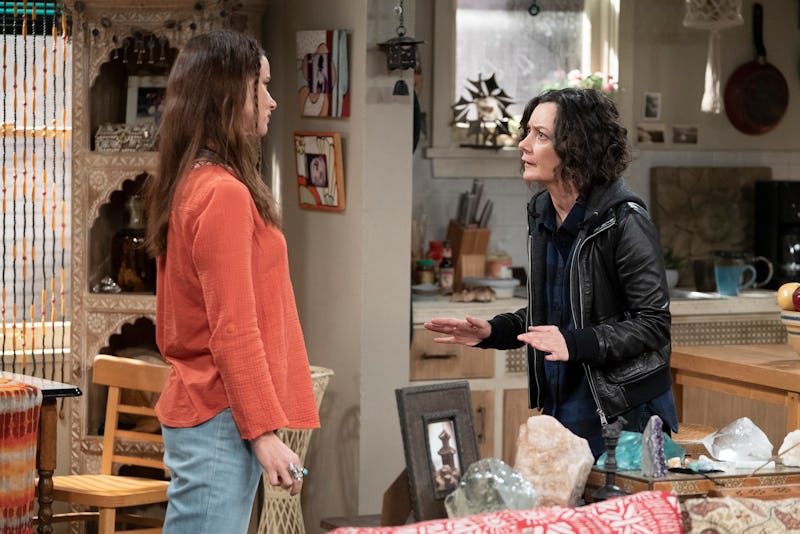 ABC
Spoilers ahead for The Conners Season 1, Episode 2. The Conner family may be without its matriarch, but even in Roseanne's absence, it still feels like the same show. On Tuesday night's episode of The Conners, Darlene and David have to come together to coparent their two kids, and seeing their dynamic once again on-screen is proof the series is doing just fine without Roseanne.
Though they hooked up on the Roseanne reboot and briefly considered giving marriage another shot, Darlene and David are no longer together. David's been around more lately so that he can spend time with their kids, but when he shows up to a conference at Mark's school with his new girlfriend, Blue (played by Juliette Lewis), Darlene is thrown for a loop. She wasn't prepared to meet David's new girlfriend, and now that he and Blue are living together, she was also pushed into giving him permission to let the kids stay at their house overnight.
At first, seeing Darlene and David together was sweet. When he came to pick up Harris and Mark, they took a second to remember Roseanne — who was revealed to have died from an opioid overdose in the premiere — and it seemed like their friendship had survived even if their romantic relationship hadn't. But it wasn't until Darlene and David fought again that it really felt like old school Roseanne.
After Harris was caught sleeping with a boy because Blue let her be alone with him, Darlene was (understandably) fired up, and that led to her and David having the talk they've needed to have since their original split. She realized that Blue wasn't going anywhere and that she was going to have to make peace with David having someone else in his life — and that they were going to have to figure out how to make their coparenting relationship work now that David was going to be around and in their kids' lives more often. They also decided to finalize their divorce after putting it on the back burner for a while, and even though it was emotional for them to come to that conclusion, it was necessary.
Plus, the situation actually brought Harris and Darlene closer together in their mother-daughter relationship. Between their happy ending and the closure that David and Darlene were able to have, the ending of this episode felt very '90s sitcom, and isn't that exactly what you want out of a show like The Conners? It seemed very much like the original show for a messy, realistic family situation to come to a not-perfect-but-close ending, and Roseanne didn't have to be involved for that to happen.
It will be interesting to see where The Conners takes it from here, but hopefully, more scenes of grown-up Darlene and David are on the way (as well as the rest of the family). It may be hard for them to cope with such a big loss, but the Conners seem to be pulling through nonetheless.