David Cassidy Has Died At Age 67 & The 'Partridge Family' Alum Will Be Missed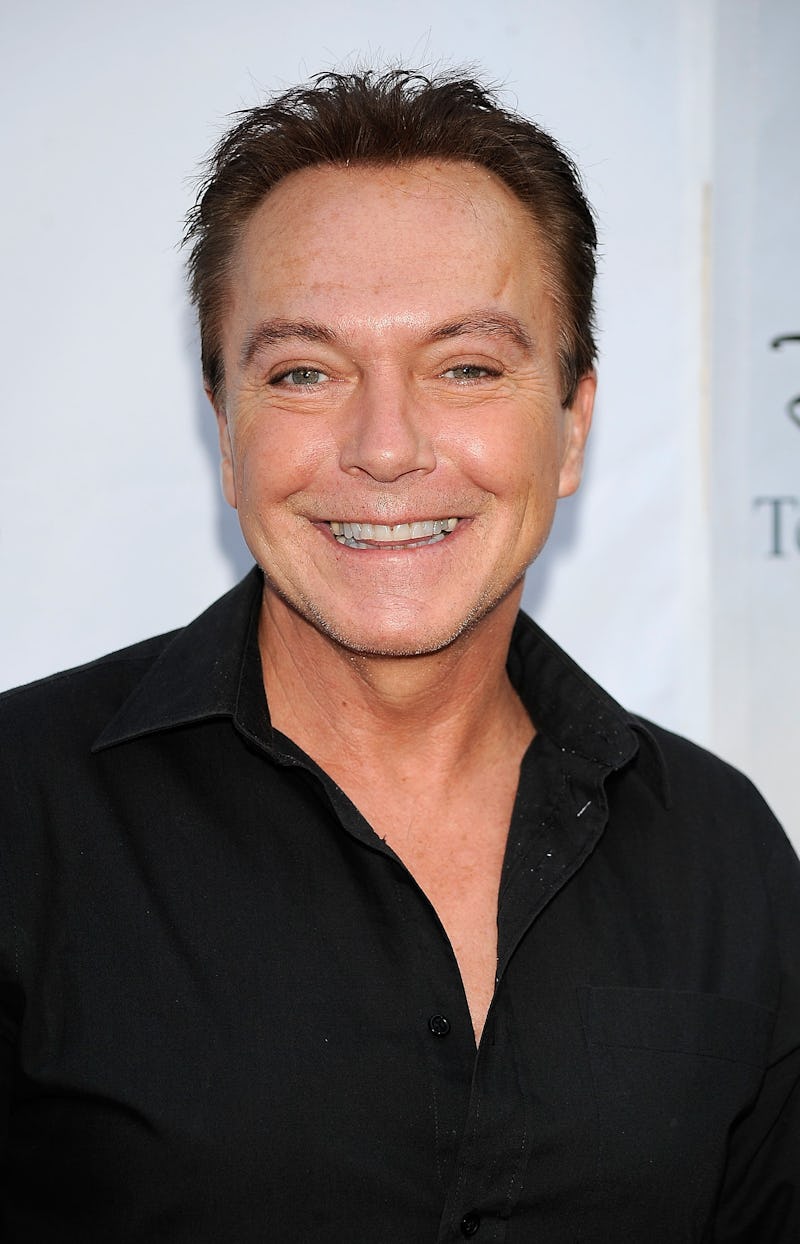 Frazer Harrison/Getty Images Entertainment/Getty Images
The gang that once sang "C'mon Get Happy" just got a whole lot sadder. On Tuesday, Nov. 21, David Cassidy died at age 67, according to People, E! News, and multiple other sources. This news comes after it was reported on Saturday that the Partridge Family alum was hospitalized. His rep told Entertainment Tonight at the time "His organs are failing" and that he was surrounded by his family in Florida over the weekend.
In a statement regarding his passing, Cassidy's rep told Bustle,
"On behalf of the entire Cassidy family, it is with great sadness that we announce the passing of our father, our uncle, and our dear brother, David Cassidy. David died surrounded by those he loved, with joy in his heart and free from the pain that had gripped him for so long. Thank you for the abundance of love and support you have shown him these many years."
As you may know, Cassidy rose to fame in the '70s, playing Keith Partridge on the family TV series. He was nominated for an Emmy in 1978 for Outstanding Guest Actor in a Drama Series for a role in Police Story. According to IMDb, he also made cameos in a range of TV series over the years, such as The Flash, CSI: Crime Scene Investigation, and Disney Channel's Kim Possible.
Back in February, Cassidy revealed he had dementia in an interview with People. He told the publication, "I was in denial, but a part of me always knew this was coming." His grandfather and mother also battled dementia. But in terms of coping with the condition, he had told People, "I want to focus on what I am, who I am and how I've been without any distractions."
In addition to his health battles, Cassidy also ran into some legal trouble over the years, including getting arrested for three driving under the influence charges between 2010 and 2014, according to CNN. He reportedly plead no contest and was sentenced to probation. He also spent time in rehab, his manager told CNN in 2014. According to People, Cassidy was open about his struggles with alcohol abuse in 2008.
But beyond his personal battles, fans will remember Cassidy as the teen heartthrob from The Partridge Family, where he was also the lead singer in performances like the one above. His song, "I Think I Love You," was also very popular.
Following the news of his passing, many took to Twitter to pay tribute to his memory, specifically with images of him from his youth.
According to E! News, Cassidy is survived by two children, including Katie Cassidy, who follows in her father's acting footsteps and stars on The CW's Arrow, and a son named Beau. Katie hasn't yet posted anything on social media about her dad, which is understandable, given that the news just broke. His nephew, singer Jack Cassidy, posted a tweet saying, "in the process of mourning I can't help but thank God for the joy that he brought to countless millions of people! I don't think I'm alone in saying that we will all miss him."
Other celebs have posted tributes, including Marlee Matlin and Alexa PenaVega, who played his TV daughter on ABC Family's shortlived series Ruby & The Rockits.
Even if you didn't grow up in the '70s, there's a good chance you've caught a rerun or two of The Partridge Family growing up, especially since the series snagged a spot on Nickelodeon's beloved Nick At Nite lineup in the '90s. Some fans even acknowledged this, illustrating how the series drew in a whole other generation of viewers.
As seen in the outpouring of tweets and photos on social media, Cassidy is already sorely missed by fans and fellow celebrities alike.