'Stranger Things' Fans Are NOT Pleased That David Harbour Didn't Win An Emmy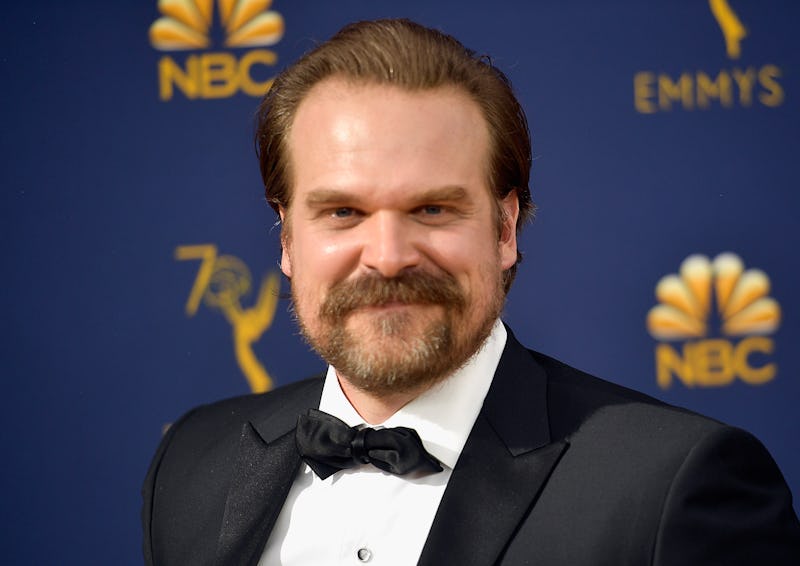 Matt Winkelmeyer/Getty Images Entertainment/Getty Images
Emmy nominee David Harbour is living his best life during Stranger Things' hiatus, officiating weddings and taking his TV stardom in stride, if not pure joy. Unfortunately, that fervor did not translate to awards season this year. David Harbour was snubbed at the 2018 Emmys on Monday when the award for Outstanding Supporting Actor in a Drama went to Peter Dinklage for Game of Thrones.
Harbour was nominated alongside Nikolaj Coster-Waldau as Jaime Lannister on Game of Thrones, Joseph Fiennes as Commander Fred Waterford on The Handmaid's Tale, fellow good dad Mandy Patinkin as Saul Berenson on Homeland, and fellow Netflix star Matt Smith as Prince Philip, Duke of Edinburgh on The Crown, as well as Dinklage.
While Coster-Waldau has never taken home this particular trophy for Thrones, Dinklage won in 2011 and 2015. This was Smith's first nomination and only opportunity to win for The Crown. His role will be taken over by Tobias Menzies in Season 3. This is Fiennes' first nomination as well. Patinkin has been nominated several times for Homeland, but is an Emmy winner only thanks to Chicago Hope. He took the trophy home in 1995.
The episode that Stranger Things submitted — Season 2, Episode 4 "Will The Wise" — is a particularly juicy one for Hopper as a character. It's the one where he and Eleven get in that huge fight, essentially. Heartbreaking!
Hopefully, Harbour will have more opportunities for recognition. His work on Stranger Things has a sincerity that we need in the world. As enthralling as Game of Thrones is and as important as Handmaid's Tale feels, it's satisfying to see characters and performances like Harbour's on Stranger Things that are about empathy as much as they are about intrigue. As much science fiction pervades Stranger Things and as much Game of Thrones is about family, the former deserves praise for its acting as well.
That said, the internet wasted no time calling this a snub.
Wow, we hear you.
Was this your favorite Game Of Thrones season for Tyrion?
Saying that Game of Thrones has too many characters is not the most creative joke to make about the HBO series, but for the sake of argument let's do it anyway: Did any character on that show have enough moments to merit a trophy? Last season was so transitional that most of our favorites didn't have a full story arc. Dinklage's work is always award-worthy, but this year could have gone to someone else.
Please! Maybe next time, y'all.
The silver lining is that not only is there more Stranger Things to come, but the Harbour-aissance is still happening. There will be plenty of opportunities for him to take home trophies.
For now, fans just have to wait — not only for Harbour's moment of glory, but for both Stranger Things and Game Of Thrones (and The Handmaid's Tale, for that matter) to return. At the end of the day, it's the performances and the stories that these actors tell that really matter.