The Cast Of 'Stranger Things' Look So Stylish & Grown Up At The Emmys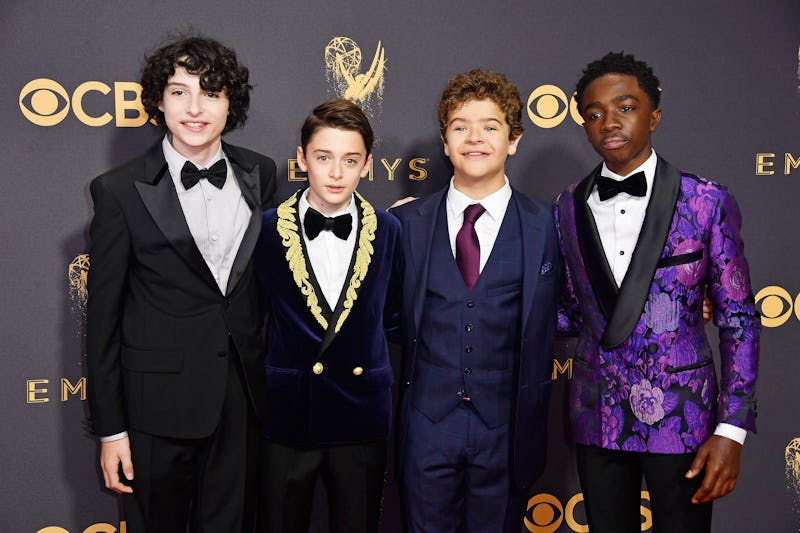 Frazer Harrison/Getty Images Entertainment/Getty Images
If there's a trophy to be had or an award show to attend, the cast of Stranger Things will be on the red carpet. There's certainly no doubt about it. From the SAG Awards to the Golden Globes to everything in between, these kids seem to be everywhere. And I'm totally OK with that.
Not only are they charismatic and adorable and completely deserving of all their success, but they're clearly close friends, too. And that makes spotting them at these events even more fun. Add in the fact each of them seems to be developing their own, unique sense of style, and really, what more could you ask for?
The five stars — Finn Wolfhard, Gaten Matarazzo, Caleb McLaughlin, Noah Schnapp, and Millie Bobby Brown — have been scooping up awards left and right, and looking pretty darn snazzy along the way.
Take their looks from this year's Golden Globes, for example. Brown rocked a glittering silver dress, with matching clutch and heels. And the boys were decked out in tuxes, with Schnapp standing out in white.
If you happen to be one of their millions of Instagram followers, then you already know they're not always this dapper. Usually, they're stepping out in t-shirts and jeans. Brown, in particular, has a really cute street style that includes dresses and sneakers. Paired with her short hair — which is leftover from her iconic shaved head in Stranger Things, of course — and I'd say she's the chicest of the group. (Not a word I would've ever used to describe myself as a teen, btw.)
At Sunday night's Emmys, the cast was up for Outstanding Drama Series. Brown was nominated for Outstanding Supporting Actress in a Drama Series, and David Harbour for Outstanding Supporting Actor in a Drama Series. As each cast member started to arrive, it was clear they were dressed to impress. And, is it just me, or do they suddenly look all grown up?
I mean, seriously. They've never looked better. Or taller. Or more put together. McLaughin's purple floral blazer is pretty unforgettable. And Schnapp's golden embroidery? Stop.
The loafers really made the look. And did his tailored pants and velvety bow tie.
In fact, loafers seemed to be somewhat of a trend. The continuation of the velvet theme certainly helped, too.
Wolfhard, who's currently starring in the super creepy remake of It, looked great in his tux and patten leather shoes. No purple or velvet here, but he still looked perfectly Emmys-ready.
As did Matarazzo. I'm pretty sure he cut his hair for the award show... perhaps shorter than it already was. While everyone loved his shaggy curls, this new look really was great.
The star, though, was definitely Brown, who walked the red carpet in a beautiful Calvin Klein gown.
As you probably know, the actress-turned-model recently starred in a Calvin Klein by Appointment campaign. She was even spotted sitting front and center at the Calvin Klein fashion show during New York Fashion Week.
Check out these pretty details: a bandana-style belt and black nails.
And now, for the whole look. Tell me this dress isn't the best ever. While it may be poofy as all heck and slightly over-the-top, Brown shines through with her cute self. She really has the personality to carry it off.
And, as one of the youngest Emmy nominees ever, it couldn't have been a better look. I mean, if you're possibly going to walk across a stage and accept an award as the youngest ever to do so, you might as well wear a big dress that screams "winner."