David Hogg Is Going After Laura Ingraham For Her "Summer Camps" Remark — Here's His Plan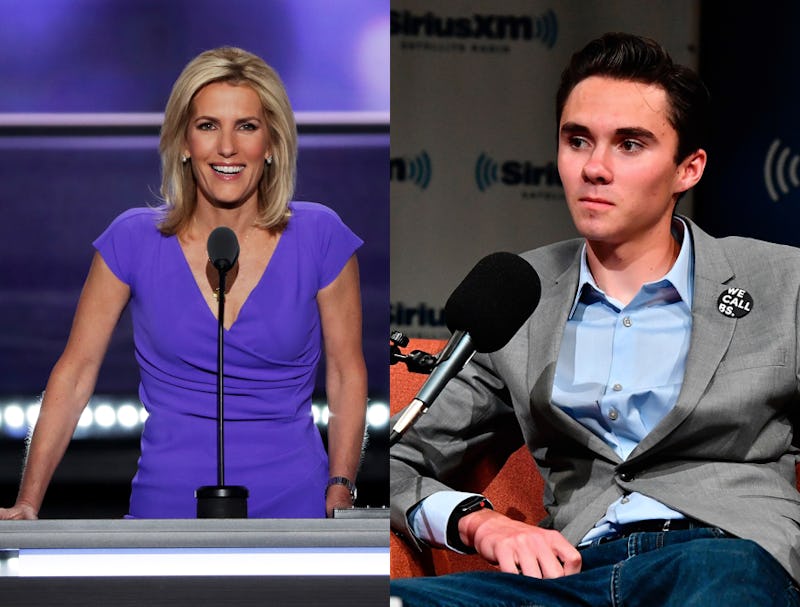 Alex Wong; Larry French/Getty Images News; Entertainment/Getty Images
Parkland shooting survivor and activist David Hogg wants Laura Ingraham held accountable for comments she made comparing immigrant detention facilities to "summer camps" on June 18. Ingraham's comments came as a form of defense for Trump's family separation policy, according to Business Insider. But now, Hogg is asking for a boycott of the advertisers who support Ingraham's show.
On The Ingraham Angle on Monday, Deadline reports that Ingraham covered Trump's controversial family separation policy, which as of April has separated over 2,000 children from their parents. "As more illegal immigrants are rushing the border, more kids are being separated from their parents and temporarily housed at what are, essentially, summer camps ... " Ingraham said. "The president is doing what we should have been doing all along, prosecuting all border crashers."
A day later, Hogg responded to Ingraham's statements on Twitter. He tweeted, "So @IngrahamAngle we meet again. Who are you biggest advertisers now?"
In a follow-up tweet, he explained, "If we get these advertisers pulled maybe @Ingraham will have to become a camp counselor and learn how wrong she is." He then went on to list the major advertisers of Ingraham's show on Fox News, which include Beaches Resorts, Sandals Resorts, Sirius XM, Ace Hardware, and John Deere, to name a few.
This isn't the first time Hogg has protested Ingraham's show via social media. In March, Hogg called for a boycott of Ingraham's show after she called him a "whiny high school kid", mocking him for getting rejected from colleges, USA Today reports. The boycott turned out to be incredibly successful, with Nestle, Expedia, Hulu, Johnson & Johnson, Nutrish pet foods, TripAdvisor, and Wayfair all announcing an end to their partnership with her show due to her comments. Ingraham eventually apologized, but the advertisers did not return to the show.
Fox News, on the other hand, stuck by Ingraham during that first boycott, and according to USA Today, the news network will continue to stick by Ingraham for this boycott, as well. On Tuesday evening, Fox News released a statement relaying its full support for Ingraham in the wake of her comments comparing immigrant detention facilities to summer camps.
"Laura Ingraham's very personal, on-the-ground commitment to the plight of impoverished and abandoned children — specifically in Guatemala — speaks for itself," the statement read. "So too does her strong belief in a commonsense, legal immigration system, which will continue to be a focus of her show. FOX News will never tolerate or give in to attempts to silence diverse viewpoints by agenda-driven intimidation efforts."
According to Business Insider, none of the advertisers have yet to acquiesce to Hogg's latest boycotting request. However, in a statement to The Hollywood Reporter, Starkist (one of the advertisers for Ingraham's show) gave the following statement: "We do not endorse individual opinions. Our television ads appear on a number of cable networks as part of our national media buy."
Similarly, Mike Lindell, the politically conservative chief executive of top advertiser My Pillow, said to The Hollywood Reporter, "I have no intention of changing my advertising."
Of course, Hogg wasn't the only one to criticize Ingraham's comparing detention facilities to summer camps. In fact, the U.N. Human Rights Council has suggested the family separation policy is essentially child abuse. The facilities where children are being held have been compared to dog kennels, via CNN, and are essentially a series of cages made out of fencing, wire, and net.
If you want to help support immigrant rights and advocacy organizations that are working to provide legal aid and support to migrant families, check out (and consider donating to) this list of organizations working to combat Trump's family separation policy.