David Letterman Is Back With A Brand New Talk Show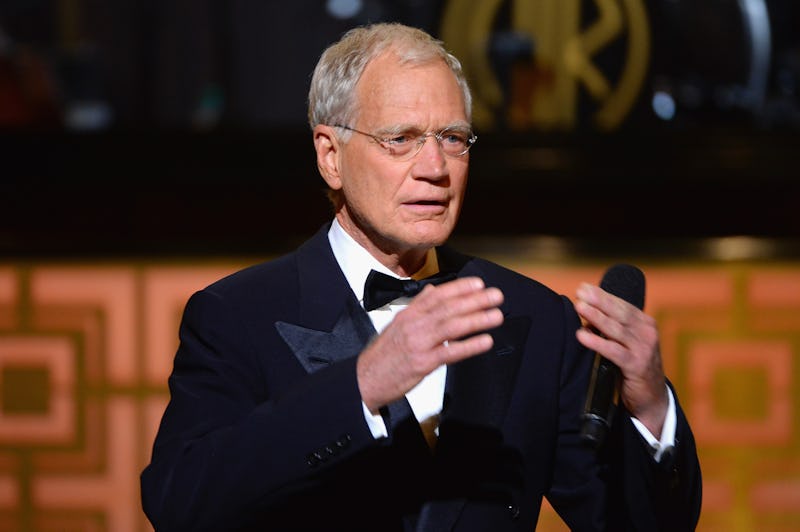 Theo Wargo/Getty Images Entertainment/Getty Images
When the longtime host of the Late Show retired from late night television in 2015, it probably left a gaping hole in your heart that you have yet to recover from. But don't worry anymore, because Netflix announced on Tuesday that Letterman is officially returning to television with a brand new series on the streaming platform.
According to a release from Netflix, the first season of Letterman's new series, which hasn't yet been named, will include six hour-long episodes. All of them will feature Letterman conducting long-form interviews with single guests and venturing outside of the studio for other more curiosity-based segments. As of now, the show doesn't have an exact release date, but fans can expect it to drop at some point in 2018.
Letterman made a name for himself as the longtime — 33 years, to be exact — host of NBC's Late Night and The Late Show on CBS, respectively. He officially signed off the air in 2015, and passed the torch over to Stephen Colbert in an episode that raked in nearly 14 million viewers.
Following the announcement of his return to television, Letterman said in a statement,
"I feel excited and lucky to be working on this project for Netflix. Here's what I have learned, if you retire to spend more time with your family, check with your family first. Thanks for watching, drive safely."
The host's return to television really couldn't have come at a better time. Not-so-great political news can basically be expected almost every day, and lots of people look to late night talk shows for a bit of comedic relief. It'll be great to see how Letterman handles generating conversations around these topics using his blunt interviewing tactics.
But this is huge for Netflix as well, seeing as the streaming platform, which already has a handful of original series that have gained huge followings in recent years, is also trying to become its own force when it comes to talk shows, like Chelsea with Chelsea Handler and Bill Nye Saves the World. Netflix really couldn't have chosen a better host for their next series than David Letterman.