David & Victoria Beckham Have Addressed Those Split Rumors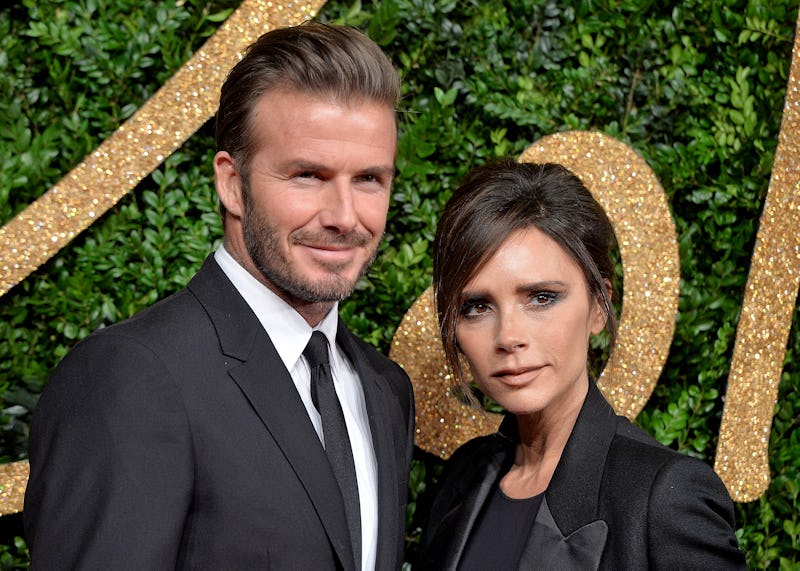 Anthony Harvey/Getty Images Entertainment/Getty Images
Despite recent reports and speculation circulating in the media, Victoria and David Beckham are not getting divorced. Reps for the couple released a statement to The Mirror Friday, which clearly states they remain married and for anyone to not believe everything they read. Their joint statement reads in its entirety:
There is no statement due or divorce. This is just fake social media news. This is all very bizarre and an embarrassing waste of time. There is no statement due, no divorce, and a lot of Chinese whispers and fake social media news.
The Daily Mail also reported Friday a spokesman for the couple released another statement regarding the divorce reports and bets being placed on if they would split. The statement read: "It's a crock of a sh*t. Embarrassing and laughable."
The Mirror reported Friday Irish bookmaker, Paddy Power, was taking bets from the public on whether or not their 19-year-marriage was over. However, The Mirror said Paddy Power has since suspended betting on Victoria and David's divorce. "We've decided to suspend betting on the separation between Posh and Becks," a Paddy Power spokesman told the publication in a statement. However, The Mirror also reports Paddy Power is now accepting bets on who the soccer player could start a relationship with next.
This isn't the first time the Beckhams have combatted divorce reports. In September 2017, OK! magazine reported the model and the fashion designer could be on "the brink of divorce". According to OK!, a source told the outlet they "have more of a business relationship than a romantic one at this point." The source also said at the time, "This has been a long time coming, and they are practical about it." OK! also reported Victoria's rep denied the rumor.
During a January 2017 interview with Radio 4's Desert Island Discs (via The Guardian), David opened up about his relationship with Victoria. He explained the reason he thinks the'y've survived so long as a couple is "because we are a strong family unit. We have got strong parents too and they taught us the right values."
He continued, "Of course you make mistakes and we all know that marriage is difficult at times. It is about working through it. We have come up against tough times. But we know each other better than anyone else knows us. And we talk. Do we stay together because it is a brand? Of course not. We stay together because we love each other and because we have four amazing children."
Like David, Victoria gushed about her husband on Today in March 2017. "I'm very lucky that David is the most fantastic father and husband, and he's great and we're very equal at home and we're a very, very good team," she said. But, her praise didn't stop there, as Victoria added, "He's my soulmate. We complement each other. He's the most incredible husband, fantastic father. He inspires me every day, just seeing him with the children and how he treats me; it just works. We are lucky to have each other."
For anyone who needs further proof these two remain a couple, Victoria posted an Instagram Friday with their daughter, Harper Beckham, and captioned it: "Morning cuddles x So much love We love and miss u @davidbeckham [four double heart emojis]".
Victoria and David also attended Prince Harry and Meghan Markle's wedding together on May 19. Not only did they both look stunning, but they seemed to have a great time. The former Spice Girl shared on Instagram "Congratulations, an amazing day. So proud to be British! Thank you so much for including @davidbeckham and I. We are so honoured and so happy for you both."
When it comes to the Beckhams and their relationship, don't believe all of the rumors. They certainly appear to be as happy and as in love as ever.