Victoria & David Beckham's Comments About The Royal Wedding Will Make You Applaud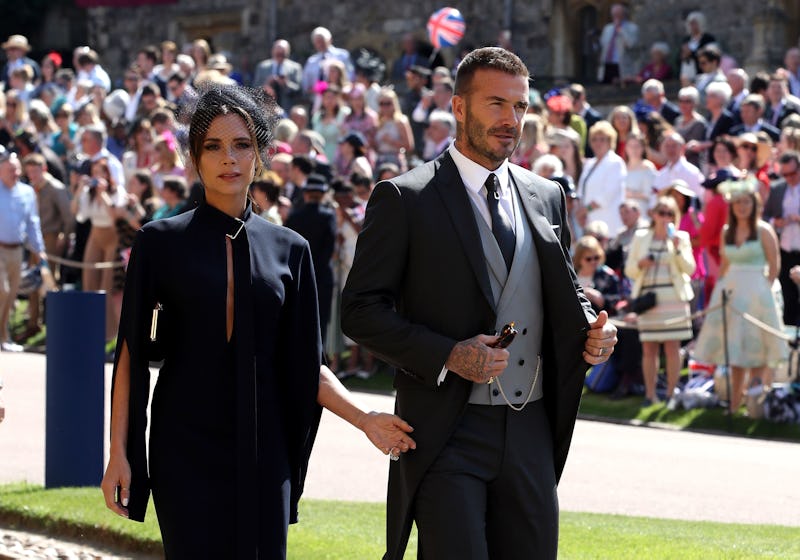 WPA Pool/Getty Images Entertainment/Getty Images
Prince Harry and Meghan Markle's fairy tale wedding had quite the impressive guest list to go along with it. Now that the nuptials are over, and the party is underway, some of the famous guests are sharing their well wishes. David and Victoria Beckham congratulated the royal couple via Instagram after attending the gorgeous ceremony, and they managed to put into words the emotions that many royal watchers are feeling on this magical day.
In her post, Victoria focused on how proud she is of her country, as well as her happiness over scoring an invite. The former Spice Girl wrote,
"Congratulations, an amazing day. So proud to be British! Thank you so much for including @davidbeckham and I. We are so honoured and so happy for you both."
She paired her words with some of the most swoon-worthy photos of the happy couple. Victoria shared an image of the first kiss — because, come on, that moment was unforgettable — the newly-minted Duke and Duchess of Sussexapproaching their carriage, and a photo of Prince Harry staring adoringly at the bride. Basically, it's a whole lot of cuteness.
Not to be outdone, David shared a congratulations message of his own, and it might just make you teary. The soccor pro focused in on just how proud he is of who Prince Harry has become. His fatherly message reads,
"What a proud day for our country today! Watching Harry as happy as he was makes us all proud of the man and person he has always been...what a day!"
In addition to sharing a wedding day photo, David also included pictures of the prince through the years, including one where he's snuggling a bunny.
As reported by People, the Beckhams are becoming regulars on the royal wedding front. In addition to attending Prince Harry and Markle's nuptials, they were also guests at Prince William and Kate Middleton's wedding in 2011. In England, the Beckhams are as close as a couple can get to royalty without actually being members of the royal family. Victoria was even named an Officer of the Most Excellent Order of the British Empire by Queen Elizabeth II in 2017.
The fashion designer also goes way back with both of the princes. She first met Harry in 1997 during a visit to Africa, according to Time. Their paths continued to cross afterwards, leading to her and her husband becoming at least friendly with the royal family. While it's unclear exactly how close the couple is to the newlyweds, there's no denying their status as modern British icons.
It's clear from their heartfelt messages on Instagram that David and Victoria are proud of their country and the newly-wed prince. These two have watched Harry grow up just like the rest of the world, and their joy at seeing him happy and so mature is contagious. Prince Harry hasn't always had the easiest of times, which makes this day all the more special — and his guests seem to be more than happy to celebrate the happiness that he's found with Markle.
David and Victoria's messages of support and pride are extra special since they're coming from one high-profile couple to another. These two know all too well what it's like to be in the spotlight, which makes them an ideal couple for Markle and Prince Harry to look to as they navigate life as a married couple in the public eye. For now though, it's just nice to know how excited the Beckhams were to be with the royals on such a historic day.
And while they're likely a bit too busy basking in newlywed bliss at the moment, Harry and Markle will no doubt be happy to hear they received well wishes from a couple as cool as the Beckhams.