Dax Shepard & Kristen Bell Shut Down A Ridiculous Rumor About Their Marriage Perfectly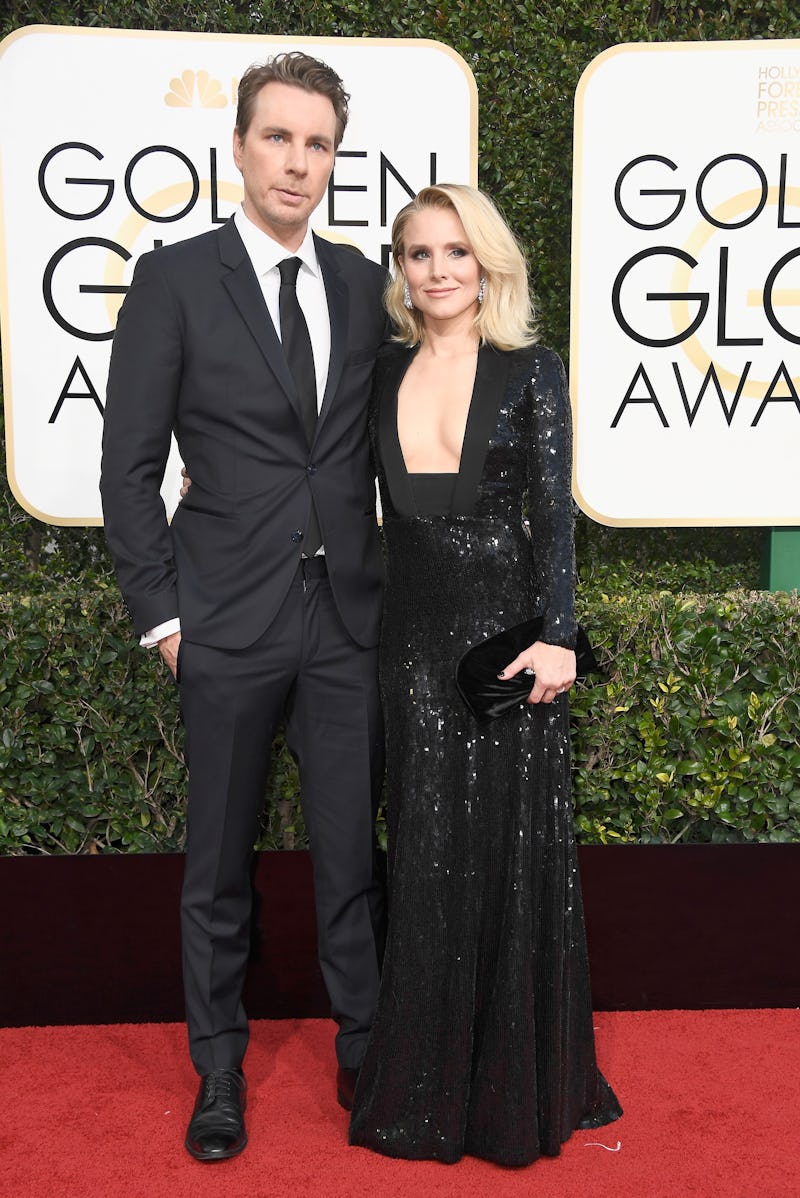 Frazer Harrison/Getty Images Entertainment/Getty Images
Dax Shepard and Kristen Bell have always been about keeping it real where their marriage is concerned, so of course, they're both the first to clear the air about a ridiculous rumor that's going around. On Thursday, Shepard and Bell shut down a tabloid story that claimed they were trying out new things in the bedroom to save their marriage, and it's no surprise at all that they both had the perfect responses ready to something so offensive.
According to a post Shepard shared on Instagram, it seems like Bell's rep received an email from Star, asking for her to comment on a story they're planning to run. The email said:
"Star is working on a story in which a source says that Kristen Bell and Dax Shepard have discussed having a threesome and toyed with other kinky things, like S&M and role playing. Sources say that Kristen believes this is insurance against marital meltdown. If you wish to comment on this story, please reply by 12:00 pm EST Thursday, 10/11."
No word on whether or not Shepard and Bell actually emailed them back, but they did both share their responses on Instagram, starting with Shepard sharing a screenshot of the email along with his own take.
"The only offensive thing about this bullsh*t story is that @kristenanniebell isn't doing all this kinkiness out of horniness, but rather a desperate attempt to save her marriage," Shepard wrote. "I think we all know Bell is a lot more gangster than that. I'll now give you until 4PM to comment, Star."
Then, Bell shared Shepard's post, adding her own comment: "I'd love to comment, but its hard to talk with this ball gag in!"
If you're familiar with Bell and Shepard's marriage, their responses probably don't come as a surprise to you. They've never been the kind of couple who takes their relationship too seriously, and they've always been open about the real parts of their life together, like when they opened up about the fact that they go to couples' therapy before they have an issue. They're all about reducing the stigma around the fact that relationships are hard, so of course they'd want to share something ridiculous like this with their fans, too.
It's good to hear that Bell and Shepard are doing fine, though — and even if they weren't, it's really none of anyone's business but theirs. Marital problems are a very private thing, and so is what happens in the bedroom. It's a pretty big invasion of privacy to report on what a couple may or may not be doing sexually to supposedly save their failing marriage, even if it was true. It's hard to blame these two for wanting to clear the air, since that's a pretty offensive rumor to spread.
Unfortunately, it seems like tabloid stories are just one of the negative effects that come with being a public figure in Hollywood — as invasive as they are, even when these stories aren't true. It's good to see that Bell and Shepard have found a way to cope with them with a sense of humor, even though it'd be way better if they didn't have to cope with it at all.