Dax Shepard's First Pick-Up Line He Used On Kristen Bell Is, Uhh, A Little Unexpected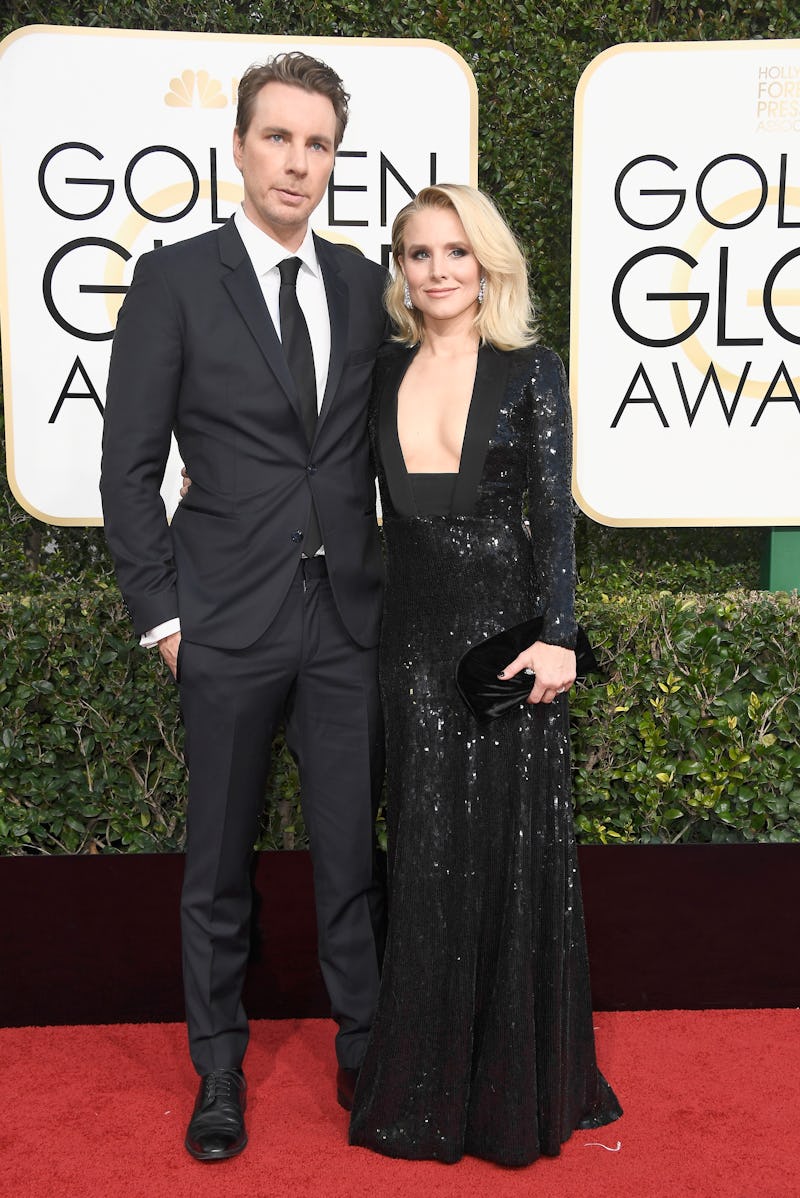 Frazer Harrison/Getty Images Entertainment/Getty Images
Instagram's new question feature is apparently as fun for celebrities as it is for everyone else. While fans could theoretically ask their favorite stars questions by responding to their Instagram Stories anyway, the question feature lets followers know when someone actually wants to be asked random questions. Kristen Bell tested out the new feature on Thursday, answering fans' questions about her work, her kids, and her marriage. According to E! News, Bell shared how she and Dax Shepard met on her Instagram Story, and the story may come as a surprise to fans.
A fan submitted the question, "How did you and Dax meet?" Bell gave a lengthy response. And considering the fact that the couple is very open about their relationship, it's somewhat surprising that fans haven't heard this story before. Bell wrote on Instagram,
At a birthday dinner for a mutual friend. But there weren't any sparks. 2 weeks later I saw him at a hockey game and he asked for the gum in my mouth and I was like, HELLO...
It sounds like it wasn't exactly love at first sight for the two of them, but their relationship did bloom into a romantic one. In a separate question, a fan asked, "What pickup line did Dax use on you?" While it's a little weird to assume the actor used a pick-up line (in addition to the "gum in my mouth" remark), it turns out he apparently did, and it totally charmed the Good Place star. Bell wrote in her Story,
Truly, his first text to me was: "hi. My name is dax. I violated your privacy and got your number from shauna. How do u feel about that?" And I thought... what the hell?? This kid is sassy!!
Pick-up lines may not work for most people, but it sounds like Bell didn't mind her husband's audacity. Sometimes, it really does pay off to make a bold first move.
Bell also shared that while she and Shepard may "disagree" on a daily basis, they only have what would qualify as a "real fight" a couple times a year. And when a fan asked what her "favorite quality" in her husband was, Bell listed three. She wrote that it was a tie between Shepard's "patience to let me ramble, his ability to make me laugh, [and] his critical thinking skills and intelligence."
As for how they keep their fights to a minimum, Bell shared a few relationship tips, too. When a fan asked how the two of them "stay so strong and happy," she responded, "We go to therapy, we respect each other's differences and don't expect the other person to change."
Bell and Shepard got married in 2013, and the ceremony was a secret to almost everyone. They got married at the Beverly Hills County Clerk Office, and it sounds like the no-frills ceremony was the perfect low-key day for the two of them. Shepard and Bell have two daughters, Lincoln and Delta, but Bell doesn't share photos of her kids on social media. She addressed that in the Instagram Story Q&A, too, writing that it's not her decision whether or not her kids are recognizable to strangers. Bell wrote,
I don't ever want a stranger coming up to her and saying "Hi Lincoln." It should be left up to her whether or not she wants her identity to be public. It's not up to me.
Bell clearly has a ton of respect for her family's privacy, but she's still open to sharing details about her marriage with her fans — and her honesty is super refreshing. Plus, the fact that she took the time to answer so many fans' questions shows how dedicated she is to her followers. It sounds like she and Shepard have figured out how to make a relationship work, and she's not afraid to share her tips with her fans.