Fake ICE Flyers Were Posted In A D.C. Neighborhood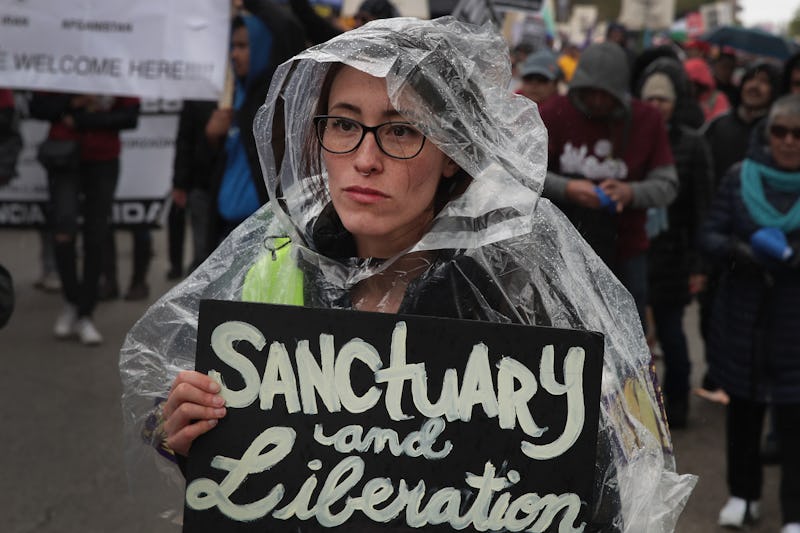 Scott Olson/Getty Images News/Getty Images
On Thursday morning, residents of Washington D.C.'s Burleith neighborhood woke up to fake flyers targeting both undocumented immigrants and D.C.'s sanctuary status posted across cars and lampposts. Falsified with the Immigration and Customs Enforcement (ICE) letterhead, the flyers called it an offense to "conceal, harbor, or shield from protection such alien in any place, including any building or means of transportation."
They went on to list penalties for aiding undocumented immigrants and urged residents, "If you see something, say something." At the moment, there is no public knowledge about who distributed the leaflets impersonating the government agency.
Neither the city's public officials nor ICE were amused by the stunt. D.C. Mayor Muriel Bowser immediately condemned the phony leaflets — "Tear it down!" — and ICE issued a statement the same day saying they were not responsible for them.
"Any person who actively incites panic or fear of law enforcement is doing a disservice to the community, endangering public safety and the very people they claim to support and represent," said ICE spokesperson Carissa Cutrell in an email to news outlets.
Although it's worthwhile for ICE to denounce the fear-mongering as irresponsible and dangerous, it's hard to ignore how the agency's real actions can separate families and cause other real alarms. The flyers, after all, follow Trump's executive order at the start of his term to enhance immigration enforcement.
ICE announced last month it apprehended 1,378 people in "Project New Dawn," a nationwide operation between March 26 and May 6 to crack down on criminal gang activities such as drug, human, and weapon trafficking. This all seems to echo Trump's infamous campaign stance to get rid of "bad hombres." (Contrary to Trump's claims, studies show that immigrants are less likely than those born in America to commit crimes.)
However, most of those "bad, bad people" won't be deported because they have legal U.S. citizenship. The remaining come from 21 countries in South and Central America, Asia, Africa, Europe, and the Caribbean. However, of those foreign nationals, more than half were not gang criminals. ICE arrested them for "administrative immigration violations." In other words, their only known crime was being in the United States without documents. The final count leaves 165 immigrants, about 12 percent of the total arrested, who entered the country illegally and committed crimes here.
"Project New Dawn" is part of a wider initiative after Trump signed off on the Priority Enforcement Program (PEP). Since the executive order, the total number of undocumented immigrants arrested between Jan. 22 and April 29 rose 33 percent compared to the same time last year. The number of those arrested without criminal history more than doubled.
It's important to note, however, that the number of arrests in the first few months of PEP still falls short of the arrests made in the first few months of Obama's second term. Using statistics provided by ICE, The Guardian shows a year-by-year comparison where 2017's projected arrests of undocumented immigrants would not reach the heights of 2011 under the Obama administration. In other words, mass arrests aren't a new phenomenon from the Trump era.
In response to immigration roundups, youth-led organization United We Dream released the Deportation Defense Card in English, Spanish, Chinese, and Arabic, which you can download to help immigrants know their rights and learn what to do in case of police confrontation.