'Deadpool 2' Will Make Zazie Beetz Super Famous. Here's Why That Makes Her So Uncomfortable.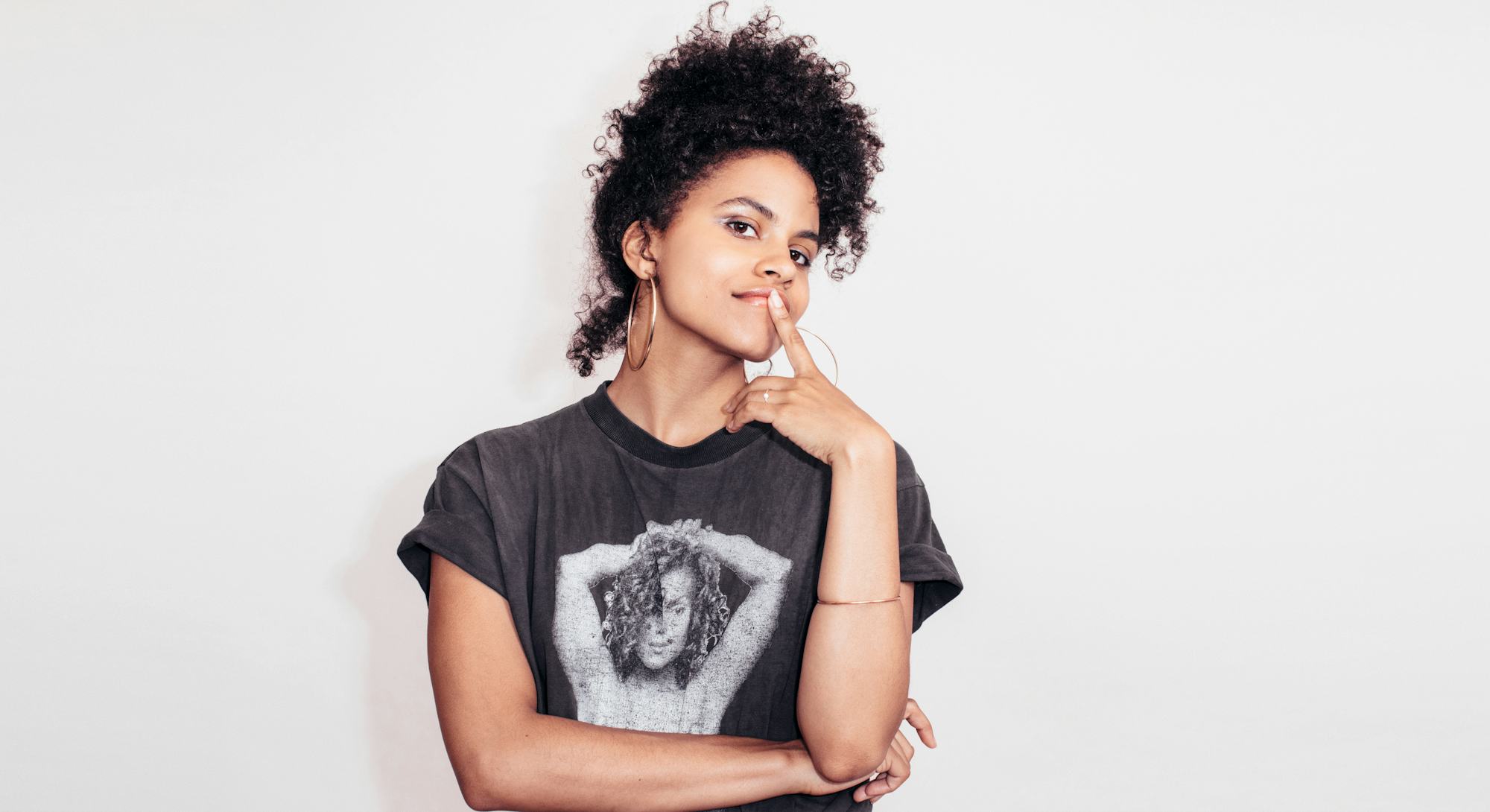 Ben Ritter/Bustle
When Deadpool 2 and Atlanta star Zazie Beetz travels on her own dime, you won't find her in first class. She wants you to know the truth about her airline status, because she's noticed that — among other false assumptions — people tend to presume that everyone in the film and TV industry is "super rich." Sure, she's a regular on Atlanta; appearing in Tarell Alvin McCraney's upcoming follow-up to Moonlight, High Flying Bird; and bringing a Marvel character to life in a big-budget superhero sequel, all of which makes her "comfortable in [her] salary," but Beetz is all about dismantling these ideas that actors, especially a buzzy woman-on-the-rise like her, all inhabit some unreachable plane of existence. Once Deadpool 2 comes out on May 18, the actor is going to be even more famous. And that's bringing up some personal stuff for Beetz. She's clearly still working through it.
"People often think, 'All this amazing stuff is happening,' and people ask, 'How do you feel about all these changes?'" Beetz says, just a few days before the movie hits theaters, tucking her legs under herself on the Bustle green room couch. (She kicked off her jeweled mules the first chance she got.) "And they're expecting and wanting the answer to be that everything is fine and great," she says. "But it's not."
To be crystal clear, Beetz isn't asking for your sympathy, nor is she regretting jumping on board Marvel's most foul-mouthed franchise. But playing Domino — a mutant with an unbroken lucky streak who Ryan Reynolds' Wade Wilson recruits onto his X-Force squad of misfit superheroes — puts her at a new level of celebrity, building on her breakout success as Van, the female lead of Donald Glover's award-winning FX series. She's making a very conscious effort to "practice gratitude" for the way her career is taking off, and that includes managing the stress that comes with it, and any major life change.
"I had a little bit of an existential crisis two weeks ago. Me and my boyfriend both did, because [the crisis] affects us both directly," she says. The actor has a tendency to anticipate what will or may happen in the future, which she says she doesn't find particularly helpful or healthy. "And [we] came into this place of just accepting this change that we both knew was coming — we both had already brought into our lives," she continues, reflecting on how she and her partner David Rysdahl prepared for the increased attention Deadpool 2 would bring. "The moment you say 'yes' to something like [this movie], you have allowed [this change] to enter your life."
Fun roles and parties and red carpets don't magically solve regular old human problems, Beetz explains, citing examples like "dealing with interpersonal relationships with friends and family that can be difficult" or practicing self-care and prioritizing mental health. Beetz has opened about her struggles with anxiety in the past, including in a Glamour essay recounting how overwhelmed she feels responding to emails, and how she'll sometimes need a five-minute break to cry on set. And though she says that she has set boundaries about what she'll reveal about her family and private life, the management of her anxiety is one conversation she doesn't want to close the door on.
Ben Ritter/Bustle
Ben Ritter/Bustle
"It was probably one of the scariest experiences of my life, those few months when I was spiraling out of control, in a way that I had never experienced before and in a way that allowed my empathy to grow so massively," Beetz says, holding back tears as she recalls the first time she truly understood the severity of her anxiety as an adult. "And I just think about some of my friends in college who went through stuff like that, and I wish I could have been there in a way that I wasn't, because I had no idea to the extent that it can really kind of… consume you."
What helped her move through her "crisis mode," she says, was to read forum posts that gave her context for her own journey. "I could never really believe that I wasn't alone in it," she remembers. "And I think that was a huge thing that saved me — understanding that this was something that other people experience too." It's why she, even as she's wrestling with the loss of privacy that comes with a rising star, continues to push past her own discomfort to help erase the stigma.
Despite her status as a name-to-know, Beetz is shockingly open about how un-famous she actually feels. Her Instagram feed is filled with veil-lifting notes about getting her period and driving around Harlem with a learner's permit, and images of her riding the New York City subway and making homemade kombucha in her apartment. ("No, it's not better than storebought," says that caption.) But that's when she feels up to engaging with social media at all. Sometimes she deletes the Instagram app from her phone for months at a time. She quit Facebook completely, she says, because "it used to really depress [her.]" And when she's on Instagram, she's not about engaging with "the status thing," but about sharing as real a snapshot of her life as possible. It's a conscious effort to tear down some fantasies that she sees as potentially damaging.
"I think it's also important to un-glamorize the Hollywood or celebrity version [of yourself]," she says, and that includes debunking idealized beliefs about how the business works. While Beetz's Instagram is dotted with red carpet shots with colleagues like Reynolds and Glover, that only represents one tiny aspect of her life. Intellectually, we all know that social media is a curated slice of real life and that an Instagram of glam photos doesn't reflect reality. But it's certainly possible for a celebrity to maintain that delusion — for their fans and even for themselves — if they choose to. And, sorry, but those co-stars you want to assume are besties aren't necessarily close.
"People see a room full of celebrities and they all take a photo together, and they're not friends," Beetz reasons, who's also been snapped recently with Deadpool 2 co-stars Josh Brolin and Morena Baccarin. Red carpet moments are usually orchestrated by publicists to optimize publicity and promotion — they're barely social. Beetz knows how easy to believe that there's a club, but "they hardly know each other, most of the time."
Considering how highly she prizes authenticity in her own life, it makes sense that Beetz's two most well-known projects break down (or sometimes look through) the fourth wall. Deadpool 2 is even more gleefully meta than the first, sending up the very superhero universe it's a part of and referencing everything from Yentl to Say Anything. Domino stands out as one of the most grounded characters, her good fortune just barely masking "a nihilism that happens when everything just works," per Beetz. (In other words, if good things always happen to you, why even try?)
But before Domino even speaks — and before audiences who aren't big comics readers learn of her backstory for the first time — she's disrupting a blockbuster status quo. Beetz says that she was "prepared" to embody the original visual depiction of the character, straightened hair and all, but that the production team pushed for her to wear her hair naturally. She notes that there's still a "symbolism" to bringing her texture "into such a mainstream place," and that it's "so amazing and so special" to see girls and women who look like her already developing their Domino cosplays.
And in the second season of Atlanta, which just ended on May 10, viewers saw a Van who was even more influenced by Beetz than the woman they met in the show's freshman outing. The series, about a sometimes tenuous group of friends pursuing their dreams in the eponymous city, eschews traditional comedy formatting and is renowned for its creativity. Viewers were introduced to Van as the mother of Earn's (Glover) daughter and his on-again, off-again girlfriend. Beetz says that the funny, touching, and incisive spotlight episodes her character is featured in this season are partially the result of Glover asking her what new area she wanted to mine.
"I hope that... that we see Van wanting to explore herself in the context of just her as a woman, and not just someone's girlfriend or someone's mother, but as herself as an individual," Beetz says. It was particularly important to the actor to see Van interact with other women (see: the Drake party episode) and "to find an identity independent of all these labels foisted on her," which she certainly attempts to do when she and Earn go to a German festival in an episode inspired by Beetz's own German heritage.
The actor isn't sure whether Season 3 is happening, but if it is, she's interested in seeing what happens when Van dates people other than Glover's protagonist. Beetz is all about examining the full spectrum of someone's experience, whether that's in a character she's playing, or in the way she presents herself to the world.
Still, before Beetz leaves, she hopes aloud that she didn't seem too "negative" when talking about her current position on the cusp of major stardom, and the culture of celebrity. But I tell her she shouldn't worry — remaining realistic is necessary when holding on to who you are. Besides, even without her explicitly saying so, it's clear with every move that she makes, Beetz wants you to see the whole picture — even the parts that aren't so pretty.
Hair: Lacy Redway/The Wall Group using NEXXUS
Makeup: Ralph Siciliano @ The Wall Group using MAC Cosmetics