'Deadpool 2' Is Not Recasting T.J. Miller Amid Sexual Assault Allegations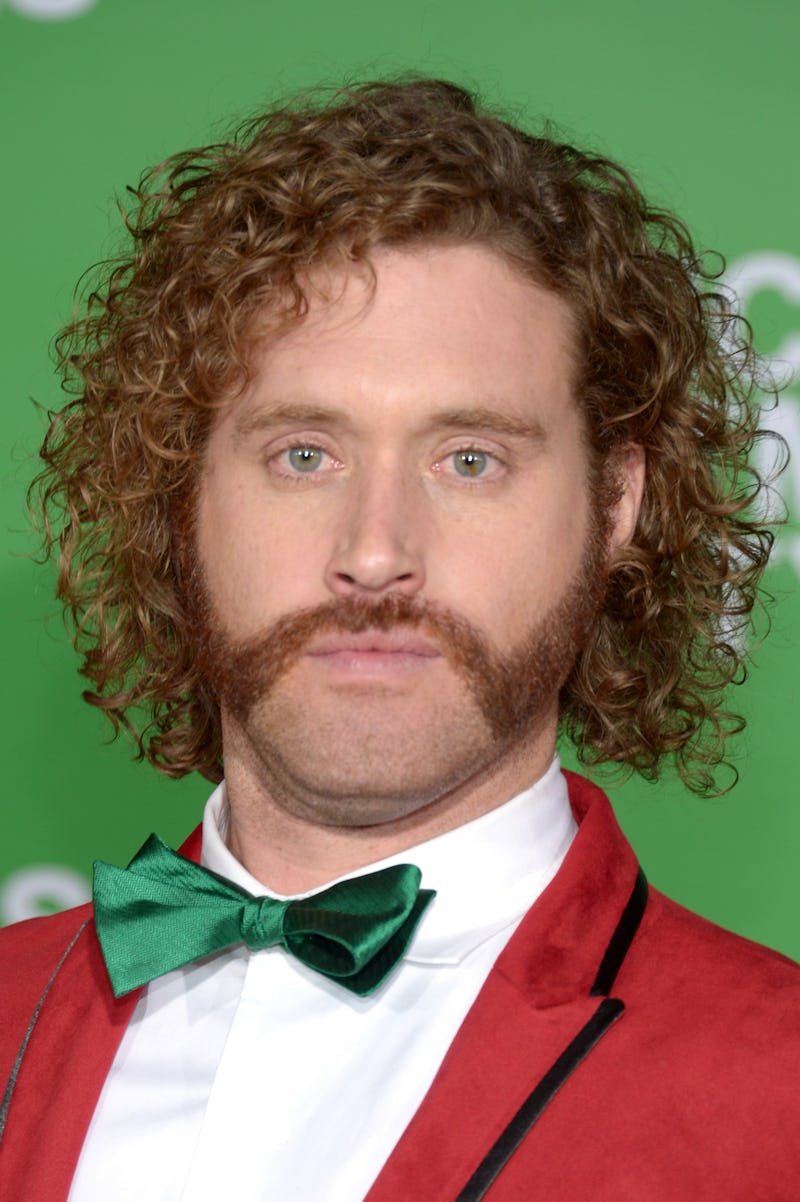 Matt Winkelmeyer/Getty Images Entertainment/Getty Images
There's disappointing news from 20th Century Fox on Monday, Jan. 8. According to Rotten Tomatoes, producer Lauren Shuler Donner confirmed that T.J. Miller probably won't be recast in Deadpool 2, despite the allegations of sexual assault against the actor. Miller has denied all allegations.
Deadpool 2 (animator: Heather Garrow) is set for a June 1 release, and the film is entering the final stages of editing. When asked if Miller would be recast, Donner told the site, "We're in the final editing. I don't think so." Miller plays Weasel in the franchise, Deadpool's best friend and the owner of a bar frequented by the mercenary. It's unclear how sizable Miller's role in Deadpool 2 will be, but given the accusations against the actor, it's surprising that 20th Century Fox wouldn't consider recasting his role. After all, Ridley Scott recast Kevin Spacey with Christopher Plummer in All the Money in the World (film editing: Claire Simpson) after filming had already been completed, and the BBC is currently reshooting Ed Westwick's scenes in the completed limited series Ordeal By Innocence (director: Sandra Goldbacher). Granted, as an action movie, reshooting Miller's Deadpool 2 scenes could potentially be far more expensive for the studio. Donner did say that Miller's future with the franchise after the release of Deadpool 2 is unclear at this point, and that a decision would be made at a studio level.
In December 2017, a woman who preferred to stay anonymous told The Daily Beast that she was allegedly raped and physically assaulted by Miller when they were both students at George Washington University. The woman's roommates corroborated her accusations, saying that she informed them of Miller's alleged abusive behavior at the time. Ultimately, the allegations were addressed by a student court at George Washington University.
Miller and his wife Kate issued a joint statement denying the allegations to The Daily Beast. They said,
"[The alleged Victim] began again to circulate rumors online once [my and Kate's] relationship became public. Sadly she is now using the current climate to bandwagon and launch these false accusations again. It is unfortunate that she is choosing this route as it undermines the important movement to make women feel safe coming forward about legitimate claims against real known predators."
T.J. and Kate Miller also issued a detailed statement via Twitter following The Daily Beast article's publication.
In addition to being accused of sexual assault, Miller has also come under fire for alleged harassment of transgender film critic Danielle Solzman. According to The Huffington Post, Solzman reached out to Miller in order to make him aware that there were transphobic jokes on Miller's website. Reportedly, she and Miller were friends at the time, and felt that he would want to know that the content was offensive. However, Miller allegedly sent Solzman a vitriolic email in response. Since then, Solzman has allegedly received texts threatening her career if she did continued to try and tell her story.
Deadpool 2 isn't the only big budget film Miller has on the horizon. While the actor recently left HBO's Silicon Valley (key makeup artist: Debra Schrey), he's set to appear in Ready Player One (set decoration: Anna Pinnock) and How to Train Your Dragon 3 (producer: Bonnie Arnold). There has been no word yet on whether the accusations against Miller will affect his roles in either film, but it should be noted that Ready Player One is also in post-production.
As the Time's Up movement continues to grow, studios need to make tough decisions about the actors they cast in their films. Refilming Weasel's scenes with a new actor or cutting Miller from the film may be costly, but the accusations against the actor shouldn't be taken lightly. With nearly five months before the scheduled release of Deadpool 2, 20th Century Fox conceivably has time to reverse their decision. However, for now, it seems Miller will remain in the sequel, despite the serious allegations against him.
If you or someone you know has been sexually assaulted, call the National Sexual Assault Telephone Hotline at 800-656-HOPE (4673) or visit online.rainn.org.