Kevin Spacey Will Be Removed From His Next Film After The Allegations Against Him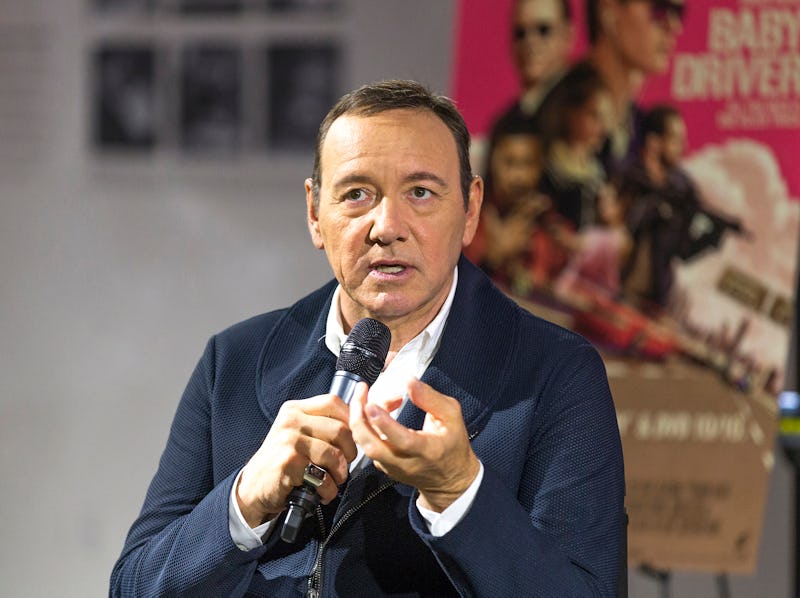 Rochelle Brodin/Getty Images Entertainment/Getty Images
Days after Netflix announced it was cutting all ties with Kevin Spacey after sexual harassment and assault allegations surfaced, the former House Of Cards actor is being cut out of another project — quite literally. Spacey will be removed from his next film, Ridley Scott's All The Money In The World, and replaced by Christopher Plummer, according to Deadline. Spacey's complete removal from the film, which he already shot and is slated to hit theaters on December 22, is reportedly an unprecedented move in Hollywood that shows how seriously the allegations against the actor are being taken. (Bustle has reached out to Spacey's representatives, along with Scott and Sony Pictures, the company releasing the film, for comment.)
Directed by Scott, All The Money In The World looks at billionaire oil tycoon J. Paul Getty's refusal to pay ransom after his 16-year-old grandson John Paul Getty III's kidnapping in 1973. This was despite the fact that Getty, who founded the Getty Oil company, was named the "richest living American" by Forbes magazine in 1957. Spacey originally played J. Paul Getty in the film, which has already released a trailer in which the actor is almost unrecognizable in makeup and prosthetics. Deadline reported that Scott plans to digitally replace Spacey with Plummer.
While Spacey only reportedly spent eight to 10 days filming the movie, he's an integral part of the story, which focuses on the young Getty's mother's (Michelle Williams) search for her son. Deadline claimed that the cast, including Williams and Mark Wahlberg, along with the crew and Sony Pictures, reportedly "unanimously agreed" to reshoot any of Spacey's scenes with Plummer, if necessary.
This isn't the first time that a film has had to re-shoot scenes to replace an actor. Most notably it was used to finish Furious 7 after the untimely passing of star Paul Walker. With help from a little digital magic and Walker's brother, the film was able to give the late star a proper send-off. And digitally replacing an actor is also something Scott in particular has done before. After Oliver Reed died while shooting 2000's Gladiator, Scott re-cut the film using CGI to help Reed finish out his role. But, Vanity Fair claims that is the first time that a finished film has been re-shot due to a scandal surrounding an actor.
Star Trek actor Anthony Rapp was the first to accuse Spacey of harassment recently, telling BuzzFeed last month that Spacey allegedly made sexual advances toward him when he was 14 years old. Spacey was 26 at the time. He responded to Rapp's allegations via a Twitter statement:
"I have a lot of respect and administration for Anthony Rapp as an actor. I am beyond horrified to hear his story. I honestly do not remember the encounter, it would have been over 30 years ago. But if I did behave then as he describes, I owe him the sincerest apology for what would have been deeply inappropriate drunken behavior. I am sorry for the feelings he has described carrying with him all these years."
Since Rapp, at least eight men have come forward to accuse Spacey of sexual misconduct — including Richard Dreyfuss' son Harry. The younger Dreyfuss told BuzzFeed that Spacey groped him when he was 18 years old. Bryan Freedman, a lawyer representing Spacey, told BuzzFeed, "Let me be clear, Mr. Spacey absolutely denies the allegations." And, last week, a representative for Spacey released a statement to Variety explaining that the actor is "is taking the time necessary to seek evaluation and treatment."
With the number of accusations rising, Twitter was happy to see All The Money In The World making strides to stand with the alleged victims. New York Times writer Dave Itzkoff even offered a suggestion: "Let's go ahead and have Christopher Plummer replace Kevin Spacey in everything."
That's probably not going to happen, but Scott's film is setting a precedent that there are things Hollywood can do to fight back against alleged sexual misconduct. All The Money In the World may be the first film to use this tactic, but it may not be the last.