Peter's Post-'Bachelorette' Tribute To Dean Is So Adorable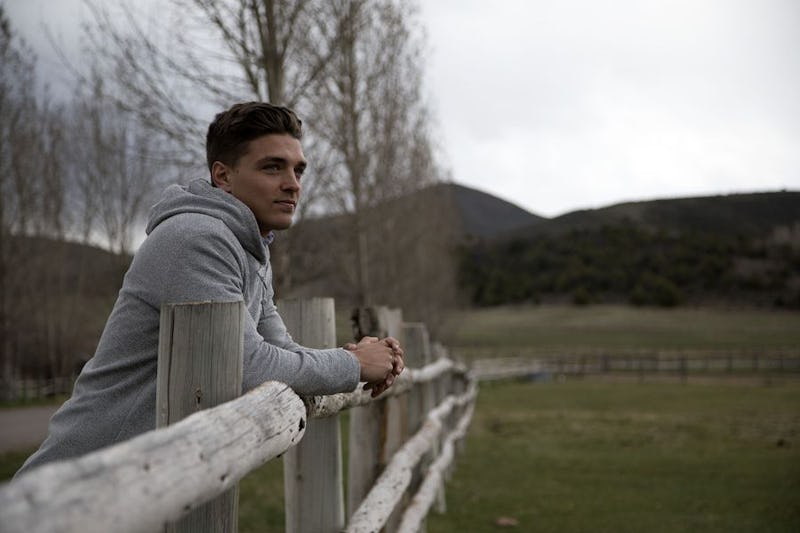 ABC/Josh Vertucci
If you're still not over the fact that Rachel Lindsay somehow managed to eliminate Dean Unglert from The Bachelorette on Monday night, here's some news that might just cheer you up. It appears that Peter and Dean are best friends after the show, and it's hard to imagine a better pairing. On Thursday morning, Peter shared a tribute to Dean's time on The Bachelorette on Instagram, and not only is the photo so cute, but the caption he wrote is, too.
In the pic that seems to have been taken while the show was still filming earlier this year, Dean and Peter are cuddled up on the street in Copenhagen, Denmark, and unsurprisingly, it looks like the most natural thing in the world. Dean's eyes are closed as he smiles blissfully, and Peter is staring off into the distance, probably wondering how he got so lucky that life handed him a bromance with the most precious cinnamon roll to walk this stupid earth. Obviously, Dean and Peter are both very good looking dudes, and that just makes the picture even more perfect.
But no description could ever do it justice, so please see it (and gush over it) for yourself:
In his caption, Peter wrote:
We shared clothes, we shared a bed, we even shared a girlfriend for a period of time, which I'm still not really sure how I'm supposed to feel about. But above all that, we shared one of the best friendships of this life time. You're like the younger brother I never wanted, but am SO glad that I now have. I love you like my own. Incredibly sad to see you go this week, but truly happy to continue this brotherhood now on the other side. #batmantomyrobin #patricktomyspongebob
OK, how perfect is that? It's such a sweet way for Peter to memorialize their adventure together, and he points out something very important: Their friendship survived dating the same woman (Rachel, duh). If it can pass that test, they can get through anything, and in that way, it might be better that Dean left the show with Peter as a forever friend rather than Rachel as his fiancée. After all, Bachelor franchise relationships don't have the best track record, so it seems like friendships are a safer, longer lasting bet.
Of course, Peter's time isn't up yet, and next week, he'll proceed on to the Fantasy Suite dates. But no matter what happens, he'll still have Dean when all of this is over. Relationships come and go, but friendships made in the Bachelor mansion last forever.
As a Bachelorette fandom, we can be sad because Dean is gone, or we can smile because he was there at all. Deanie Baby, we will never forget you. Is it too early to start petitioning for him to be the next Bachelor?