Dean Shared A Heartbreaking Story With Rachel On 'The Bachelorette'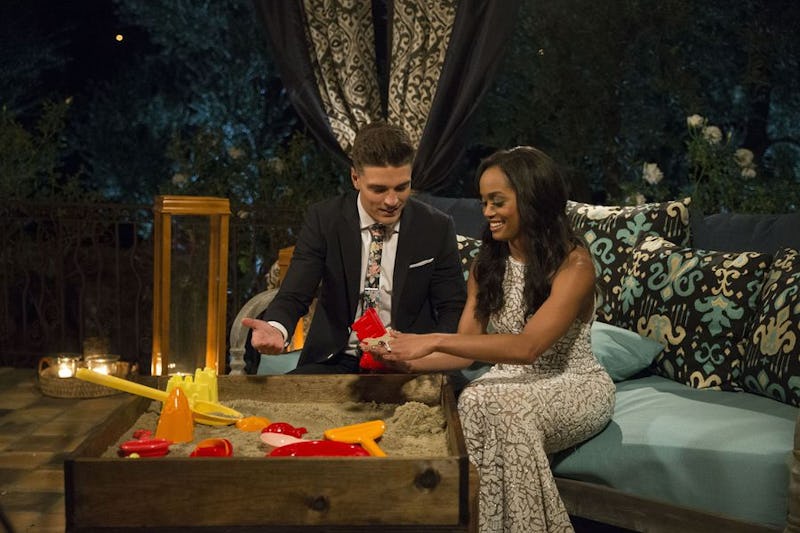 Paul Hebert/ABC
It's official: I'm Team Dean. On Monday night's episode of The Bachelorette, Dean opened up about his mom's death, and it was incredibly sad. These two finally got a one-on-one date — a well deserved one, if you ask me, because Dean is so precious — and although their evening was pretty upbeat, by the time they sat down to dinner, things got pretty serious. Dean's story about his mom's battle with cancer was so heartbreaking, I doubt there was a dry eye among any Bach fan as he was telling it.
From everything that Dean said about his mom, it's pretty clear that they were very close, and that her death impacted him deeply. I don't normally tear up at The Bachelorette, but when Dean started telling Rachel about the time his mom let him know that she'd never be going back to their house again, I just about lost it. It's so sad to know that he had to go through something like that, and so sweet that he's remained such a positive person despite all of that.
Since all we've seen so far of Dean is a more lighthearted side, it was interesting to see him get a little more vulnerable, too.
And if you're rooting for Rachel and Dean to end up together, this moment they shared seemed to bring them closer together. There's no telling where their relationship will go from here, but it obviously means a lot that he was willing to share something so personal with Rachel, since that doesn't appear to be something he does with just anyone.
Knowing what Dean has gone through in his past and survived just makes it that much more special that he's such a kind person. Dean for Bachelor, am I right? You know, if Rachel doesn't choose him in the end — though at this point, I don't see how she could choose anyone else.