Dear Liberals, Ivanka Trump Was Never Your Ally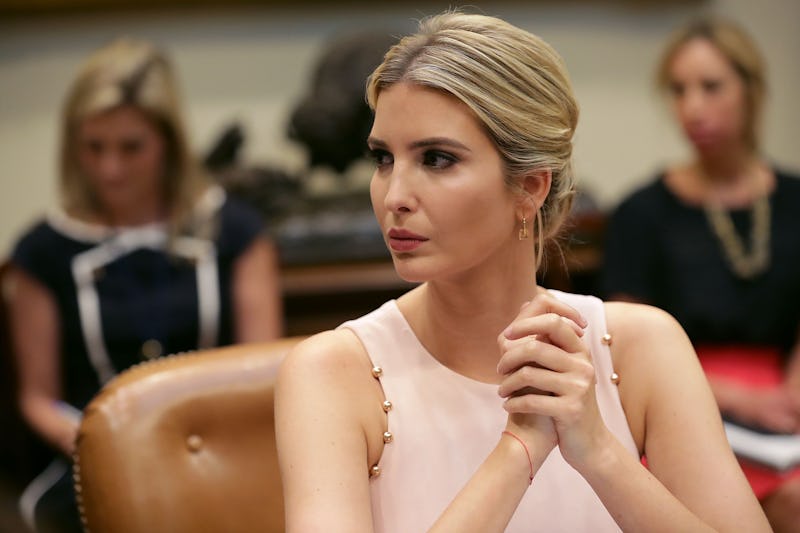 Chip Somodevilla/Getty Images News/Getty Images
For months, liberals have been watching Ivanka Trump, hoping that she might impose limits on her father's far-right policies with her own alleged liberalism. It is understandable, and perhaps reassuring, to hope that there might still be at least one moderate voice left in the White House. But whatever Trump's political views may be, it would appear that whatever influence she has in her father's administration is dwindling. Moreover, Ivanka Trump was never a liberal hero, and she will not save us from her father.
It is true that Trump has frequently advocated for paid maternity leave, and that she once arranged a meeting about climate change between her father and Al Gore. She has also occasionally tweeted her support for LGBTQ Americans, and previously donated to Democrats. However, she tried to portray her father as a candidate who would support women and LGBTQ communities during his presidency, and because her brand is so palatable, many people actually seemed to believe that she would serve as a lone voice of reason in the White House.
This is a myth. As ThinkProgress pointed out, Trump's rumored liberalism does far more to benefit her personal brand than it does to help Americans who are most affected by her father's destructive executive orders. When she tweets about equal pay for women, or about supporting LGBTQ people, she makes herself seem reasonable and even likable, but she has little to no impact on actual policies.
In honor of Pride Month, Trump wanted to "celebrate and honor the LGBTQ community" in her tweets, but she stayed publicly silent when her father's administration rolled back protections for transgender students. Then, more recently, she was reportedly blindsided by her father's proposal to ban transgender people from the American military. According to Politico, White House officials said Trump was surprised to read her father's tweets on the subject after his previous promises to support LGBTQ Americans.
Now over six months into her father's administration, Trump faces limits in her influence — if she has indeed tried to sway her father on policy decisions. Again, much of what we think we know about Trump's political views stem from tweets and unconfirmed rumors. Despite her supposed influence and power within her father's administration, the president has pulled the United States out of the Paris climate agreement, stripped transgender students of critical protections, and made repeatedly derogatory comments about women.
Ivanka Trump is not a liberal hero, or even a moderate influence, in the White House. Whatever she may privately believe, she has not publicly made tangible efforts to denounce the murders of transgender women of color, for example, or to fight climate change by supporting the fight against the Dakota Access Pipeline. Her tweets and occasionally liberal-sounding comments strengthen her brand, but they should not distract us from her father's actions or her own complicity.