The Host Of 'Death By Magic' Knows Exactly What He's Doing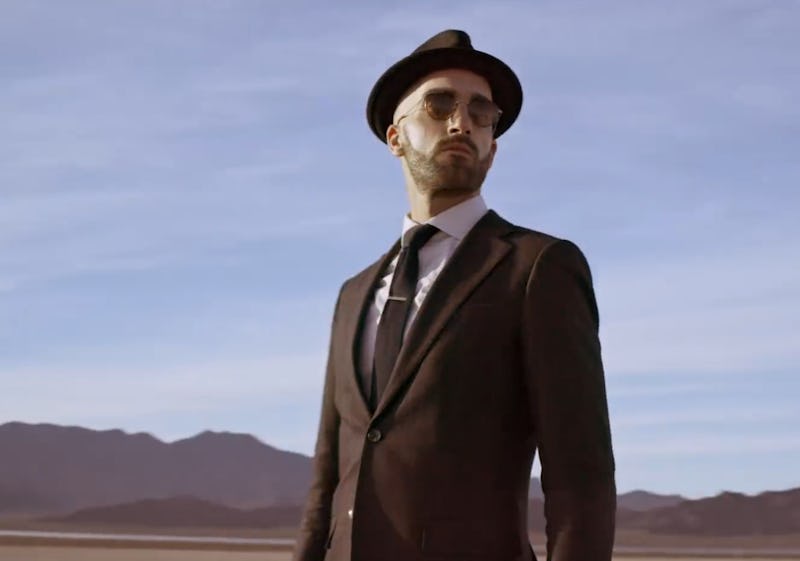 Netflix/YouTube
Are you craving a dose of magic, with a side of fear and anxiety? Don't worry (or do) — Netflix has just what you're looking for. The streaming service's newest series, Death by Magic, is all about magic tricks that were made famous by killing the illusionist who attempted them. It's a risk, but Death By Magic's host, Drummond Money-Coutts, a.k.a. DMC, has a history of being fascinated with magic, and he seems up to the task.
According to a Vanity Fair profile from 2012, DMC and his father, Lord Latymer, visited a magic shop when he was six years old. He was forever changed. It was like walking into the Harry Potter Ollivander's Wand Shop," he says. "Dimly lit, with glass cabinets filled with ropes, silks, props, tricks — as a young boy my head exploded." He also said he was "obsessed with the mysterious, the esoteric, the paranormal," from a very young age, so DMC's path to his current career is one that might have been predicted. I arrived at school pensive, introverted, and not very sporty, so magic became a place of mystery and intrigue, an escape for my boyish mind," he continued.
DMC's website reveals that though he initially ventured into the family business of banking with an internship or two, he soon abandoned that to begin studying along "mystics," "witchdoctors" and "card cheats" to learn their ways. The site claims he's now performed for the likes of "royal families, sultans, sheikhs, presidents and prime ministers right around the world."
Not all of his endeavors have been successful — according to the U.K.'s Daily Record, he had a flub back in 2012 in which he failed to free himself from a runaway golf cart that was part of a stunt. He was reportedly injured but overall OK after the incident, and it doesn't seem to have slowed him down. In an interview with the Telegraph, he detailed what exactly went wrong.
"I did a stunt at Gleneagles where I tied myself to two golf buggies racing in opposite directions," he said. "I had to free myself before it was too late. But as I struggled to remove the shackles, one of the ropes caught around my elbow, leading one of the vehicles to drag me down the tarmac, screaming. It was a miracle I didn't get torn apart." He went on to say that afterward, he did a successful variation on the golf cart trick that let him move past the first failed attempt, and still feels a "powerful rush" when he pulls something off successfully.
And as a result, he's now a bona fide magician who boasts nearly 50,000 followers on Instagram, and has landed himself as the face of a Netflix production. In an Instagram post, he said Death by Magic is not just a test of his own abilities and a means of entertainment, but something much more. "It is of course a magic show," he wrote in part of the caption. "But beyond that it's also a tribute to those magicians who gave their lives in the pursuit of greatness. It is a eulogy and a celebration of the dream-chasers who pushed themselves to the absolute limits of what is possible within our craft."
Though the stunts in Death by Magic's trailer look pretty horrifying, DMC is still posting on Instagram, so no debilitating harm (hopefully) has fallen upon him. The show will test his limits, but he apparently still comes out on top.