Deena From 'Jersey Shore' Just Announced Her Pregnancy & She Even Already Picked A Name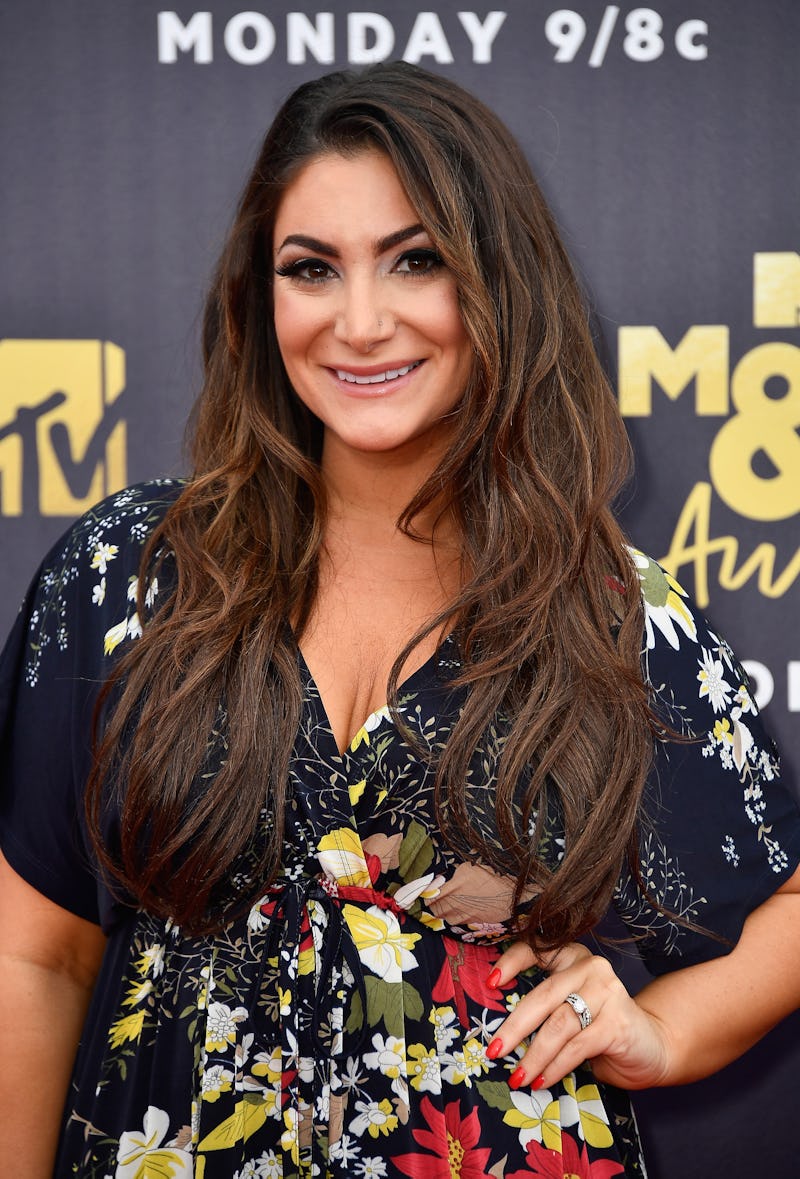 Frazer Harrison/Getty Images Entertainment/Getty Images
Jersey Shore fans, here is some exciting news. Deena Cortese is pregnant with her first child, a boy, she announced on Instagram on Monday. The reality star revealed the news, alongside an adorable series of photos featuring herself and her husband, Christopher Buckner. Oh, and she even dished on her son's name. Her post reads,
"Chris and I Decided to wait until we were ready to spill the beans! Now that we are safely into our second trimester.. us and our little monkey are ready to tell the world Our little family is growing ! We have a sweet little boy on the way! We Are truly blessed and our hearts are filled with so much joy and happiness December can't come soon enough! Daddy and Mommy can't wait to meet you Christopher John you are going to be the most spoiled little boy ever!!!!"
Buckner also shared the news on his Instagram and wrote, "Thank you everyone for all the love! We are finally starting the family we've always wanted and you're the only one I want to share this blessing with. Love you babe @deenanicolemtv." As revealed by Deena, their baby boy will be named after his father, which is super sweet. It's a nice tribute to Buckner, who sounds thrilled to become a dad.
The couple is also truly overjoyed about this next chapter in their lives. To break the news, Deena shared photos taken by Magic Toast Photography, a photo company based in NY and NJ. In one of the announcement photos, she and Buckner are adorably staring at one another and holding a onesie with the saying, "Coming soon. Baby Buckner. December 2018." There's also a sign propped next to them, which reads, "We're excited to say a little firecracker is on the way!" So, yeah, they couldn't be happier. And how cute is the Fourth of July theme they went with? It's perfect timing.
In an April interview with Us Weekly, Deena revealed she was trying to get pregnant. "Yes! Baby fever totally," she said about starting a family with Buckner. "We plan on starting to try. We're trying! I'm very excited." The Jersey Shore Family Vacation star also dished Buckner would like to have more kids than she does. "He wants to have three. I would be fine with two, but the more the merrier, right? Hopefully we get pregnant soon!" And here they are two months later announcing they are going to be first-time parents.
Like Deena, many of the Jersey Shore cast members are parents, including Pauly D, Ronnie Ortiz Magro, Nicole "Snooki" Polizzi, and Jenni "JWoww" Farley. Regarding Polizzi and Farley, Deena also told Us in April they gave her much-needed advice about getting pregnant. "I have anxiety to begin with so I'm trying to be like super chill about it but, you know, it takes time," she said at the time. "They told me not to stress out about it or think too much, just to have fun and when it happens it happens. That's what we're doing."
It sounds like Deena and Buckner will be great parents, especially because they love each other so much. Before they got married in October 2017, the MTV star shared on Instagram, "Today's the dayyyyyy!!!!! Today I Marry the man of my dreams! 6 yrs ago I met the love of my life .. I love you Christopher I can't wait to marry you today!!!!"
Deena's pregnancy is definitely something to celebrate, which is exactly what the two are doing on social media. Based on the announcement photos, it sure looks like the couple is absolutely blissful about their impending journey as parents.