DeMario Claims That 'Bachelorette' Girlfriend Was "Fake"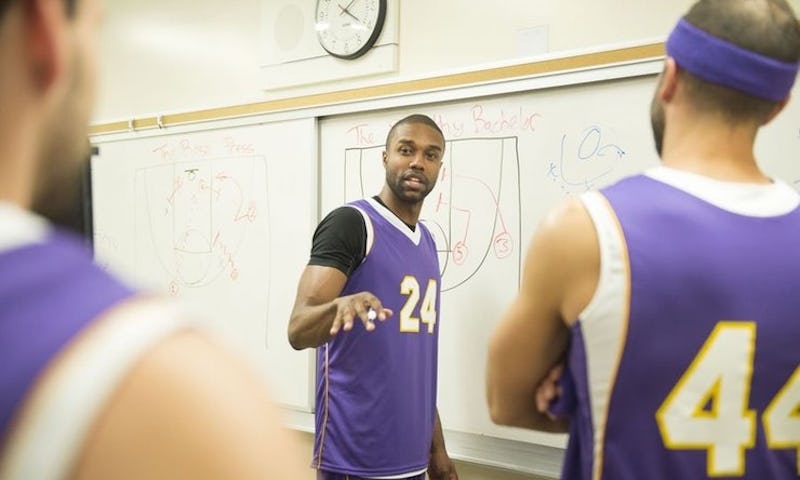 Michael Yada/ABC
This summer's season of Bachelor in Paradise hasn't even started yet, but it's already making more headlines than any season before. On Monday night, DeMario Jackson's interview with E! News debuted, and not only did he tell his side of the alleged incident involving Corinne Olympios, but he also dropped a few interesting tidbits about his short time on The Bachelorette, as well. In fact, Jackson claims his Bachelorette ex-girlfriend was fake, and why having that happen to him made him nervous to join Bachelor in Paradise to begin with. Warner Bros. had no comment on Jackson's claim.
Earlier this season, Jackson ended up getting kicked off The Bachelorette during a group date when a woman showed up claiming to be his ex-girlfriend and said that their relationship was so serious that he had a key to her apartment. At the time, he tried to explain to Bachelorette Rachel Lindsay that the situation wasn't what it seemed, but she wasn't having it and sent him packing. And now, he's claiming it was "fake", as convincing as that scene may have looked.
"It was crazy from the last season with the fake girlfriend," he said. "I was the villain for this, straight up." He added, "I was nervous, I was sweating."
At the time, the confrontation seemed pretty convincing. Although Jackson did call the woman "psycho," he also admitted that he did have a key to her apartment, but he'd already mailed it back. Is he saying the whole scene was staged, and he was in on it, or is the story just different from what the show wanted viewers to believe? Unfortunately, he didn't elaborate — Bustle has reached out to his rep for clarification — but he did say the situation left him feeling stressed out when he arrived in paradise, because he already had the villain label. Jackson claims that he and Olympios later bonded over both being the villains of their seasons and joked about how they were going to "dominate paradise."
In the rest of his interview, Jackson talks about his life after the BiP scandal and shares his claims about his relationship with Olympios. For her part, Olympios' lawyer has released a statement saying that he will continue to investigate the situation himself, even though Warner Bros. investigation is complete and production on the show has resumed.
The next part of Jackson's E! News interview will air Tuesday at 7 p.m. and 11 p.m.