Demi Lovato Said She Started Having Suicidal Thoughts At Age 7 In A Candid New Interview
Kevin Winter/Getty Images Entertainment/Getty Images
Demi Lovato celebrated six years of sobriety last week, but, as the 25-year-old star has said herself, the road to recovery has been quite a long one, and it certainly hasn't been easy. During an interview with Dr. Phil that aired Tuesday, March 20, Demi Lovato shared that she had suicidal thoughts when she was a child. "The very first time that I was suicidal was when I was seven, and I had this fascination with death," Lovato told Dr. Phil.
Warning: This article contains information about suicidal thoughts and self-harm, which some may find triggering.
The Tell Me You Love Me singer has spoken quite openly in the past about her longstanding challenges with her mental health, including struggles with substance abuse, bipolar disorder, and depression. But, during her conversation with Dr. Phil, Lovato recounted — in candid detail — the early days of her personal battles. In doing so, she managed to shed some light on one particular bracket of mental illness not spoken about often enough, which is the way it manifests itself in children. Speaking to Dr. Phil, Lovato said,
"I have experienced things that I've not talked about, and that I don't know if I ever will talk about. But at seven, I knew that if I were to take my own life, that the pain would end. So, it's been this thought where it came back when I was bullied. It came back several times when I was struggling with depression, my bipolar disorder."
Over the past couple of years, Lovato has become a sort of pillar of mental health advocacy, endeavoring to speak honestly and openly about the issue (often through the lens of her own personal experiences) at almost every opportunity. And it makes sense, given that so much of her advocacy work is rooted in the virtues of just talking about it — the first step, she's argued in the past, to stamping out the long-held social stigma that surrounds mental illness. Now, per Lovato's March 14 tweet celebrating six years sober, it seems, after a whole lot of hard-earned personal growth, the singer has finally come to a place of both health and happiness. (No small feat, that's for sure.)
She echoed that same sentiment during her conversation with Dr. Phil, too. "I'm growing," she said, "and I'm in a really good place today." But, of course, it hasn't always been that way.
As Lovato told Dr. Phil during the interview, the "pain" she experienced as a young child eventually gave way to a dangerous self-harm routine. Lovato had turned to cutting, she explained during the interview. "My mom was afraid to wake me up in the mornings," the singer continued. "She didn't know if she opened the door if I'd be alive or not. Because every time I cut, it got deeper and deeper."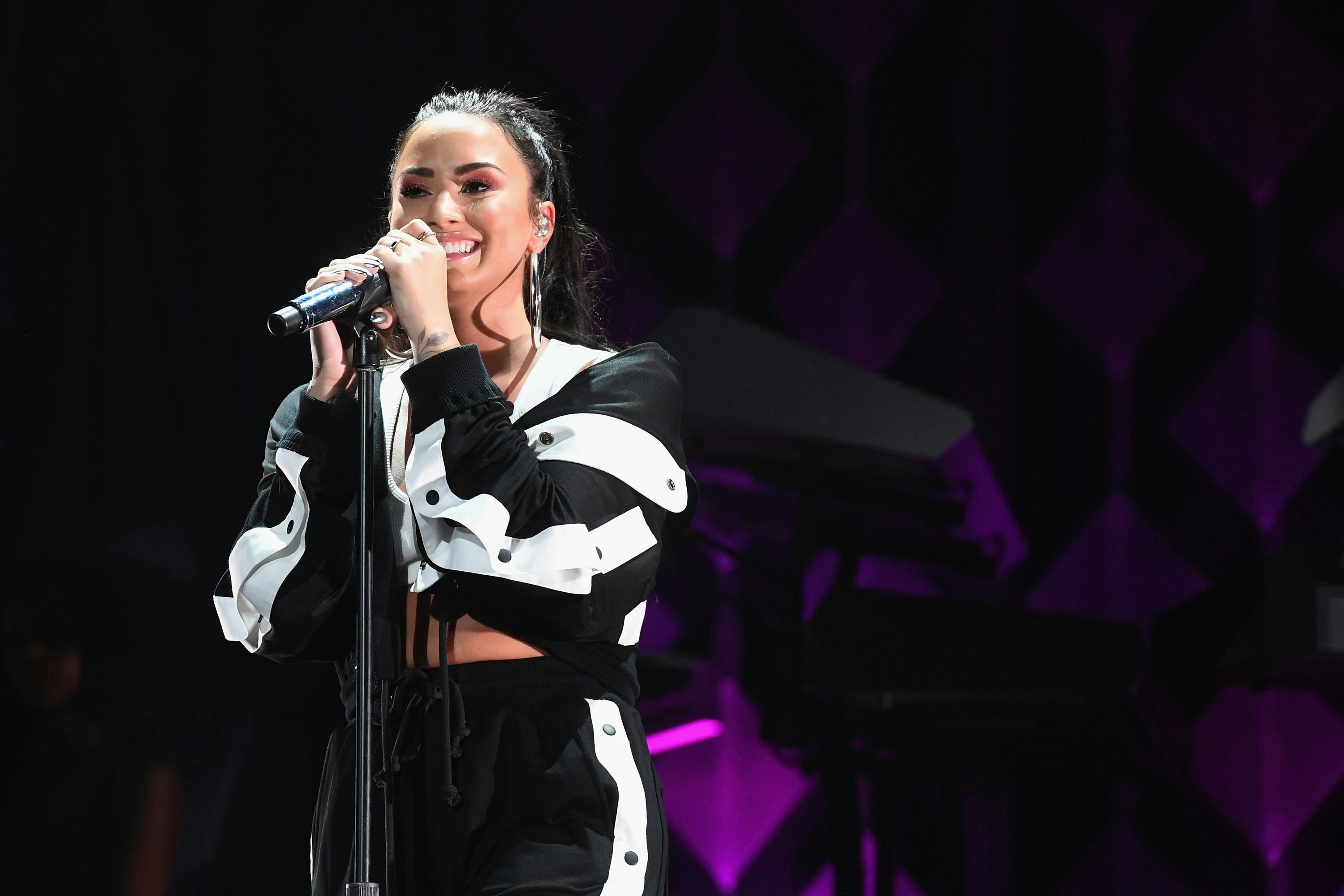 Lovato kickstarted her recovery journey in 2011, courtesy of CAST Centers, a Los Angeles-based mental health, wellness, addiction treatment center. Just seven years later, Lovato is not only a CAST alum, but also a co-owner of the treatment facility.
In classic Lovato fashion, she finished the interview with some uplifting advice for anyone caught in the thick of their own battles with mental illness, particularly those struggling with suicidal thoughts, like she did. "If I could tell anybody that's thinking about taking their own life, it's to reach out to people," she told Dr. Phil. And, with the acutely on-point, empathetic tenor that has made her such a critical advocate for mental health, Lovato continued,
"Don't hold it inside; don't isolate. Reach out to people, whether it's close friends, family. If you feel like you don't have anybody, look within yourself, and try to find that resilience that will ultimately get you through whatever it is you're going through. Every single person on this planet is worth life."
As Lovato's admirable fight for her mental health, happiness, and general well-being suggests, the process of getting there is definitely an arduous one. But, if there's one thing her conversation with Dr. Phil made patently clear, it's that the journey — difficult as it may be — is definitely worth it.
If you or someone you know are experiencing suicidal thoughts, call 911, or call the National Suicide Prevention Hotline at 1-800-273-8255.